Parents and children may well dread it, but for many the famous school run is just one of those unavoidable parts of the day.
While some have honed their morning routine to a tee, others still find the idea of facing rush hour with a car full of kids somewhat daunting.
To make things a little easier, we've put together our essential guide to everything parents need to know about the school run.
What is the school run?
The school run is the journey that parents and guardians make every weekday to take their children to and from school in the car.
While the vast majority of school kids used to walk to school, these days more and more children are driven to the gates by their parents.
In 2014 the Department for Transport's National Travel Survey revealed that 46% of primary school pupils – and 23% of secondary school students – travel to school in the car, making it the second most popular mode of transport for schoolchildren after walking.
When is the school run?
The average school day runs from 8:30am to 3:30pm although as each differs in its exact hours, make sure you check when your children are expected to show up every day.
The official 'school run' period happens for an around an hour before and after the school day, which coincides with usual rush-hour traffic and can make roads incredibly busy at peak times.
As a general rule of thumb, the morning school run is busier than the afternoon as kids are given more of a free-reign after school for activities, to hang out with their friends or simply walk home in their own time.
When is the quietest time to do the school run?
The quietest time to do the morning school run is either before or after the hour-long period between 8am and 9am.
But if you've got kids that need to get to the school gates for 8:45am, you don't want to drop them off an hour early at a deserted school, and you can't drop them off after 9am as they'd be late for class.
If your child's school has a breakfast club, you might be able to drop them off a little earlier – or you could drop them off a couple of minutes' walk away where the streets are a little less busy, as long as you're comfortable.
The afternoon school run is generally quieter because it doesn't coincide with the evening rush hour, which doesn't kick off until around 5pm.
Get covered in our half price Breakdown Cover sale from just £7.38 a month.* We're the UK's best breakdown provider as voted by Auto Express drivers 2021.
How should I drive around the school?
The most important rule to remember when driving around schools is to slow down.
It's as simple as that.
During the school run, roads in the surrounding neighbourhood will be busy with kids making their way to school, whether they're walking, cycling, skateboarding or using their scooter.
Kids don't have great road sense and you should always be aware that they might run out in front of your vehicle at any given moment, so the slower you're travelling the easier it will be to react.
Give extra space to children on bikes and scooters, and try to avoid doing three-point turns in the road.
What's the speed limit around schools?
It goes without saying you should always respect the speed limit, and around schools the standard urban area speed limit of 30pmh (48kph) is still too fast to drive safely.
To address this, most local authorities have introduced 20mph speed limits around schools, but even then you should use your own judgement and will occasionally need to go slower.
Many local councils have also brought in less conventional traffic calming measures (such as child-shaped bollards) on streets around schools to further slow motorists, so be aware that you may have to give way to oncoming traffic.
Where should I park at the school?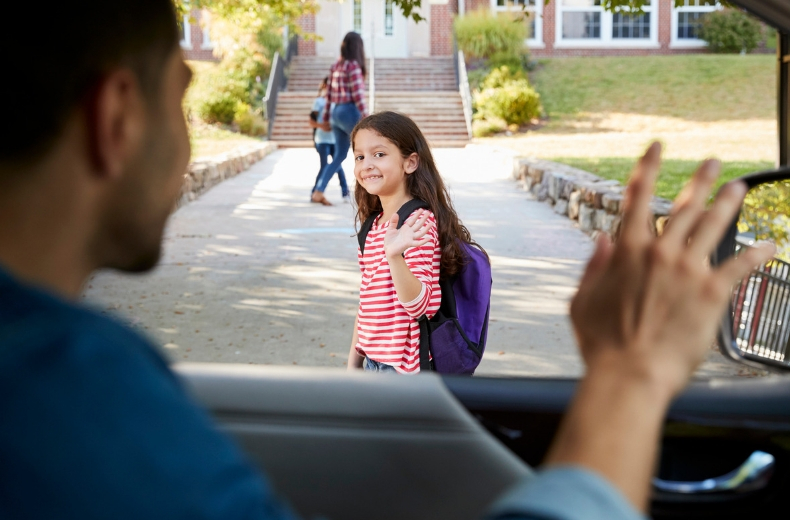 At the start of the new term, it's always a good idea to check with the school or the local council to see if any new parking restrictions have been introduced on the surrounding streets.
There's a school run parking etiquette that you should follow to make life easier for you and the local residents.
First up, never park outside the school gates.
Not only will this block the entrance for everyone else, but if there are zig-zag lines on the road it's illegal to park there and you could pick up a fine and penalty points if spotted.
No matter how busy it is, don't double park or block the driveways of local houses, either.
Not only will this block the roads for residents, motorists and emergency vehicles, it can make it dangerous for kids crossing the street.
Where possible, try to park a little further away from the school gates on a quieter street.
This might mean a longer walk for your little ones but could save you from quite a bit of stress.
Are there school run rules I should know about?
This is something to check with the school or local authority as every school has different dos and don'ts.
Some have introduced "no-idling" zones around the school gates to cut down on pollution caused by parents leaving their engines running while they wait.
And in further attempts to cut air pollution and free up roads for children walking and cycling to school, some councils close roads around schools to cars during the busy school run hours.
If you're caught breaking school run rules you could face a hefty fine, so make sure you proactively stay up to date with the latest.
Are schools going to ban the school run?
An increasing number of schools are introducing measures aimed at the cutting the pollution, congestion, and disruption caused by the daily school run.
Measures like road closures are aimed at creating a safer and less polluted environment for children, while many schools have introduced schemes encouraging pupils to walk to school and help cut down on congestion.
Although this doesn't actually constitute a ban, it shows that an ever-growing number of schools are looking at ways to mitigate the congestion and safety issues brought about by the school run.
Do I have to do the school run?
This depends on your circumstances.
For some the short answer will be no, you don't have to do the school run.
If you live in an urban area that allows your children to safely and easily walk, cycle or catch a bus to school, it might be less stressful for everyone if they made their own way each morning.
For others, it's an unavoidable yes. But if you're unable to do the daily school run for whatever reason, there are alternative options you could explore.
Most rural secondary schools have bus services that bring children to school from surrounding towns and villages, while in urban areas local buses, trams, and trains can also help out.
You could also ask other parents in your neighbourhood to set up a carpool where you each share the school run responsibilities, which could mean that you will only need to make the rush hour journey two or three times a week.
Get quality repairs at a fair price, plus a 12 month warranty with RAC Approved Garages.