A dangerous sub-section of motorists are still choosing to take advantage of quieter roads by pushing speed limits like never before.
The Metropolitan Police has revealed that 2,020 speeding offences were enforced across the capital inside just one week – an eight-fold increase compared to the same seven days last year.
Detective Superintendent at the Met, Andy Cox, shared the figures on Twitter:
Incredible work by Traffic officers tackling #speeding. Last week we enforced 2,020 speeding offences across #London. By comparison it was 268 in same week in 2019. An 8 fold increase!

We are there 24/7 enforcing offences. Please drive lawfully, stay safe & keep a clean licence. pic.twitter.com/cwlho9lRTm

— Andy Cox (@SuptAndyCox) April 28, 2020
It isn't just the volume of offences that has caused concern but the volume of higher speeds recorded too.
Mr Cox also revealed a worrying 75% increase in 'extreme' speeding since lockdown laws have been enforced.
He said: "Extreme speeders are those drivers that because of their very high speed are processed to court."
Another tweet posted by the senior officer breaks down the number of excessive speeding cases in London between 24 March and 28 April in 2019 and 2020.
Below table shows amount of extreme speeders subject to #Traffic ‍♀ enforcement in #London since #UKlockdown & compares same period in 2019. A dramatic increase with 75% enforcements. Extreme speeders are those drivers that because of their very high speed are processed to Court. pic.twitter.com/KqF5TpbUaA

— Andy Cox (@SuptAndyCox) April 29, 2020
The trend has taken hold across a range of speed limits, including 230% more cases of extreme speeding in 20mph zones, and a 250% increase on 60mph roads.
One driver clocked a staggering 163mph on the M1 on Saturday 25 April – Mr. Cox said the offender "should be ashamed of themselves."
Meanwhile, a Surrey motorist left officers stunned after they were caught travelling at 130mph on the M25 in early April.
When stopped by officers the driver said: "I thought the faster I went the less chance I would catch coronavirus."
Other bizarre cases include a car found speeding 110mph on the M1 during a round trip from Nottingham to London as the driver insisted bread was cheaper in the capital.
The behaviour hasn't gone unnoticed by the wider public as RAC research found that nearly half (44%) of all adults have seen more drivers speeding now than they did before lockdown.
Although reporting of a number of crimes have dropped amid the crisis, Home Secretary Priti Patel explained that police officers are responding to "some extraordinary dangerous driving, with a minority of drivers using quieter roads as their own personal race track and endangering people's lives."
Efforts to curb speeding offences have had to move with the times as offenders are now being offered online speed awareness courses, as opposed to classroom-based courses, which are suspended until at least June.
Find more information about using your car during the coronavirus crisis, how to look after your car during lockdown, or read more motoring news here.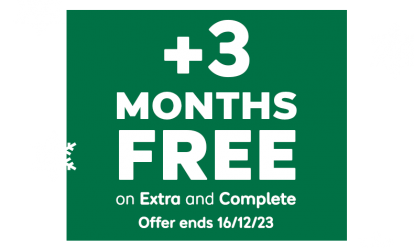 With 12 months of cover, new customers get an extra 3 months for free*.
*Added after 12 months, excludes Basic cover. New customers only. Ends 16/12/23, 7am