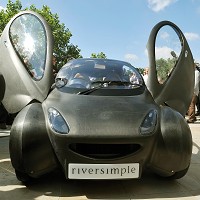 Hydrogen car maker Riversimple has released a teaser picture of its new model ahead of the big reveal tomorrow.
The image shows a coupe-like roofline and sporty rear lights, as well as vents next to the steep rear windscreen.
The first prototype of the Riversimple (seen here) was unveiled in 2009 by its inventor Hugo Spowers, but it has since undergone a redesign for 2016.
Riversimple's website includes some information about the new car without giving too much away about the design.
The two-seater is powered by a 8.5kW hydrogen fuel cell and made from carbon fibre to make it lightweight but still durable.
The car weighs just 520 KG in total, and has four electric motors - one for each wheel. The motors can also recover kinetic energy when braking. This combines for an equivalent economy figure of 250mpg and a 300-mile range.
Emissions are zero at tailpipe and 40g/km of CO2 wheel to wheel, and although it has a relatively low power output, the car goes from 0-55mph in nine seconds.
The Riversimple will be available to purchase on a contract that includes all the associated running costs, including fuel.
After the car is unveiled tomorrow, there will be an initial production run of 20 models to test the scheme. The company, based in Llandrindod Wells, Wales, says it is striving to improve the availability of hydrogen fuel in the UK.
Copyright Press Association 2016. Motoring News articles do not reflect the RAC's views unless clearly stated.