A new report from the Department for Transport (DfT) has shown that the number of deaths caused by accidents on Britain's roads has risen by 10% when compared to the previous year.
In 2022, there were 1,711 fatalities – compared to 1,558 the year before. However, the DfT has attributed the increase to the lifting of coronavirus restrictions, and more cars being out on the roads. The data from 2019 supports this, as 2022 showed a 2% decline in road fatalities when compared to 2019 statistics.
In fact, there were 29,742 killed or seriously injured (KSI) casualties in 2022, a decline of 3% compared to 2019. There were 135,480 casualties of all severities, a decline of 12% compared to 2019. When compared to other counties, Great Britain ranked 5th out of the 38 countries with available data for lowest number of road fatalities per million population in 2022.
The DfT report shows 76% of fatalities and 62% of casualties of all severities were male, while 3% of fatalities and 10% of casualties were aged 16 years old and under. The data also shows 25% of all fatalities and 29% of casualties were aged 17 to 29 years old, while 23% of fatalities and 7% of casualties were aged 70 and over.
The age group with the highest number of male fatalities was 30 to 49, with 375 fatalities. For females, the age group with the most fatalities in 2022 was 70 and over with 153 fatalities. The majority of road deaths in Britain occurred on rural roads (59%) while motorways accounted for a much smaller proportion of road fatalities (6%).
Following the publication of the new official Government statistics on road casualties, RAC road safety spokesperson Rod Dennis said: "Confirmation that last year saw a rise in the number of casualties on our roads – and that men are so much more likely to be involved – is a chilling reminder that there remains so much work to do be done to improve road safety in the UK, even if statistically we have some of the safest roads in Europe.
"The data shows there were more fatal collisions last year than at any point over the last decade caused by drivers or riders being distracted, impaired (458 lives lost) or breaking the speed limit (303 lives lost).
"It's time the Government turned the dial up on tackling these issues which, while complex, result in hundreds of people losing their lives every year.
"We also continue to urge the Government to treat this issue with the upmost seriousness by reintroducing casualty reduction targets which were scrapped in 2010."
What do you make of the new data released by the Government on road casualties? What can be done to reduce the rise in casualties? Leave your comments below.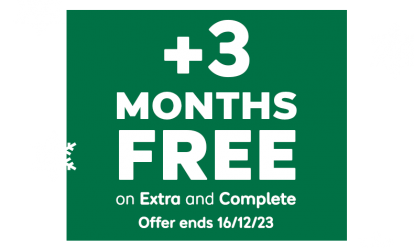 With 12 months of cover, new customers get an extra 3 months for free*.
*Added after 12 months, excludes Basic cover. New customers only. Ends 16/12/23, 7am