A driver whose cluttered car was so messy it caused a collision has been shamed by police officers on social media.
Hampshire Police were called to investigate after the driver failed to engage the handbrake on their Volkswagen when parking, causing the car to collide with another vehicle.
When they arrived, officers soon saw the driver hadn't been able to grab the handbrake because the car was so crammed with rubbish.
As seen in the photos Hampshire Police posted on social media, the car was jammed full with all sorts of rubbish piled on the seats, in the footwells and over the handbrake. It included bags stuffed with newspapers and food wrappers, a plant, a footstool and even an electric desk fan in case of hot weather emergencies.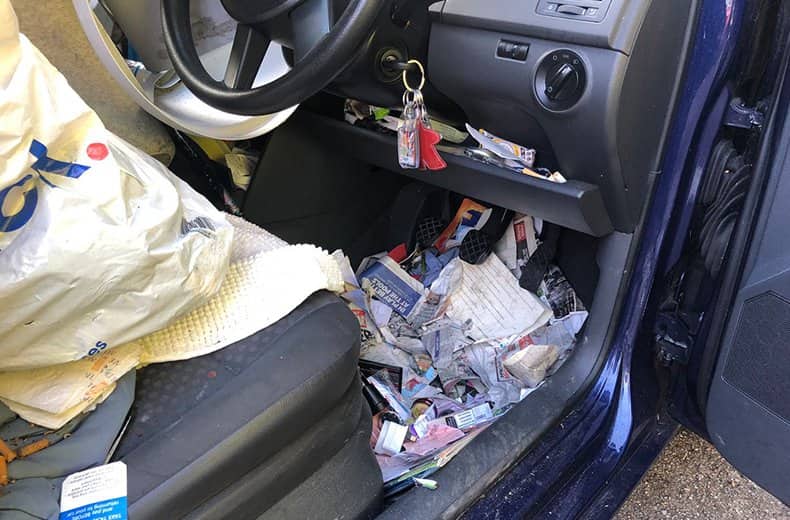 Posting online, Hampshire Police said: "Boris Johnson's car is a dream compared to this one! Driver couldn't get the hand brake on and rolled back into a parked vehicle. I wonder why?"
This comment refers to recent revelations that the interior of the former Foreign Secretary's car is strewn with coffee cups, discarded clothes and books.
Police will hope that by making these images public, other drivers will stop and think about how allowing a car to get into such a mess could actually result in a serious collision.
Besides, it's not just an accident that you risk if you keep your car in a filthy state, you could be fined or even invalidate your car insurance cover.
If officers deem your car too messy for you to be able to control it safely, you could be slapped with a £60 fine for its "dangerous condition."
Similarly, if you're involved in a collision and it's adjudged the state of your car rendered you unable to control it safely, you could invalidate your insurance policy.
Avoid any dangerous situations or unexpected costs by trying these 12 hacks for giving your car a spring clean.
Copyright Press Association 2019. Motoring News articles do not reflect the RAC's views unless clearly stated.
RAC Comprehensive Car Insurance Plus has been given a 5 Star Rating by Defaqto. Get a quote online today.