Have you ever been held up by a lorry that's far too big for the road they're trying to use? Well local authorities have asked for more powers to help stop lorries causing "havoc" in towns and villages throughout England.
The call from the Local Government Association (LGA) comes after a recent spate of accidents involving heavy goods vehicles (HGVs) across the country.
These have included lorries crashing into bridges and blocking routes unsuitable for them due to their weight, width or height – after drivers ignored restrictions.
Martin Tett, transport spokesperson for the LGA, urged the Government to take notice of these growing issues and give local councils the powers they need to target offenders.
There have been a number of incidents this year involving lorries damaging or blocking roads across England, causing congestion and disruption.
Earlier this year, a bridge under Middlesbrough railway station was hit four times in a matter of weeks by HGVs ignoring the warning signs about restrictions.
Meanwhile, in the Kent village of Goudhurst, the same route was blocked by lorries twice in the space of just two days, causing major disruption.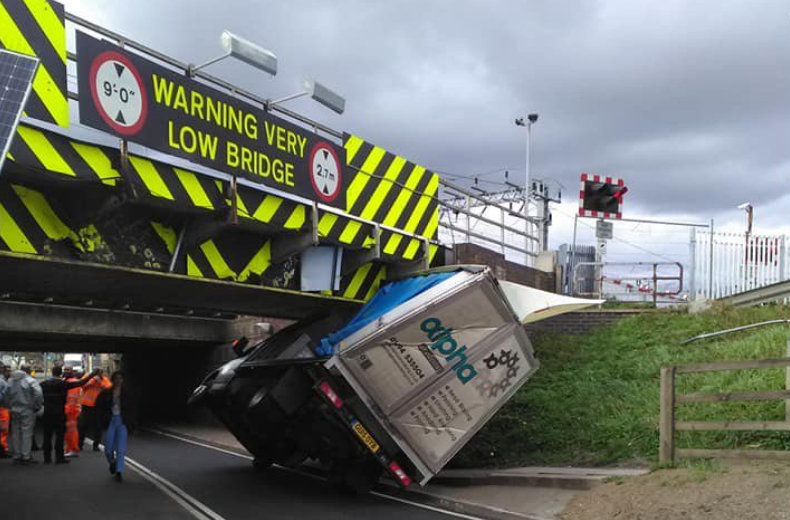 These numerous incidents have led to the LGA's call for more powers to issue fines to drivers who ignore local road restrictions. Currently, the only English councils with these powers are those in London.
Mr Tett said that while councils are on the side of local motorists, they want to be empowered to do more to tackle rogue lorry drivers causing disruption.
He said: "The spate of accidents we have seen involving lorries blocking streets, damaging local areas and crashing into bridges on an all too regular basis shows that action needs to be taken by Government in the upcoming spending round."
He added that councils in London and Wales already have powers to enforce moving traffic violations, therefore other English councils should be able to act upon disruptive lorries too.
"They would also help councils unblock congestion hotspots that delay buses, lengthen journey times and reduce pollution from stationary and slow-moving traffic, and help cyclists ride more safely," he said.
Copyright Press Association 2019. Motoring News articles do not reflect the RAC's views unless clearly stated.
Get the answer and more useful driving content sent straight to your inbox.