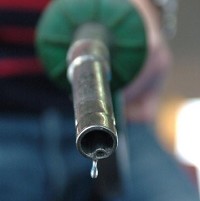 Cheaper petrol prices are not only keeping motorists happy but the Chancellor too, new figures suggest.
Lower fuel costs at the pumps have been a major contributor to the rate of inflation dropping 0.1% to 1.5% in August.
This equals the lowest inflation rate - recorded in May - for four-and-a-half years.
The price drops have been helped by a price war at the supermarket petrol pumps, with more motorists heading there having noticed the cheaper fuel.
The new figures see CPI inflation pegged under its 2% target for the eighth successive month - the biggest unbroken run for nine years.
Lower food prices and reduced non-alcoholic drink costs also helped pushed the inflation rate down, according to the Office for National Statistics (ONS).
The Bank of England's leaders are currently considering whether to raise interest rates which have kept at a record 0.5% low since 2009.
Experts say the latest figures may relieve pressure on them to hike the rates. Capital Economics' economist Samuel Tombs believes inflation may drop to as much as 1% before the end of December and stay weak next year.
Copyright Press Association 2014