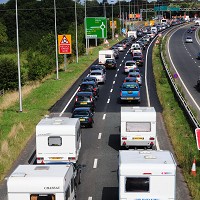 With the last bank holiday weekend before Christmas approaching, motorists are being advised on the best times to travel to avoid the "bumper" traffic levels expected on Britain's roads.
While blue skies and sunshine are not forecast for most regions, it seems the cool, damp temperatures will not be putting off the millions of people heading to the airports, or even one of the country-wide music festivals.
The RAC predicts nine million people will take a road trip this weekend, with Saturday and Sunday expected to be the busiest times, particularly on major motorways and A-roads.
That means Thursday or Friday seem to be the best days to depart for the late summer break in order to avoid the bulk of the crowds.
RAC roadside operations manager Matt Dallaway advises on the best possible course of action in case of a breakdown or traffic jams.
He says: "With it being the last bank holiday until Christmas and major music festivals happening in Reading, Leeds and elsewhere, we're expecting this weekend to be a bumper one for traffic.
"As such, we are advising drivers to allow plenty of time for their journeys and to plan for potential delays by stocking up on snacks, refreshments and something to keep the kids entertained in the car.
"For those wanting to try to beat the traffic, we would recommend setting off either late Thursday or early Friday morning. As always, drivers should ensure they do some basic vehicle checks before they travel including tyre pressures, tread, oil, coolant and screen wash and ensure they are ready for any unexpected conditions on the road by travelling with emergency motoring essentials such as a first aid kit, a reflective sign and a fully charged mobile phone."
Copyright Press Association 2014