More than two-thirds (68%) of drivers in England questioned by the RAC think removing the hard shoulder, as is happening on the ever-increasing number of the country's smart motorways, compromises safety for those who breakdown in a live lane.
To increase capacity on the country's busiest roads over one hundred miles of hard shoulder have been converted by Highways England into running lanes for traffic, many removed permanently on 'all lane running' smart motorways. On these stretches, SOS refuge areas are spaced up to 1.6 miles (2.5km) apart.
The RAC Report on Motoring 2019 found a considerable level of concern about the potential impact of breakdowns or accidents on safety and congestion on this new type of motorway.
Among those motorists who say they have driven on an 'all lane running' smart motorway, seven-in-10 (72%) are worried about not being able to reach an emergency SOS area if they break down. Only 10% are not bothered by this whereas nearly a fifth (18%) didn't have an opinion either way.
Data for the RAC Report on Motoring also revealed six-in-10 drivers (59%) think the distance between SOS areas, at up to 1.6 miles (2.5km) apart, is too great, with only 13% disagreeing and 28% not expressing a view.
Only half of drivers who have driven on an 'all lane running' smart motorway (51%) say they know what to do if they break down and are unable to reach a refuge area, meaning the remainder are unclear.
When incidents occur on smart motorways, lanes are closed via a red X which is illuminated either on the digital gantries located above the lane or on verge-mounted variable message signs. This includes the inside lane, which was formerly the hard shoulder but is now a permanent running lane.
This affords broken-down drivers some protection as long as lanes are closed quickly and other motorists obey the signs. When those with experience of 'all lane running' smart motorways were asked whether most motorists abide by 'red Xs', 62% said they felt they did, but almost one-in-five (18%) claimed they did not.
Separate RAC research conducted earlier this year revealed that more than a fifth of drivers (23%) have driven in a closed lane. Highways England is due to begin using enforcement cameras to catch those ignoring 'red Xs' imminently.
There is also a very strong feeling among motorists about the impact of an 'all lane running' incident on traffic flow with 77% of motorists stating that a breakdown on a live lane leads to increased congestion.
On a more positive note, more than half of motorists surveyed by the RAC (55%) agree that smart motorways are a cost-effective way to increase capacity on congested motorways, with only 15% disagreeing (30% did not express a view).
Trust in Highways England's ability to detect stationary vehicles in running lanes and respond accordingly is debatable with half of drivers (54%) surveyed agreeing with this statement – a fifth (20%) disagreed while a concerning 26% did not have an opinion.
A similar percentage of drivers (53%) also agreed they had confidence in the accuracy of electronic variable messaging signs warning of incidents ahead (22% did not express an opinion).
Well over half (56%) said the majority of drivers heeded the variable speed limits on smart motorways, but worryingly a quarter (25%) said they don't. Nearly two-thirds (65%), however, claim to often see speed limits on smart motorways reduced for no apparent reason.
This is an interesting finding as Highways England uses an electronic speed detection system (MIDAS – Motorway Incident Detection Automatic Signalling) to set limits on smart motorways automatically.
RAC head of roads policy Nicholas Lyes said: "Our research clearly demonstrates that many drivers have some serious concerns about certain aspects of 'all lane running' smart motorways. Motorists strongly believe the permanent removal of the hard shoulder compromises safety and tell us that emergency SOS areas are located too far apart at intervals of up to 1.6 miles.
"We have consistently highlighted our concerns about this type of smart motorway to the Government, MPs and Highways England so we hope these findings add further support to our calls for action. This is particularly relevant now as the Secretary of State for Transport has committed to reviewing the safety data from smart motorways.
"We are calling on the Government to ensure the latest stopped vehicle detection technology is retrofitted on all sections of smart motorway as a matter of urgency and for more SOS areas to be built so drivers are never more than a mile away from one. We would also like to see these measures included in all smart motorway schemes that are currently being built or planned so we have a nationally consistent standard.
"We, and drivers generally, understand there is a need to increase capacity on our motorway network with traffic levels forecast to grow. However, this should only be done using the latest design features and technology so schemes are not only as safe as possible, but also make motorists feel safe driving on them. Sadly, only a fraction of 'all lane running' smart motorways operating today have SOS areas spaced at intervals of up to a mile and stopped vehicle detection technology installed.
"It is imperative drivers have the confidence to know they will be protected from traffic in the event they suffer a breakdown in live lane on 'all lane running' motorway."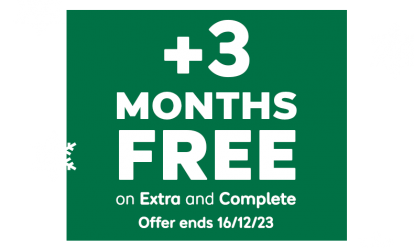 With 12 months of cover, new customers get an extra 3 months for free*.
*Added after 12 months, excludes Basic cover. New customers only. Ends 16/12/23, 7am