Almost 10,000 drivers have been caught by Highways England as part of a fresh bid to challenge tailgaters.
A new camera system that records motorists who drive too close to other cars has been tested from October 2020.
Those spotted by the cameras haven't been prosecuted or fined, but they each received a letter with a message reminding them to leave a gap between vehicles.
If motorists are prosecuted for tailgating-related 'driving without due care and attention' charges, they can be hit with a minimum £100 fine and three penalty points.
Over 130 people were killed or seriously injured by incidents involving tailgating in 2018.
The police and Highways England are hoping the new approach will encourage drivers to leave a minimum of a two-second gap as advised in the Highway Code.
Jeremy Philips, Head of Road Safety at Highways England, said that the cameras are there to "make drivers aware of their behaviour and encourage better driving".
The smart technology monitors drivers passing through a 150 metre stretch of road and can differentiate between deliberate tailgating and overtaking or sudden braking by other road users.
One of Highways England's own staff, data and intelligence analyst Caroline Layton, shared her story of a tailgating incident as she drove through roadworks on the M27.
Ms Layton explained how an HGV "came up really close, just a couple of metres behind" and all she could see in the rear-view mirror "was the lorry's grille".
She described her fear of being "sandwiched in the middle" if a car was to suddenly brake in front of her.
The two-second gap recommended in the Highway Code should be treated as a minimum, as stopping distances vary on different road surfaces and at a range of speeds.

Despite the danger of driving too close to other vehicles, a surprising 25% of drivers admitted to tailgating others, when asked by Highways England.
A similar survey from road safety charity Brake in 2014 found that 95% of drivers are sometimes concerned about vehicles driving too close behind them.1
Have you been in a tailgating situation before? Share your story in the comments below.
---
1 https://www.gov.uk/government/news/highways-agency-warns-tailgaters-that-only-a-fool-breaks-the-two-second-rule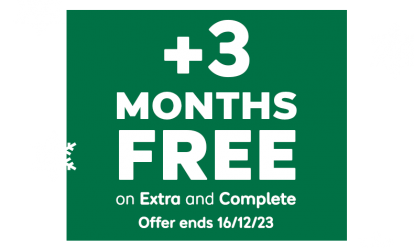 With 12 months of cover, new customers get an extra 3 months for free*.
*Added after 12 months, excludes Basic cover. New customers only. Ends 16/12/23, 7am