The Government has announced that plans for all new smart motorways will be cancelled due to serious concerns over safety.
The decision will remove all future smart motorways from the Government's road-building plan, including 11 projects that were paused and the three that were earmarked for construction between 2025 to 2030.
Smart motorways are a type of highway that uses technology to improve the flow of traffic and reduce congestion.
Launched in 2006, smart motorways use variable speed limits, lane-control systems, and other advanced technologies to keep vehicles moving safely and efficiently. In many cases, they remove the hard shoulder – which opponents to their introduction have highlighted as a safety risk.
The variable speed limits employed on a smart motorway are monitored and adjusted in real-time to regulate the speed of vehicles and reduce the risk of collisions. The lane-control system allows for the closure of certain lanes during periods of high traffic, to help reduce congestion.
In January 2022, the Government started a review into the cost and safety of the smart motorways and paused further construction work, pending the results of the data. As a result, the introduction of new smart motorways in Manchester, across the Pennines, and in Greater London were delayed. These have now been cancelled following the new announcement.
In the RAC's 2022 Report on Motoring, the public's dislike for smart motorways was highlighted.
It stated: "Drivers continue to express concern about the safety of smart motorways with most thinking the default 'all lane running' smart motorway configuration should be replaced with the 'dynamic hard shoulder' configuration – food for thought for the Government."
In fact, 70% of drivers believed that no new 'all lane running' smart motorways should be introduced - and should be switched to 'dynamic hard shoulder' motorways. This is where the hard shoulder operates as a running lane on a part time basis.
Prime Minister Rishi Sunak said: "All drivers deserve to have confidence in the roads they use to get around the country. That's why last year I pledged to stop the building of all new smart motorways, and today I'm making good on that promise.
"Many people across the country rely on driving to get to work, to take their children to school and go about their daily lives and I want them to be able to do so with full confidence that the roads they drive on are safe."
Transport Secretary Mark Harper said: "We want the public to know that this government is listening to their concerns. Today's announcement means no new smart motorways will be built, recognising the lack of public confidence felt by drivers and the cost pressures due to inflation."
Following the official announcement, the Government and National Highways revealed that they would continue to invest £900 million in further safety improvements on existing smart motorways.
This includes progressing plans on installing 150 extra emergency areas across the road network.
The Government will also continue to give motorists clear advice when using existing smart motorways.
RAC road safety spokesman Simon Williams said: "This is a watershed announcement and a victory for everyone who has campaigned against these motorways that, by their design, put drivers in more danger should they be unlucky enough to break down on one.
"Our research shows all lane running smart motorways are deeply unpopular with drivers so we're pleased the Government has finally arrived at the same conclusion. It's now vitally important that plans are made for making the hundreds of existing miles of these types of motorway as safe as possible.
"The possibility of converting all lane running stretches to the 'dynamic hard shoulder' configuration, where the hard shoulder is open and closed depending on the levels of traffic, could be one option the Government considers."
Do you welcome the end of smart motorways in the UK? Or should more be introduced? What other parts of our road network should be looked at by the Government? Leave your comments below.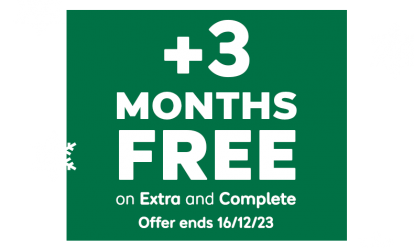 With 12 months of cover, new customers get an extra 3 months for free*.
*Added after 12 months, excludes Basic cover. New customers only. Ends 16/12/23, 7am