Motorists have been reassured that there's no fuel shortage in the UK, as industry leaders urge them to only take what they need and avoid stockpiling.
This follows an array of images flooding social media showing lengthy queues of vehicles waiting to refill outside petrol stations.
The reaction was spurred on by reports last week that a small number of BP and Tesco petrol stations had to shut their doors as a result of a shortage of HGV drivers – meaning they couldn't restock fuel in time.
The Government insists there is "no shortage of fuel in the UK" and is urging drivers to buy fuel as normal as more forecourts are forced to close.
RAC fuel spokesman Simon Williams said: "While there's no shortage of fuel at refineries, panic buying over the weekend means every forecourt in the country needs to re-stock at the same time which puts unbelievable pressure on the supply chain.
"We urge the Government to do everything in its power to plug the gaps in the supply chain and keep deliveries moving normally. But as so many drivers filled up over the weekend, there should be less overall demand as long as fuel makes its way back on to forecourts in the next few days."
However, while there is no shortage of fuel itself, some care workers, NHS staff and taxi drivers have been unable to fill up at petrol stations in London, the capital's mayor Sadiq Khan told Sky News.
Simon Williams added: "We urge drivers to only take the fuel they really need. Stock piling in containers only makes the situation worse for those who desperately need fuel as well as potentially causing unnecessary fire risks if not stored correctly. It's also vitally important the emergency services and businesses that help to keep the UK moving can get access to fuel. We have also seen an increase in our patrols attending drivers who have run out of fuel over the weekend."
Despite there still being a healthy supply of fuel, Mr Williams warns that drivers could have to part with yet more cash at forecourts. "When it comes to pump prices, it's a pretty bleak picture for drivers. With the cost of oil rising and now near a three-year high, wholesale prices are being forced up which means retailers are paying more than they were just a few days ago for the same amount of fuel. This has led to the price of a litre of unleaded already going up by a penny since Friday," he said.
"We might yet see higher forecourt prices in the coming days, irrespective of the current supply problems. We are also aware of a small number of retailers taking advantage of the current delivery situation by hiking prices, so we'd remind drivers to always compare the price they're being asked to pay with the current UK averages which are 136.59p for petrol and 138.48p for diesel."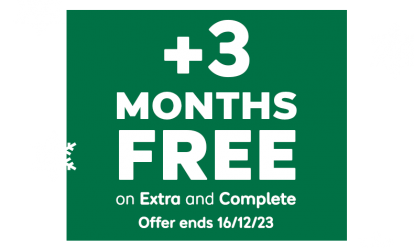 With 12 months of cover, new customers get an extra 3 months for free*.
*Added after 12 months, excludes Basic cover. New customers only. Ends 16/12/23, 7am