All new homes and offices built in England from 2022 will include chargepoints for electric vehicles (EVs), in a world first.
The new chargers will be 'smart' devices capable of communicating with cars to decide the best time to top up batteries and prevent the electricity network from being overloaded.
Transport Minister Rachel Maclean announced the move amid growing fears over a shortage of plug-in points.
Earlier this year, the Competition and Markets Authority said more than 250,000 chargepoints will be needed by 2030. 1 According to Zap-Map, as of 15 Sept there are only 25,713.2
Currently, 500 plug-in points are installed every month in the UK – falling below the 700 a day recommended by motoring experts.
The Government hopes its groundbreaking legislation will address the need for more chargepoints before the 2030 ban on the sale of new diesel and petrol cars.
Although it's much cheaper to charge electric cars at a domestic plug-in point, the new plans are designed to give some of the 40% of UK households without off-street parking, access to chargers at their workplace.3
An initial consultation for compulsory domestic charge points suffered from serious delays two years ago because of the coronavirus outbreak and the general election.
In related EV charging news, all home chargepoints installed after 30 May 2022, will need to be connected to the internet to allow them to be switched off during peak times. 4
EV chargers are set to be a familiar sight all across the country after the first all-electric car charging forecourt opened in Essex in December last year. Gridserve, which opened the site in Braintree, plans to build 100 more charging stations in the UK.
Transport Secretary Grant Shapps has even called on the artistic support of the Royal College of Art to design an electric vehicle charging point that is "as iconic and recognisable as the British phone box, London bus or black cab".
Clive Grinyer, head of service design at the Royal College of Art, said: "This is an opportunity to support the design of a future icon that will be part of our national culture as we move towards a sustainable future."
Return to the RAC Drive Electric cars hub
Read our guides on choosing, charging and running an electric car.
Join the RAC and get breakdown cover. Our patrols fix 4 out of 5 vehicles on the spot, with repairs done in just 30 minutes on average.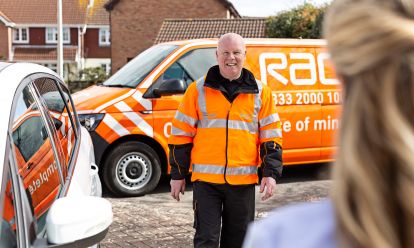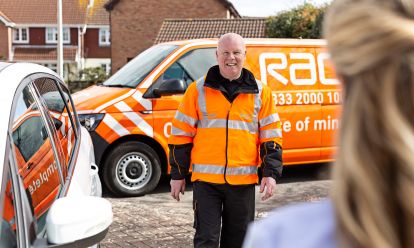 ---
1. https://www.thetimes.co.uk/article/shortage-of-roadside-chargers-undermines-the-roll-out-of-electric-cars-s9hmghpt5
2. https://www.zap-map.com/statistics/
3. https://www.nationalgrid.com/document/125116/download
4. https://www.driving.co.uk/news/environment/ev-chargers-switch-off-peak-times-blackouts/