Classic cars are all exotic in one way or another. Whether it is the design of the bodywork, formed by hand and eye, or the way yesterday's engineers solved particular mechanical challenges, the attraction of classic vehicles is often that they are very different from today's cars.
But there are some classic cars that transcend the rest. These are the vehicles that are considered by many to be the very best: the most beautiful, the most exclusive, or the most powerful.
Choosing ten of the best classic cars is an almost impossible task - every historic vehicle enthusiast will have their own idea of what makes a car great. But here is our list- in no particular order- which we hope you will enjoy.
1. Lamborghini Miura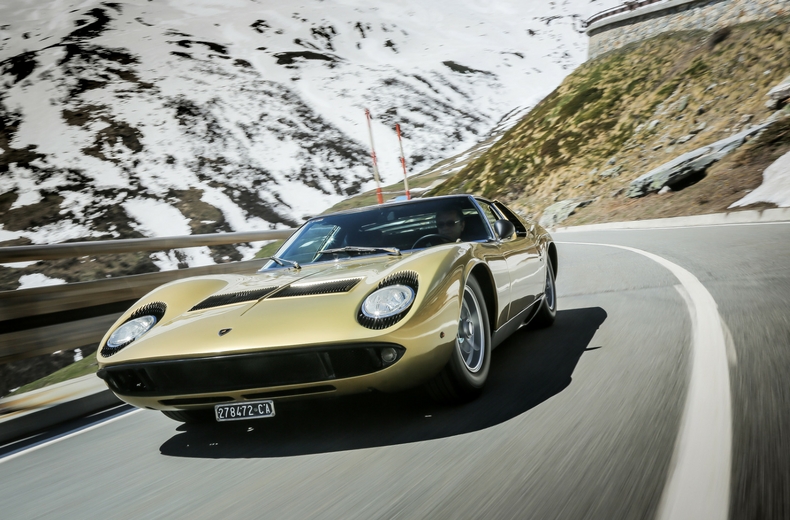 The Lamborghini Miura was the world's fastest production car when it was released in 1966.
Marcello Gandini's sleek design with recessed headlamps is a classic that most people will instantly recognise, and many will remember from the opening scene of the original Italian Job movie.
With Lamborghini's snarling 3929cc V12 engine under the bonnet, the name 'Miura' seems apt: it is the name of a famous breed of fighting bull.
2. Jaguar E-Type Lightweight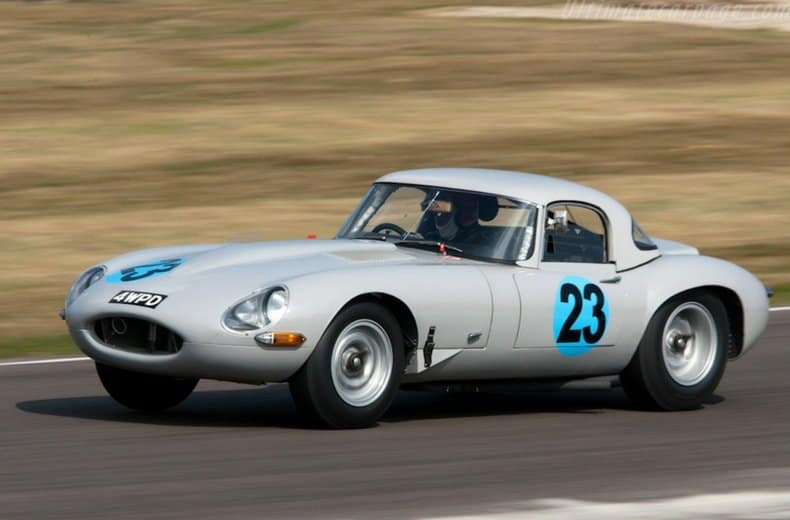 The Jaguar E-Type is one of the most instantly recognisable classic cars in the world.
Amongst the many models built was an exclusive group of 12, each hand-built at Jaguar's Browns Lane plant between 1962 and 1964.
These were the E-Type Lightweights - competition cars that used many elements of the D-type racing car, clothed in a sleek aerodynamic body, and with 600lbs in weight shaved off the production car.
READ MORE: Top 10 emerging classic cars for savvy investors to look out for
The result was a very competitive racing car, both in period and today- the Lightweights still compete regularly at the Goodwood Revival and Silverstone Classic.
Today the Jaguar E-Type Lightweight is considered by many to be the ultimate Jaguar racing car.
3. Lamborghini Countach LP400 'Periscopio'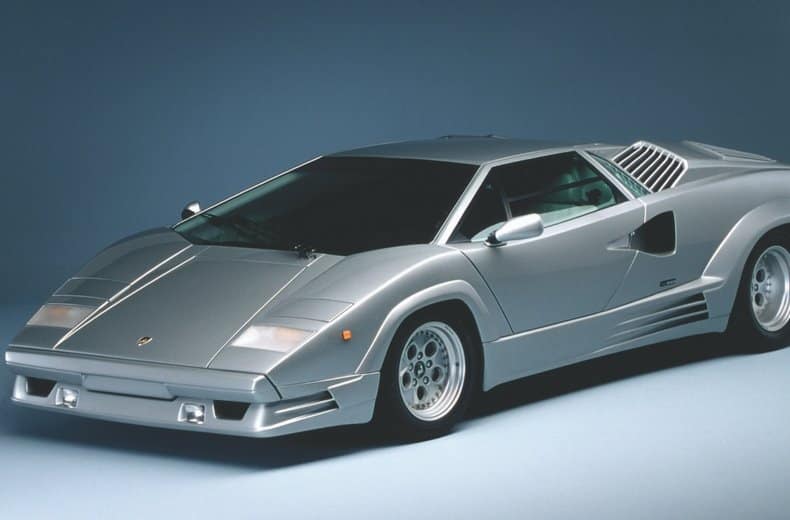 For 1970s children playing Top Trumps, the Lamborghini Countach was the card to hold.
This was a car like no other- the wedge-shaped styling was out of this world, as were the gull-wing doors, cooling ducts and (on the earliest models) even a mirror mounted in a channel in the roof to improve the driver's rear view (the so-called 'periscopio').
Breakdown cover from just £7.95 a month*. Plus up to £150 of driving savings!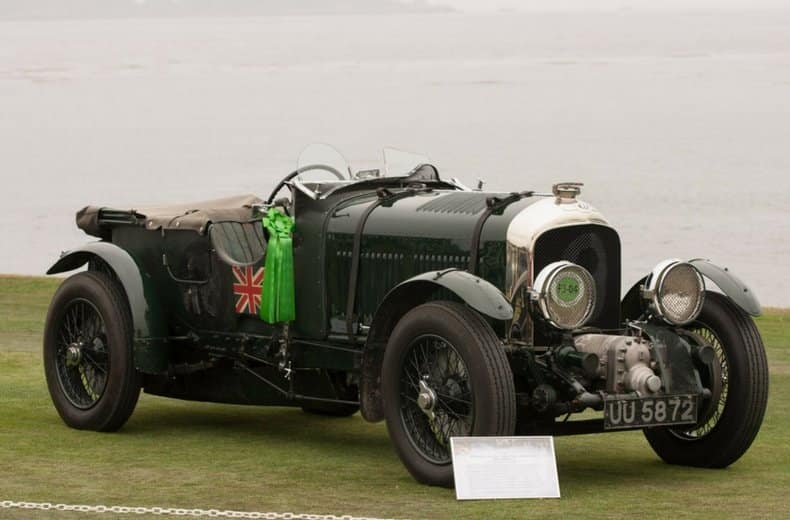 This was a car that could reach nearly 200 mph and looked like something that had landed from another planet. The Countach was built from 1974 to 1990 with various combinations of wings, wheels and raised air intakes, but the very earliest models are considered the purest in design terms.
The Lamborghini LP400 Countach has to be in our top ten.
4. Bentley 4.5 Litre
Pre-war Bentleys are objects of such mechanical beauty that it is hard to identify just one for this list.
However, muscling its way past the racing success of the 3-Litre and the phenomenal grunt of the 8-Litre, the 4.5-Litre, edges it for a number of reasons.
Firstly, the 4.5-Litre is a huge, imposing British beast of a car. Acres of top quality leather, wood and chrome make it a superb looking car, especially with Open Tourer coachwork by Vanden Plas.
When supercharged it set several speed records
Also, when supercharged (the fabled 'Blower' Bentley) it set several speed records, including reaching 138mph at Brooklands in 1932.
But overall, for many, the Bentley 4.5- Litre epitomises the very Best of British sports cars.
5. Ferrari 250 GTO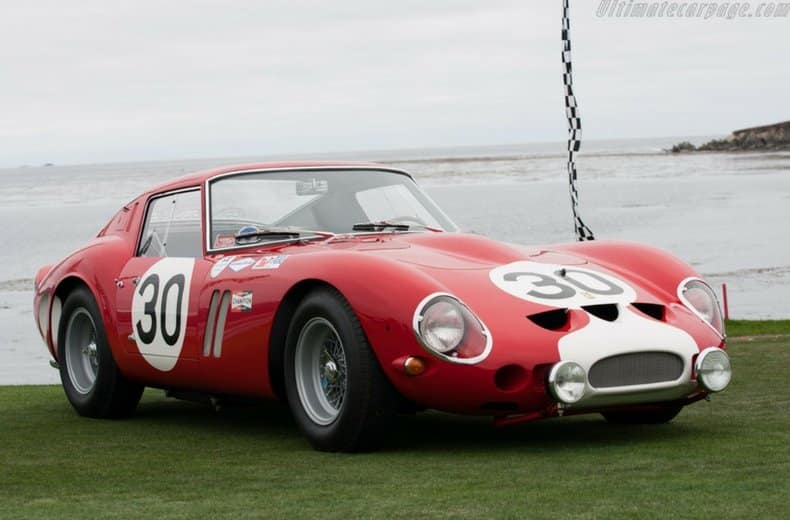 The Ferrari 250 GTO was built between 1962 and 1964, and many consider it to be the greatest Ferrari of all time.
It combined the legendary Colombo V12 engine with a beautiful body designed by Giotto Bizzarrini and Mauro Forghieri, and for its day, it was quick.
From a standing start, 60 mph came up in 6.1 seconds and it had a top speed of 158 mph, but it also handled very well on track: the car was well-liked by drivers such as Phil Hill, Stirling Moss and Innes Ireland.
In 2013, a 250 GTO sold for $38m - the most expensive car ever to change hands at public auction - and the Hagerty Price Guide currently values them at up to £44.5m.
6. McLaren F1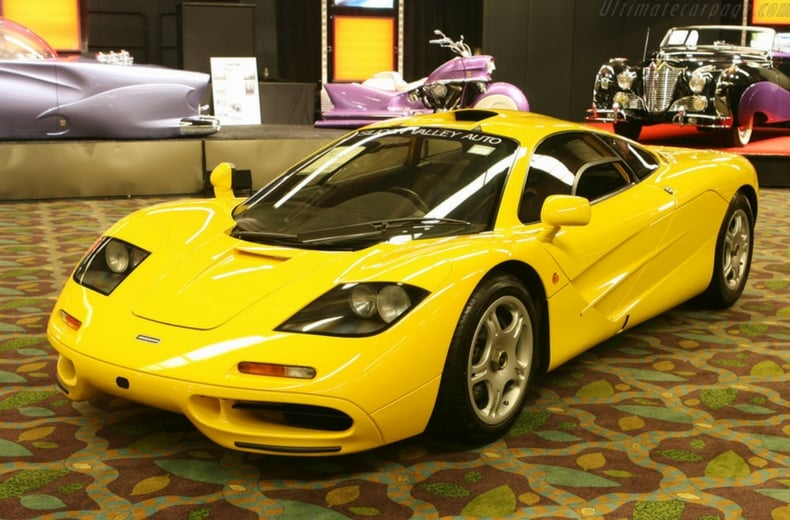 In this list of superb cars, the McLaren F1 stands out as an exceptional feat of engineering and design brilliance.
Until it went on sale in 1992, McLaren had made just racing cars, and this first dedicated road car was the brainchild of chief designer Gordon Murray.
READ MORE: Top 10 'unexceptional' classics you may have once owned
Its performance was unlike anything previously seen in a road car, achieving a top speed of over 240 mph- a production car record that lasted until the arrival of the Bugatti Veyron in 2005.
Famously fitted with three seats - the driver in the middle - owners of the car included Rowan Atkinson, who sold his F1 in 2015 for a reported £8m- a fair price, given it had experienced two severe crashes.
7. Bugatti Type 57SC Atlantic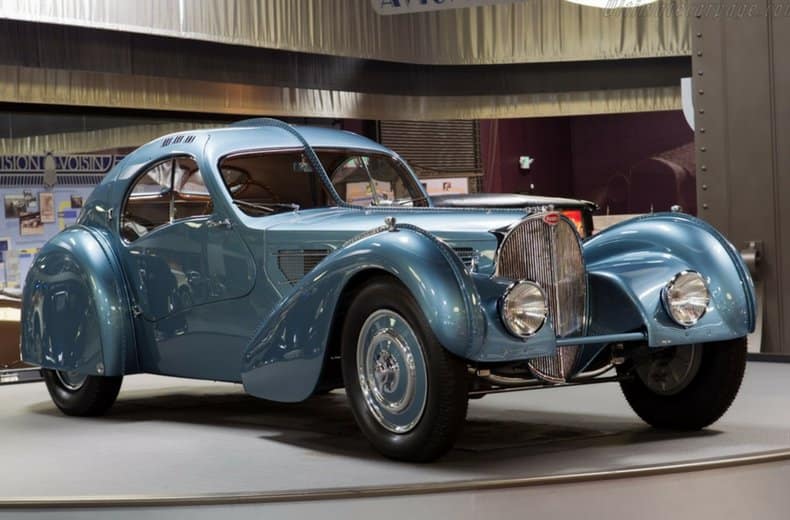 Only four of these exquisitely beautiful cars were built between 1935 and 1938.
Styled by Ettore Bugatti's son Jean, the aluminium body has a dorsal seam, following the style of Bugatti's previous 'Aerolithe' concept car.
With a 3.3 litre, 200 bhp, 8-cylinder engine, the car was one of the most powerful of its day. Of the four cars, three still exist: one was lost in transit through France during World War Two.
In 2010, a Bugatti Type 57SC Atlantic became the world's most valuable car when one sold for £20m in the USA.
8. Porsche 911 2.7RS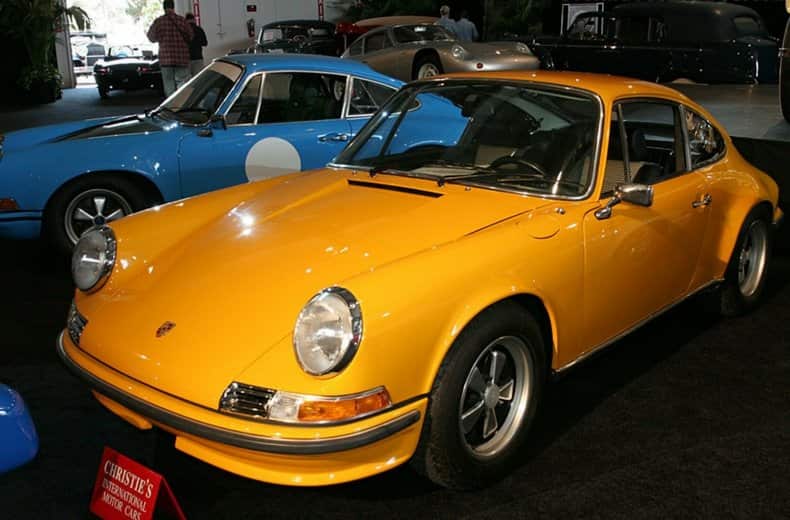 The Porsche 911 is another car, like the Jaguar E-Type, that is instantly recognisable to many people.
Collectors tend to consider the early cars - those built before 1973, with a long bonnet - as being the most beautiful.
Of these cars, one combined this beauty with sheer power: the Porsche 911 2.7RS.
500 were made and sold to the public to enable Porsche to race them
The car was a homologation model - 500 were made and sold to the public to enable Porsche to race them (RS stands for 'Rennsport' or 'racing sport').
As such, they are no-nonsense cars: the flat-six 210bhp engine can push it to 60mph in under 6 seconds, which was extremely quick at the time of manufacture. Road holding is lithe but good, thanks to fat tyres and its signature 'duck-tail' spoiler. Today, a good Porsche 911 2.7 RS could be yours for around half a million pounds.
9. Alfa Romeo 33 Stradale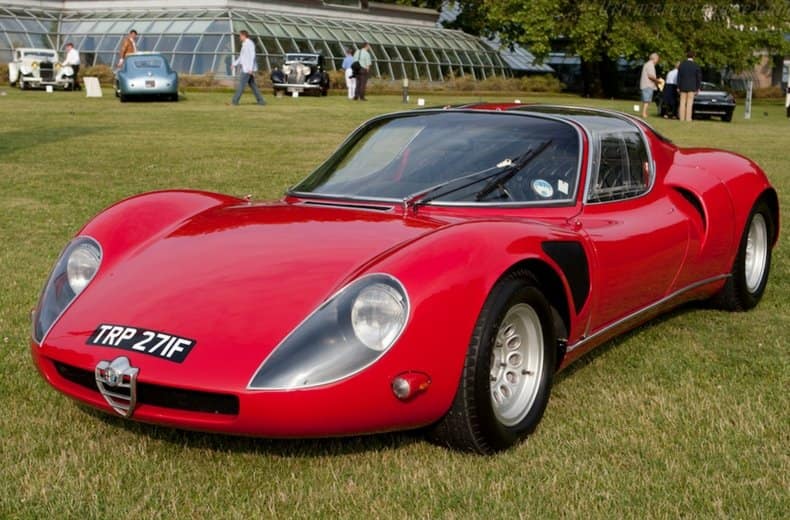 Only eighteen examples of the sublimely beautiful Alfa Romeo 33 Stradale we built between November 1967 and March 1968.
The car used the underpinnings of the Tipo 33 Sport, Alfa's dominant endurance racing car of the era, but was trimmed and equipped for road use. Also the Sport's two-litre V8 was detuned down to 230 horsepower.
Performance was superb, but it was the Stradale's sweeping bodywork, penned by Franco Scaglione, that still sets pulses racing.
The car, with an astronomical 10m Lira sale price, didn't sell well- indeed, six of the chassis were sold to other coachbuilders who created their own concept cars.
Today, the Alfa Romeo 33 Stradale is rightly considered one of the most beautiful sports cars in existence.
10. Aston Martin DB4 Zagato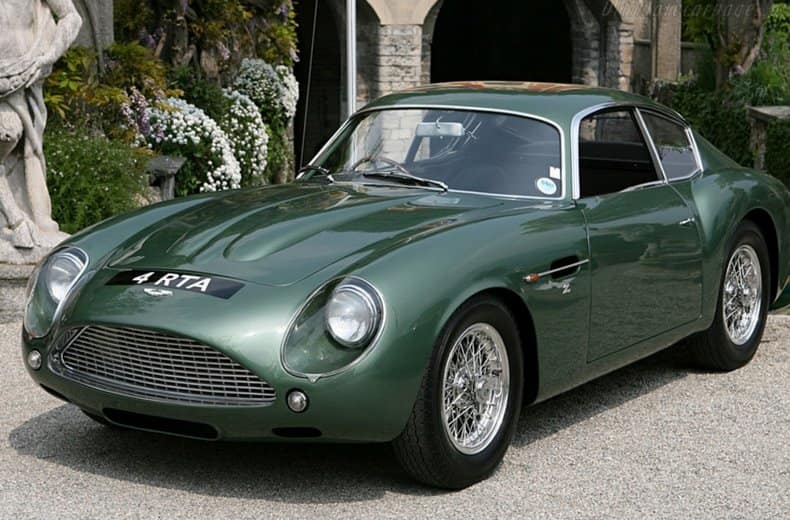 The Aston Martin DB4 GT was already a beautiful and powerful sports coupe when, in 1960, Zagato unveiled their coach-built version of the car.
The new Aston Martin DB4 GT Zagato included an uprated 3,670cc straight-six engine producing 314 horsepower and a lightened, streamlined body that enabled the car to reach 60mph from a standing start in 6.1 seconds and a top speed of 154mph.
Four of the cars were lightened still further for racing, with the remaining 15 original cars being prepared for road use.
Today the car is regarded as one of the most beautiful classic cars, Ercole Spada's design epitomising the streamlined but purposeful style of early 1960s GT cars.
In December 2015, an Aston Martin DB4 GT Zagato became the most expensive British car ever sold, when it achieved £9.45m.
What would you say is the greatest classic car ever? Tell us in the comments below.