British F1 World Champion visits UK to unveil the latest hot new Merc – and we were there to witness it and grab a word with the man himself.
Lewis Hamilton has told RAC he loves road cars that sound good and make lots of noise – and it looks like his latest company car, which he helped reveal in Britain, will tick the box perfectly.
Say hello to the new 585hp Mercedes-AMG GT R.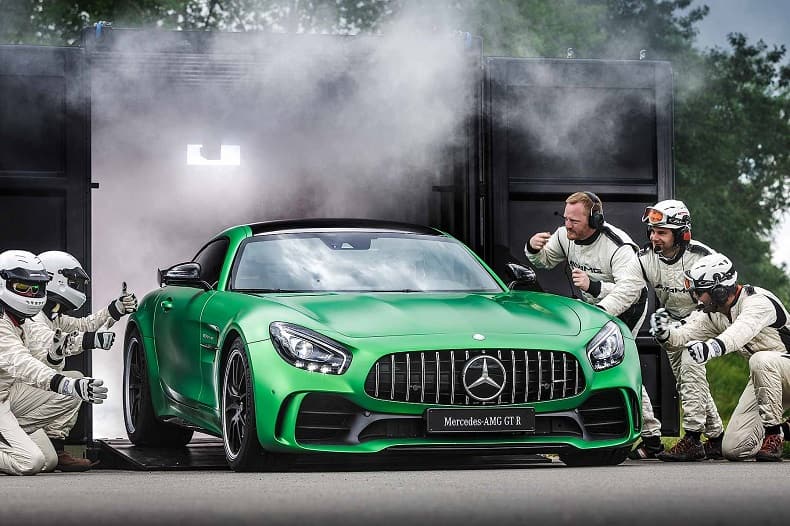 The new car was launched in a dramatic presentation at Mercedes-Benz World, Brooklands. And when we say dramatic, we mean it.
A helicopter flew across carrying the car in a crate, other Mercedes-AMG GT models put on a smoky drifting display while the new model was unleashed and then, to fireworks, the Mercedes-AMG GT R roared into view.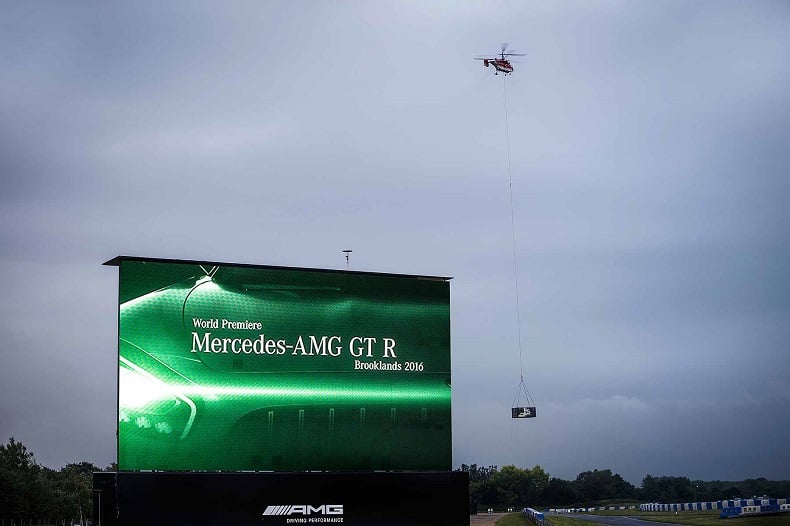 Seconds after, another Mercedes-AMG GT smoked into view, from which three-times F1 World Champion Lewis Hamilton jumped out, grabbed the keys for the new GT R, then roared around the Brooklands track before leaping out and declaring it "awesome".
Such a dramatic presentation was given because, well, the new Mercedes-AMG GT R is a dramatic car.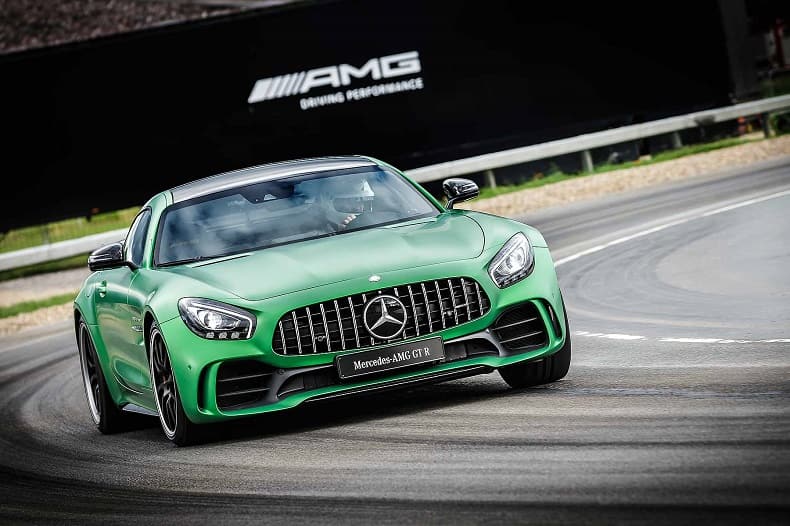 The 585hp supercar is a development of the existing AMG GT that's been created to take on Germany's fearsome Nürburgring racetrack. A track so fearsome, another three-time F1 World Champion, Sir Jackie Stewart, dubbed it 'the green hell' – a theme Mercedes has picked up with the GT-R's vivid matt metallic green colouring.
Mercedes-Benz has spared no effort in turning the AMG GT into a track warrior to do battle with the imperious Porsche 911 GT3.
READ MORE: Could this 275hp Renault Clio be the world's greatest hot hatch? or Green Number Plates
The plethora of upgrades includes rear-wheel steering, track-spec Michelin tyres, fully adjustable coilover suspension, a rear double diffuser similar to those banned in F1 racing, even a traction control system with no fewer than nine individual modes. And, of course, that deafening lightweight exhaust system. It's the most radical supercar the famous firm has ever made.
It's the most radical supercar the famous firm has ever made
To reflect its headline-grabbing status, Mercedes-AMG has even treated it to a makeover that honours one of its most iconic classic models, the 1952 Mercedes-Benz 300 SL.
This car won the legendary Mexico Panamerica race and to honour it, the Mercedes-AMG GT R wears a 15-fin chrome grille that mimics the original.
No wonder Lewis Hamilton is so excited by the arrival of his new car.
Speaking later to the RAC, he admitted he'd first driven the car during filming for the promotional video, "but today was the first time I'd got to drive it in anger. It's awesome, so powerful and responsive – and it sounds immense. I was surprised it was street legal."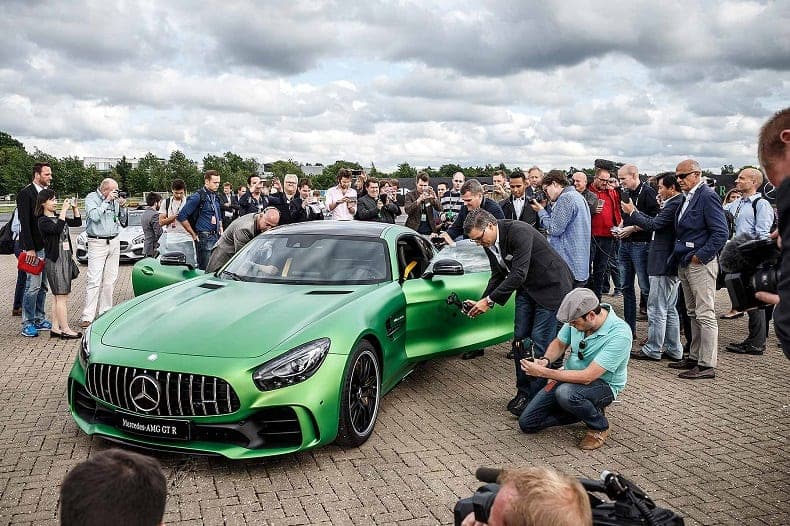 The wide body, extra power and bellowing sound also got his vote, "and the improved aerodynamics are cool too – most people don't notice that."
But although Hamilton hopes to get his car ahead of its market launch later in the year, he won't be taking it onto the track.
"The F1 car's for that – I don't take road cars onto the track. I prefer to use them in places like Monaco – that's why I love cars that sound good. To me, sound is one of the most important features."
READ MORE: Aston Martin Vanquish Zagato sold out before production even confirmed
So it won't be the reigning F1 champ that takes the new Mercedes-AMG GT R around the Nürburgring 'green hell' that inspired its development – but you can bet someone will be.
Because, surely, Mercedes-AMG is chasing a new Nürburgring lap record with this car? We'll find out later this year when it's launched to car buyers (likely with a price well in excess of £150,000).