The first genuine London Motor Show since 2008
is now underway at Battersea Evolution. To see what visitors can look forward to this weekend, RAC Drive applied the suncream examined what is on offer at Battersea Park's impressive Evolution centre, where the latest new cars are lined up both outdoors and in.
Indeed, the fact this is a split outdoor-indoor motor show is actually a key part of the London exhibit's appeal. Usually, shows are strictly conducted indoors, under the heat and glare of lightbulbs: being able to see new cars in natural light outside is a welcome new take on a motor show that events in other countries may be looking at with interest. Particularly when the weather is as glorious as it is in Britain…
The London Motor Show is largely supported by car dealers, rather than manufacturers. This is to keep costs for manufacturers down – but, so professional-looking are the car dealer displays, you'd never know. The show has a spacious feel, is well laid out and all the cars are easy to walk around – again, it's probably better than traditional shows in this respect.
Show organisers admit this is the first year of the show and it will develop as the years pass. But the Goodwood Moving Motor Show started in a similar way, and look at it now: it's a global must-visit event. Our first visit suggests the London event has plenty of appeal already – not least because of the new cars it's attracted to London.
The new cars of the London Motor Show
One of the biggest news stories of the show is MG's reveal of its new GS crossover SUV. This is the car it will challenge strong-sellers such as the Nissan Qashqai and Kia Sportage with – and once the covers were pulled off, it proved an impressive debut. Clean, crisp and modern, the GS is the most contemporary modern MG yet and seems to have been very well received by the press. It should be top of your must-see list at Battersea.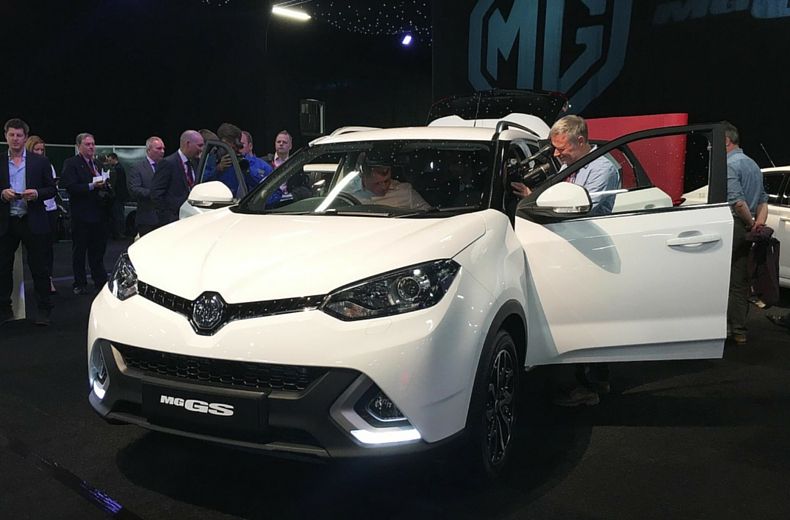 ​Find out how much your car is worth with the free car valuation tool at RAC Cars.
Journalists were expecting to also get a first look at the new TVR sports car – but, despite the company CEO himself hosting the press conference, it wasn't to be. The covers of the full-size car on display were pulled off – only to reveal another cover beneath. TVR has a tradition of having fun with the press and this was no exception: customers will actually be the first to see the real car later this summer. If you want to be in line for a first-look, leave your details with TVR this weekend.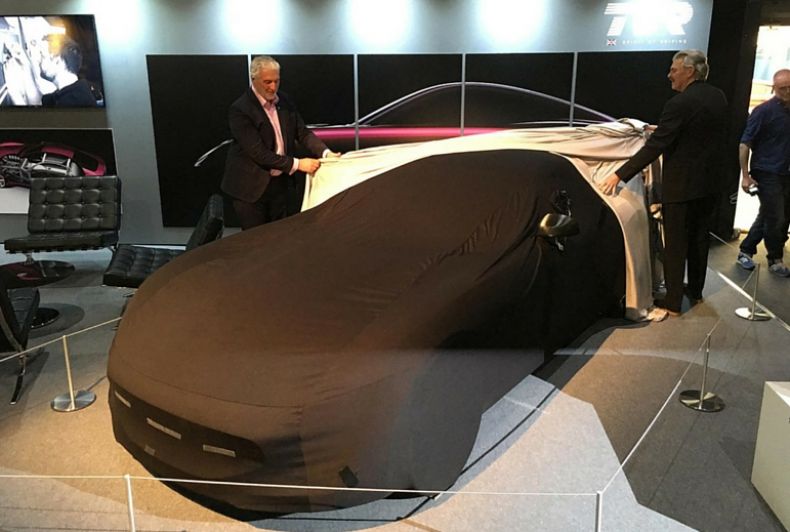 TVR toyed with the press revealing only another cover instead of its new sports car
The London Motor Show is hosting many other new car UK debuts at Battersea this weekend, including the Ford Edge SUV, Lamborghini Huracan Spyder, Jaguar F-Pace, Vuhl 05 sportscar, Caterham 620S and both the McLaren 675LT Spider and McLaren 570GT. Something for everyone, with newly-launched cars such as the MINI Convertible, Lotus Exige Sport 350, Infiniti Q60 and BMW M4 Competition Package adding to the variety.
In total, there are more than 130 cars from 35 brands and many of them are new to the market. For the chance to have a first look at cars coming to UK dealers soon, the London Motor Show really impresses.
For more read what made it on to our list of must see cars at the London Motor Show 2016.
Surprises at the London Motor Show
There are even some unexpected surprises. A London car dealer is exhibiting American muscle cars and SUVs that have been professionally converted to right-hand drive.
Another is showing off an odd Japanese car called the Mitsuoka Viewt (below) – a small city car based on a Nissan Micra but styled to look like a retro Jaguar saloon. Seeing it is believing: the dealer will happily take your name if you want one (and are willing to spend £27,000).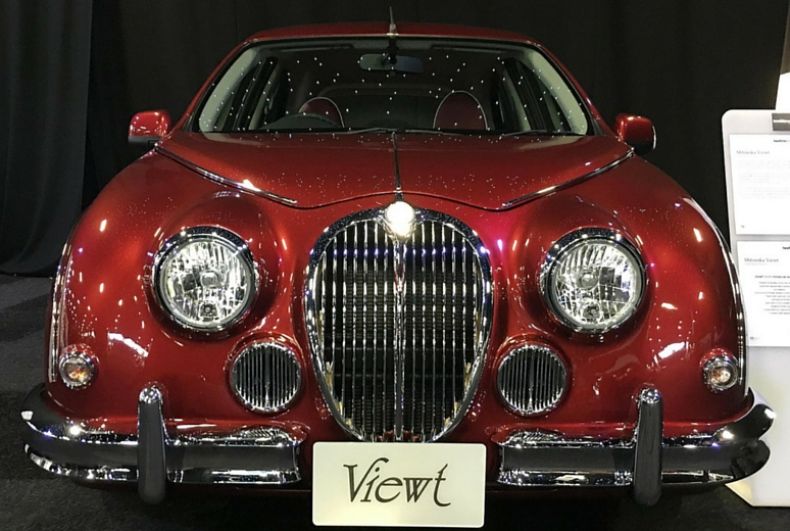 You can even take a ride with The Stig, in the Top Gear simulator (or just watch the new series's teaser trailer here - for the less brave).
Don't miss the live safety display either, as part of the 'STOPTHECRASH' safety initiative, a car fitted with Autonomous Emergency Braking is in action to show how the safety tech works.
In essence, at speeds up to 20mph, it will automatically stop the car if it detects an obstacle up ahead that the driver doesn't respond to. Visitors can actually have a go themselves, driving up to a barrier without touching the brakes to see if they can crash into it: the car stops them every time.
The best bit is that there are live video cameras inside, capturing their expression as they accelerate up to the barrier. Some of the grimaces are priceless.
Overall, the London Motor Show seems like it will be a hit. There are lots of new cars in a pleasant parkland setting, including some show debuts, and it's both easy to walk around and cost-effective to get in. If you have a few hours spare in London this weekend, we'd certainly recommend spending £20 (with two free children per adult) to take a look.