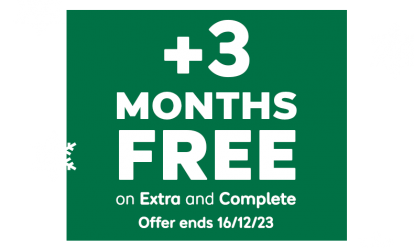 With 12 months of cover, new customers get an extra 3 months for free*.
*Added after 12 months, excludes Basic cover. New customers only. Ends 16/12/23, 7am.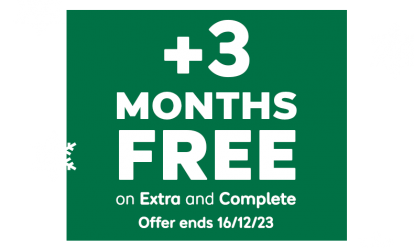 The improved version of Volvo's second generation XC90 gets a mild dose of electrification. Jonathan Crouch takes a look.
Ten Second Review
Volvo's second generation XC90 is a seven-seat luxury SUV that's already given key rivals like Audi's Q7 and the Land Rover Discovery a lot to think about. Safe, efficient, clever, practical and stylish, this car continues to position the Swedish maker as a credibly prestigious automotive brand. Now, it's better still, thanks to the introduction of mild hybrid engine tech.
Background
Here's the car that began Volvo's modern era, the second generation XC90. This large luxury SUV established new standards for the brand when this model was originally announced back in 2014 and the company's recent move towards full electrification will re-set those standards once again. The improved XC90 model we're going to look at here, a range announced in the Spring of 2019, has reflected that trend with fresh mild hybrid technology. Plus the line-up's got a light update. Time to take a fresh look at this car.
The key change to the range is the inclusion of mild hybrid 'B5' diesel and petrol engines that together replace the conventional D5 diesel that the majority of buyers of this SUV previously chose. Otherwise, things are much as they were. All XC90s continue to provide the sort of proper full-sized seven-seat versatility that few rivals can credibly offer and a cool, authentic brand of Scandinavian charm that's really quite appealing. It all sounds promising doesn't it? Time to put this car to the test.
Driving Experience
When it comes to the XC90 range's mild hybrid 'B5' petrol and diesel engines, most buyers will prefer the 235hp diesel unit over the 250hp petrol version, but either way, the drivetrain set-up is the same, based around a 48-volt battery, a 'KERS' kinetic energy recovery system and an 'ISG' integrated starter-generator. Every time you brake or take your foot from the throttle, the 'KERS' set-up captures surplus energy and stores it as electricity in an extra battery provided in the boot. That additional electricity can be used to boost acceleration, help the stop/start system or power ancillary functions. The objective here wasn't to provide Prius-like periods of electric-only driving but instead make the engine more efficient via smoother transitions between driving, cruising and resting. That's all been aided by revisions to the automatic gearbox and the implementation of the brand's first brake-by-wire system.
As before, across the range, there's the option of an 'Active Four-C Chassis' package, which gives you four-corner adaptive dampers and electronic air suspension. Handling strikes a good balance between comfort and agility; cruising refinement meets the required executive standard; and there's the potential for a mild amount of off road prowess. A standard 'Pilot Assist' system offers a degree of highway-orientated autonomous driving technology. And you might be interested to know this car can tow up to 2,700kgs.
Design and Build
Only very minor visual changes feature with this revised version of the MK2 model - tiny tweaks to the bumper and the air intakes. There's also a slightly redesigned front grille, which as before features Volvo's traditional Iron Mark logo at its centre and will be finished in either black or silver, depending on trim level. We liked the front-of-cabin experience served up by this XC90 when we first tested it back in 2015: we still do. This interior is simple, elegant - and very uncluttered, with only eight buttons on the fascia. The remaining functions you'd normally access through confusing rows of little switches on the dash have been relocated into menu options that lie behind the big, easy-to-use icons you'll find on a smart 9-inch infotainment colour touchscreen that's presented portrait-style on the centre console.
You'll glimpse more hi-tech screen technology through the three-spoke wheel courtesy of Volvo's 12.3-inch Active TFT Crystal Driver's Information Display. Otherwise though, this cabin's an aesthetic triumph, immaculately made and full of premium touches like the diamond-cut start/stop control switch and the slatted cover for this centre dash. This genuine seven seater features innovatively designed seats that also free up interior space for passengers in both the second and third seat rows. Even the third row can seat an adult up to 170cm tall. As for the boot space on offer, well that's inevitably going to be a little restricted with all seven seats in place, though even in this configuration, you still get 397-litres of luggage space. Fold the 3rd row and you can load up to 1,102-litres, if you pack to the roof.
Market and Model
Sales of this car in our market are split 50:50 between fleet and retail and prices start at around £60,000 for the base B5 petrol model. There are three trim levels - 'Core', 'Plus' and 'Ultimate'. If you want the B5 diesel, you'll need at least 'Plus'-spec, which means needing to spend at least around £65,000.
Whatever XC90 derivative you select, all models have seven seats and come with AWD, with that drive provided through an eight-speed Geartronic automatic gearbox from a four cylinder 2.0-litre engine offered in four very different forms. Safety provision is industry leading. No one's ever been killed in the UK in an XC90 and it's unlikely that will change.
Cost of Ownership
The vast majority of XC90 buyers will opt for the B5 mild hybrid version of this car - probably the diesel variant. As you'll know if you've read our 'Driving Experience' section, both petrol and diesel B5 models use powertrains electrified via brake-by-wire energy recovery and enhanced by Volvo's advanced kinetic energy-recovery braking system. This set-up claims to offer drivers up to 15 per cent fuel savings and emission reductions in real-world driving. Sounds promising; let's get to the figures, all of which assume activation of the Drive Mode system's most frugal 'Eco' setting. Here, an 'Eco-Coast' function will automatically be activated for highway use, disconnecting the engine so that you're merely travelling on your car's kinetic energy: a prod on the throttle is all that's necessary to restore normal powered motion.
Anyway, to the stats: an XC90 B5 diesel manages a combined cycle fuel figure of up to 39.7mpg and CO2 return of up to 185g/km. Even the B5 petrol variant puts out no more than 197g/km of CO2 and manages up to 32.4mpg. That's a very class-competitive showing.
Summary
This will be the last ever large Volvo to use diesel power, but at least it does so more efficiently in this revised version of this MK2 model. The volume B5 diesel version will easily out-sell all the other variants combined and we can see why. There are no driving downsides for its mild hybrid tech and the electrification makes a decent difference to cleanliness and frugality. Plus if you really don't like fuelling from the black pump, there's always a petrol B5 option.
Of course, this Volvo's not perfect. There are still sharper-handling choices and more capable off roaders in this sector. In balancing its own blend of virtues though, this XC90 sets its own class standard and in doing so, establishes a family benchmark amongst luxury SUVs that rivals struggle to match. Company founders Assar Gabrielsson and Gustaf Larson would have liked this car. More importantly though, if you're shopping in this segment, we think you will too.