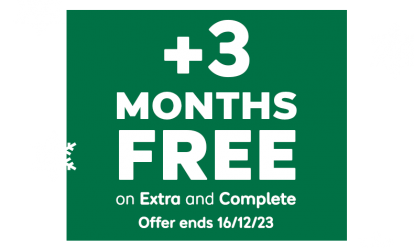 With 12 months of cover, new customers get an extra 3 months for free*.
*Added after 12 months, excludes Basic cover. New customers only. Ends 16/12/23, 7am.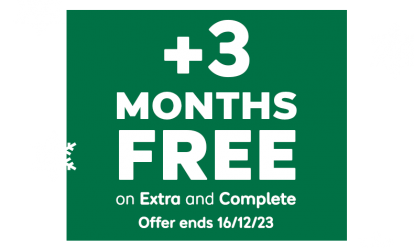 By Jonathan Crouch
Introduction
Suzuki provides one of the widest ranges of compact Crossover models that any brand can offer you. Here's the company's most practical offering in this segment, the SX4 S-Cross, a contender sized mid-way between very small and family-sized contenders in this class. Here, we're looking at the facelifted version of this model produced between 2016 and 2019, in which guise it was smarter and better connected, plus its range included a couple of much more efficient Boosterjet petrol powerplants. It's worth a second look if you're shopping in this segment for an affordable compact family-sized SUV from this period.
Models
5dr SUV (Petrol - 1.0 111PS, 1.4 Boosterjet 140PS)
History
Suzuki must find it frustrating to see other brands doing so well in the thriving Crossover market. The Japanese maker has, after all, been offering products of this sort for some time, most notably the first generation SX4 model, originally launched way back in 2006, easily pre-dating the original Nissan Qashqai that most people think pioneered this class of car.
That very first SX4 was a little too small, a little too shy and retiring and a little too poorly promoted to set the sales charts alight the way its Nissan competitor did, but Suzuki watched, learnt and came back fighting. As a result, the original version of this SX4 S-Cross model, launched back in 2013, was a much more competitive proposition. To keep its charms current, Suzuki significantly updated this model in the Autumn of 2016, the key change being the adoption of the brand's frugal 1.0-litre and 1.4-litre Boosterjet petrol engines in place of the previous rather inefficient 1.6-litre petrol unit. Buyers also got smarter looks, a higher quality interior and extra equipment. At prices that gave customers a near-Qashqai-sized family-shaped Crossover for the kind of money they'd have expected to pay for a smaller Juke-sized model. The SX4 S-Cross sold in this form until early 2020, when it was lightly revised and given a mild hybrid engine.
What You Get
Suzuki feel that quite a few buying decisions in the Crossover segment come down to aesthetics - and they're probably right. The original version of this car was smart but quite forgettable - which was a problem in a class full of trendily-styled rivals. Hence the changes made to this revised version, enhancements that certainly gave the car a little more pavement presence. Of course, as usual, what's more important is the stuff you can't see, namely this model's light, stiff platform, designed around what Suzuki calls 'Total Effective Control Technology'. This uses lots of high strength steel to make the structure very strong but also low in weight, which is the main reason why this S-Cross is so relatively light by class standards. Its kerb weight can tip the scales at as little as 1,160kg which, to give you some perspective, is about 150kgs lighter than typical class rivals.
You feel that light weight when you slam the driver's door shut, which isn't ideal, but otherwise, by affordable compact Crossover standards, the cabin feels quite nice, providing you're not expecting acres of slush-moulded soft-touch plastic: Suzuki doesn't really go in for that kind of finishing. We approve of the brand's decision to instead spend this facelifted model's development budget on a 7-inch colour infotainment touchscreen, standard above entry-level trim and the kind of thing that some other rivals from this period restricted to their priciest derivatives.
In the back, as usual in the Qashqai class, two adults will be fine - and three won't be too uncomfortable at a squash - provided they're not too tall. Vertically challenged folk will especially struggle if they happen to be seated in a plush variant equipped with a twin sliding panel panoramic sunroof that eats into ceiling room, so if you're tempted by that and fancy this feature, test the back of the car out first. If you can live with the roofline, a version with the sunroof is certainly a nice thing to have, offering one of the largest open apertures in this segment.
The boot is about 20% bigger than the trunk you'd get in smaller supermini-based Crossovers from this period - Mokkas, EcoSports, Jukes and so on - the 430-litre total being about the same as is provided by a MK2 Nissan Qashqai. And you can make good use of the space available thanks to a neat false floor that lifts to reveal hidden storage.
What You Pay
Please fill in the form here for an exact up-to-date information.
What to Look For
We came across quite a few satisfied buyers in our SX4 S-Cross ownership survey, but some owners had problems too. One experienced the engine cutting out completely (twice) on the move in a 1.4 Boosterjet variant. Reports of crunchy-selecting 1st and 2nd gears on manual models were frequent. And quite a few electrical issues were reported. In one case, lights were coming on and off. In another, there was an issue with the electric window motors. The camera safety kit sometimes came on for no reason in some cars - and didn't function properly in others. There were several reports of the stop/start system not working properly. And quite a few owners felt the sat nav didn't work properly. One owner had a problem with the Hill Start Assist not working. Otherwise, there shouldn't be too much to worry about. Look out for the usual scratched alloy wheels and signs of child damage in the back. And favour cars that have a properly stamped-up service history.
Replacement Parts
(approx prices based on a 2018 SX4 S-Cross 1.4 Boosterjet petrol ex VAT) An oil filter costs around £4-£6. An air filter is around £6-£12. Rear brake pads sit in the £28 to £59 bracket for a set but you could pay in the £25 to £57 bracket for front pads. Rear brake discs sits in the £60-£75 bracket; front discs sit in the £30-£95 bracket. You'll pay around £10 for a thermostat and a water pump will sit in the £90 bracket. Wiper blades cost between £10 and £12.
On the Road
If, like us, you're a little tired of Crossover models of this kind being promoted as being 'sporty', then you might find this SX4 S-Cross to be refreshing in its sensible, family-orientated approach to vehicle dynamics. This works well with the engines on offer, headlined by a couple of efficient 'Boosterjet' petrol units, both of which come in manual or automatic guises. There's a 111PS 1.0-litre three cylinder powerplant or the 140PS 1.4-litre four cylinder variant we'd recommend. Alternatively, if you want a diesel, the 120PS 1.6-litre DDiS diesel was been carried over from the original version of this car. This comes only in manual form and offers a useful 320Nm of torque, so can tow up to 1.5-tonnes, yet it can still manage 68.9mpg n the combined cycle and 106g/km of CO2 (both NEDC figures).
Handling is tailored towards providing a relatively soft ride but body control is good. For original buyers, ALLGRIP 4WD was available with all three engines. This is the same 'on-demand' set-up the S-Cross has always used, a set-up it shares with its Vitara and Ignis Crossover stablemates. This uses an electronically-controlled clutch pack that distributes drive between front and rear under orders from a four-position switch beside the handbrake. As with most such systems, this one will leave you in front wheel drive most of the time, unless a lack of traction is detected, in which case the rear wheels will be dialled in.
Overall
Here's the affordable family-sized Crossover from the 2016 to 2019 period that you probably forgot to add to your shopping list, a car well equipped to handle the grim realities of modern family life, with its congested school runs, child-centred messiness and weekend visits to ungrateful relatives. If you don't have a 'lifestyle' family but would rather like a 'lifestyle' car of this kind, then by all means try an S-Cross. We think you'd probably like it. True, the motoring magazines may well tell you of other Qashqai-class Crossovers they prefer - but inspect the fine print when it comes to comparably-sized models and you'll almost certainly find that all of these will cost you significantly more, an important consideration when you've to feed, clothe and holiday a brood of increasingly demanding offspring.
Are there issues? Well yes, it'd be nice if 4WD was a more affordable option, but then that's an issue with so many cars in this class, more obvious choices than this one but, as we've suggested, not necessarily better for it. So yes, make sure you try this Suzuki if you're shopping in this segment. The brand sees it as being 'perfect for families without being just a family car'. After trying an S-Cross, you might well be inclined to agree.