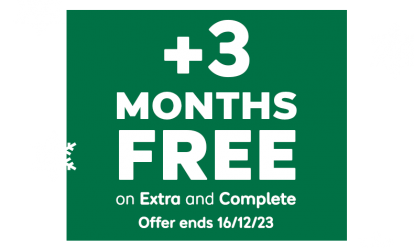 With 12 months of cover, new customers get an extra 3 months for free*.
*Added after 12 months, excludes Basic cover. New customers only. Ends 16/12/23, 7am.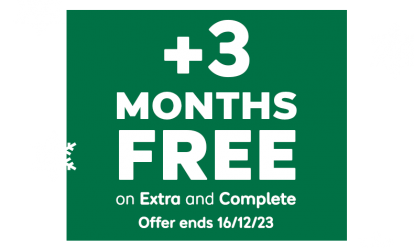 By Jonathan Crouch
Introduction
The ID.3 aimed to change the way you think about Volkswagen. And, the brand hoped it would change the way people thought about affordable electric cars. Introduced in 2020, this contender was priced, shaped and designed right for the heart of the family segment of the growing EV sector and, unlike previous battery-powered Volkswagens, it was completely new from the ground up, small enough for the city and big enough for the family. Early ID.3s though had more than a few glitches. Is it worth trying a 2020-2023-era ID.3 on the used market? Let's see.
Models
5dr hatch (45kWh, 58kWh, 77kWh)
History
So far, there have been two eras in Volkswagen's history. The first post-war period of the Beetle. And the second modern era, dominated by the company's biggest-selling model, the Golf. The third period started in 2020 with this car, the ID.3, which was the first of many products from the Wolfsburg maker's ID all-electric sub-brand.
Prior to the ID.3, we'd had all-electric Volkswagens before of course (the e-Golf and the e-up!) but they'd been based on the underpinnings of ordinary combustion models. The ID range set out to be very different, this ID.3 created around a purpose-designed MEB electrified platform and built at a bespoke EV factory in Zwickau near Dresden.
This car was an automotive statement. And also a political one - the Volkswagen Group back in 2020 gradually rehabilitating itself into the eco-part of the global business community after the stigma of the 'dieselgate' scandal. The EV model range this car sired allowed the Wolfsburg conglomerate to commit itself to the goals of the Paris agreement - the 200-nation accord that aimed to limit global warming to 3.6 degrees Fahrenheit by cutting emissions of carbon dioxide and other pollutants. That's why the ID.3 was made using a carbon-neutral production process at a factory which relied entirely on renewable energy.
As you can imagine, designing this car wasn't easy. Even a year into production, it wasn't completely finished, persistent software problems having forced Volkswagen to launch the ID.3 in mid-2020 without some of its media features, these latterly restored to early owners with a subsequent software update. But then, era-defining designs are always challenging to create. Is that what this model is? Is it really the electric Peoples' Car, a true Beetle and Golf descendent? And does an early ID.3 make sense as a used buy? Let's see. Here, we'll focus on the early 2020-2023 versions of this model, the cars produced before the mid-term facelift that arrived in mid-2023.
What You Get
So, what kind of design is it? Let's take a look. A one-box shape built around its passengers, with uncommonly short overhangs and the axles moved well apart to create a wheelbase almost as long as a Passat. There's a strong C-pillar, a classic Volkswagen design feature, which on the driver's side houses the charging flap. And a softly modelled side section that curves under the rising shoulder line of quite a sporty silhouette featuring a low glasshouse emphasised by dark finishing for the roof, the window frames and the B-pillar. But what's really important is what you can't see. All the key drive stuff sits over the rear axle - principally the single-speed gearbox and the permanent-magnet synchronous electric motor that's been mated to it, which is powered by a high voltage battery that's been efficiently arranged in the underbody to save space.
Which leaves nothing to sit at the front end but a few auxiliary units like the air conditioning compressor and of course the steering rack. So, just as with the original rear-engined Beetle, there's no need for a grille. Whatever the colour chosen, dark shades dominate at the rear, the black finish of the large roof spoiler extending down into a central tailgate panel with the brand and model badging.
Inside, there are plenty of things you'll need to adjust to. As you enter, a wide, narrow light strip below the windscreen, the 'I.D Light', will indicate the car's readiness to drive. You sit quite high, on top of all those batteries, and the interior design has a minimalist, open plan but rather clinical feel which Volkswagen tried unsuccessfully to lift by imprinting 'Play' and 'Pause' symbols on the two footwell pedals. There's not much in the way of switchgear and of course, you do without conventional instruments, all of this replaced by a couple of TFT displays, a little 5.3-inch one behind the steering wheel and a main tablet of 10-inches in size in the centre of the dash. It all feels a generation on from the cabin design you'd find in rivals from this period like Nissan's LEAF and Kia's e-Niro. Build quality is good but cheaper plastics betray the cost cutting that was necessary to keep this sophisticated EV's asking price within the realms of affordability. Just as in a rival BMW i3 from this time, the gear selector is housed in a right hand protrusion from the instrument binnacle, though here, there's the additional novelty in the fact that the whole binnacle moves up and down as you adjust the wheel. Other adjustments are done using either touch-sensitive buttons (like the fiddly sliders for the climate system); or with voice control prefaced by the command "Hello I.D".
In the back, there's a lot more space than the compact outward dimensions might suggest. It's a wider cabin than that of a Golf or a LEAF and with no central transmission tunnel to obstruct things, three adults could fit more easily into the back of this car than just about any compact hatch from this period we can think of. So yes, the ID.3's a full five-seater, provided the adults in question don't have particularly long legs; there's not a lot of knee room going spare. A LEAF offers a little more space to stretch out but has a lower ceiling and less elbow space too.
The boot, at 385-litres, is about the same size as that of a Golf, despite the presence of an electric motor down under the floor. The trunk space on offer is, though, 50-litres less than you'd get in a Nissan LEAF. All those Passat references had led us to expect a little more, but a child buggy or a couple of reasonably sized suitcases should easily fit. If the original owner specified the optional adjustable-height boot floor, you'll get a completely flat cargo area when you flatten the 60:40-split rear bench, which frees up 1,267-litres of capacity.
What You Pay
Prices start at around £20,000 (around £22,250 retail), which gets you a 58kWh Pro Performance version with base 'Life' trim on a '20-plate, with values rising to around £32,000 (around £34,250 retail) for a mid-'23-plate Pro 58kWh model. The feebler lower-range 454kWh model is very rare because it wasn't on sale for long; a '21-plate City Pure Performance variant values from around £19,500 (around £21,500 retail). There aren't too many bigger-battery 77kWh versions about either. A '20-plate Tour Pro S 77kWh model values from around £24,550 (around £26,750 retail), with values rising to around £34,600 (around £36,750 retail), which gets you a mid-'23-plate Pro S Launch Edition 77kWh model. All quoted values are sourced through industry experts cap hpi. Click here for a free valuation.
What to Look For
This early version of the ID.3 had a number of issues. It's common knowledge that VW had problems with the car's 12V battery. And we've heard of issues with disconnecting keys that left owners shut out of their cars. One owner we came across had a rear camera that would turn randomly off. And the location of his car in the navigation system display would freeze, the speaker system would make a crackle every time he connected his smartphone to Bluetooth, the keyless set-up would work intermittently and a message asking him to take the car to his local dealer would pop up every so often. Some owners found that even after going back to the dealer to correct these issues, the problems re-occurred, which suggests a more fundamental set of design glitches.
It's worth knowing that cars delivered in Europe before January 2021 didn't have the final version of the ID.3's software. Volkswagen had offered these early customers lots of incentives to take these rather unfinished models - like charging credits for IONITY chargers, a free set of winter tyres and free leasing payments for the first three months. But that doesn't help you if you're buying on the used market and we would steer clear of anything registered before the January 2021 date. On top of the problems with the car, Volkswagen also had to replace the ID.Charger, its wall box for the ID family, because of a programming error that makes this charger charge only up to 4kW.
If, taking all of this into account, you'd still like an early ID.3, then make particularly sure that all the software issues in the model you're looking at have been sorted out. ID.3 owners have complained about issues with charging, range estimation and sluggish smartphone connections and though Volkswagen has introduced over-the-air updates to fix these issues, some of them still remain. Unexpectedly blank infotainment screens have been reported. And the car's amplifier has been reported to overheat and enter its protection mode. The voice control system is notoriously erratic. And often it's very difficult to get smartphones or Wi-Fi to sync. Owners also report navigational systems with incorrect destinations and that sound quality when streaming through Bluetooth is subpar.
A major early product recall related to battery issues, with over 10,000 ID.3 and ID.4 owners worldwide urged by Volkswagen to visit their dealers to have their batteries fixed. The batteries in question exhibited accelerated self-discharge as a result of a manufacturing flaw. You should also check the adaptive cruise control system as we've come across a number of issues with that. Otherwise, it's just the usual things, check for scratched alloys and interior child damage - and insist on a fully stamped up service history.
Replacement Parts
[based on a 2021 ID.3 58kWh Pro 204PS ex VAT] An air filter will be priced in the £38 bracket and a pollen filter will cost in the £10 to £25 bracket. The front brake discs we came across sat in the £55 to £86 bracket, with pricier-branded discs costing up to £117. Front brake pads are in the £35 to £85 bracket for a set. Rear pads are in the £26-£50 bracket. A rear shock absorber is in the £67-£107 bracket; front shock absorbers are in the £101-£188 bracket. Wiper blades are in the £8-£16 bracket.
On the Road
Setting off in an ID.3 feels like a strange new world - no gearstick, no handbrake, no ignition key and just the sound of silence as the fixed ratio transmission blends an almost endless wave of torque into meaningful and surprisingly rapid forward progress. As for the stuff you primarily need to know here, well that's based around the mix-and-match combination you select from the three battery sizes on offer and the two electric motor outputs you have to choose from. You're not likely to come across the base 45kWh 'Pure' variant (which has a 205 mile range and uses the base 145PS 'Pro' motor) because it wasn't on sale for long. Nearly as rare is the flagship 77kWh 'Tour' version (which has a 336 mile range and uses the top 204PS 'Pro Performance' motor). You're far more likely to come across a mid-range ID.3 fitted with the 58kWh battery size, a format which gives you a range of up to 263 miles and the choice of either electric motor.
Like the original Beetle, the ID.3 is rear-driven, which makes it superbly manoeuvrable in town and gives it a London taxi-like 10.2-metre turning circle. Beyond the city limits, that drive format allows for a perfect 50:50 weight distribution which, together with the low centre of gravity provided by the central battery pack placement, helps disguise the portly weight this ID.3 must carry around. Traction through the turns is excellent and body roll is checked by firm damping cleverly engineered for suppleness over poor surfaces. All of which ought to provide the recipe for a decently sporting EV - and would if the steering offered a little more feedback. So driving satisfaction must come in more sensible ways; perhaps by rotating the gear selector forward to engage a 'Battery' mode that summons a regenerative braking function, causing the car to automatically slow so much off throttle that there's hardly ever any need to actually use the brake.
The charging speeds for this pre-facelift ID.3 weren't particularly fast - 100kW for the 58kWh model and 135kW for the 77kWh version. But your charging regime should be quite straightforward. There's a 'We Charge' app that helps you find and use over 150,000 public charge points. An AC1-phase 7.2kW garage wallbox would replenish the car from zero in 9 hours 30 minutes. An AC3 11kW charger would reduce that to six hours 15 minutes. And if you find a public rapid charger DC3 100kW point, replenishing your ID.3 from 5-80% will take just 35 minutes.
Overall
You may have already decided that an electric family hatch is for you, but even if you haven't, this is one you need to consider - if you can find a fault-free early one. That might prove difficult, so shop carefully. If the car you're looking at checks out though, you'll like the clever packaging, the quick performance, the sharp manoeuvrability and the cutting-edge cabin tech. You might even really like the quietly futuristic styling. The Wolfsburg brand really has been able to deliver a family-sized EV at a sensible price that can claim to be directly comparable to combustion-engined alternatives.
What's more, this really does feel like an authentic Volkswagen, with a rear-driven format that even has a few Beetle throw-backs. In half a century's time, there's just a chance that the ID.3 will command a place in automotive history alongside that seminal VW model. As we said, the future starts here.