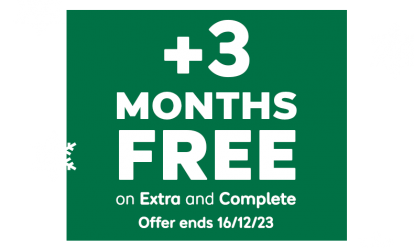 With 12 months of cover, new customers get an extra 3 months for free*.
*Added after 12 months, excludes Basic cover. New customers only. Ends 16/12/23, 7am.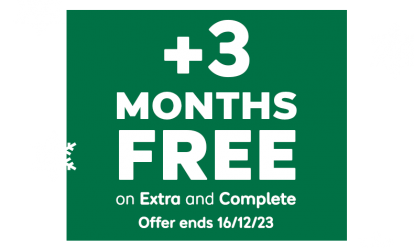 Suzuki's Swift 4x4 might be a minority player in the range but it offers supermini buyers something decidedly different. Jonathan Crouch reports.
Ten Second Review
The Suzuki Swift 4x4 brings all-weather ability to the buyer who wants a new car but doesn't need the bulk of an SUV. With a modest 1.2-litre petrol engine, it's not going to cost a lot to run. Just budget for a set of winter tyres to really get the best from it in more inclement seasons.
Background
Suzuki have history with four-wheel drive cars. Although we like to kid ourselves that modern stability and traction control systems will get a two-wheel drive car most places that a four-wheel drive model will go, when the chips are really down, Suzuki knows there's no substitute for sending drive to each corner. It's sold thousands of Vitaras and Jimny SUVs but the Japanese company has also shifted quite a few rather less overtly four-wheel drive cars. Vehicles such as the SX4, the Kizashi and this, the Swift ALLGRIP 4x4.
The Swift's much improved in this sixth generation form and the availability of this 4x4 ALLGRIP variant delivers supermini buyers an option that's at once a little different to the mainstream and with no little ability at its elbow. If you don't think along the same straight lines as most, this one might well appeal.
Driving Experience
The basics first. You're not offered any choice in the engine department, this Swift ALLGRIP coming with a 1.2-litre petrol four-cylinder that's good for a wholly unexceptional 90bhp, so don't get any illusions that you're at the wheel of a shrunken Audi RS3. If you can get this thing off the line and through 62mph in less than thirteen seconds, count yourself as a pretty deft driver, or at least one who is deft while displaying zero mechanical sympathy. The 'Dualjet' powerplant features mild hybrid assistance. Suzuki calls it 'SHVS' or 'Smart Hybrid Vehicle by Suzuki' technology and it's based around the use of what's called an 'Integrated Starter Generator' powered by a tiny 0.2 kWh lithium-ion battery that sits under the driver's seat. This set-up harvests kinetic energy when you brake and converts it into electrical energy. Not the kind that could take you short distances on electric power alone - the battery isn't big enough to allow for that. Instead, the regenerated energy is used to power the standard engine stop/start system and also to provide a mild extra power boost as you accelerate - around 50Nm of extra torque for up to 30 seconds.
The all-wheel drive mechanicals are simple and rely on a permanent 4-wheel drive system which transfers additional torque to the rear wheels when required via a viscous coupling. You'll appreciate the added security this brings in wintry conditions but remember two things. In such conditions, any car is only as good as its tyres and four wheel drive traction advantages aren't equalled by commensurate braking benefits, so it's always best to err on the side of caution.
Design and Build
Visually, this Swift ALLGRIP model is extremely discreet. This five-door-only MK6 model is 40mm wider than its predecessor, but also 10mm shorter and 15mm lower. More significantly, thanks to its new platform, it's also significantly lighter. Even this hybrid ALLGRIP model weighs in at under a tonne.
Inside, the cabin no longer has the budget brand feel of previous Swift models, thanks to a re-designed dashboard and the installation of more supportive seats. Cabin storage space isn't that great though - the glovebox is notably small. A longer wheelbase delivers more interior space too. Suzuki says that the hip point measurement has been lowered by 20mm in the front and as much as 45mm in the rear. Two fully-sized adults will be quite happy here, as will three kids. The boot's bigger too, now 25% larger, with capacity increased to 265-litres. That's easily enough for a couple of carry-on bags.
Market and Model
The 4WD Swift is priced at just over £15,500 for the SZ5 version - that being the only trim level on offer. This car's most obvious similarly-sized rival is Fiat's Panda 4x4 0.9 TwinAir which costs fractionally less but is nothing like as well equipped as this Suzuki.
The standard Swift SZ5 spec includes auto air conditioning, a leather steering wheel, a DAB radio with Bluetooth and four speakers, rear privacy glass, LED daytime running lights, 16-inch polished alloy wheels, a rear view camera. There's also a Smartphone link display audio system, 16-inch alloy wheels, front fog lamps, keyless entry and start, plus rear electric windows.
As you'd expect in this day and age, this model has ABS anti-lock brakes, ESP stability control and a brake assist function for emergency stops. There's also a tyre pressure monitoring system, along with twin front, side and curtain airbags, plus there are two Isofix child seat mounts in the rear bench. You also get an Advanced forward detection system.
Cost of Ownership
Weighing in at pretty much the same level as its front-wheel drive sibling, the Swift ALLGRIP isn't burdened by excess bulk. That said, the 1242cc engine isn't one of the class-leading performers even in front-wheel drive guise when it comes top economy and emission metrics. Still, it's hard to judge 101g/km of CO2 overly harshly when balanced against the security the all-wheel drive system affords. Insurance cover (9E) is a little pricier than the supermini average, so you'll probably be best served getting a few quotes before committing.
The SHVS engine technology helps greatly with the quoted 62.8mpg combined cycle fuel return. The acronym stands for 'Smart Hybrid Vehicle by Suzuki' and designates this powerplant's status as what the brand calls a 'mild hybrid'. Here, an electric starter motor - Suzuki calls it an 'ISG' or 'Integrated Starter Generator' - assists the petrol engine in certain situations. The 'ISG' harvests kinetic energy when you brake and converts it into electrical energy that stops and starts the engine in heavy traffic and provides a mild extra power boost as you accelerate. There's a read-out in the instrument binnacle's digital display, telling you how long the stop/start system has been in operation on any given journey - though we're not really sure why you'd ever want to know that....
Summary
The Suzuki Swift ALLGRIP is a very modern supermini but also one that's slightly old-school. In execution, look and feel, the Swift feels bang up to date, but the engineering seems to hark back to a short-lived craze for all-wheel drive everything that briefly blossomed and then died in the late Eighties. Still, some old ideas are well worth reviving and the added grip offered by this Swift will doubtless come in handy during tough winter conditions. It's ideal as a low cost, low worry second car for country people who can't afford to be cut off when the Land Rover is in use.
It's clearly never going to be a massive seller but cars like this serve to remind us why Suzuki continues to be one of the most interesting auto manufacturers around. If you don't like mainstream cars with their 'one size fits all' approach, here's one that may well pique your interest.