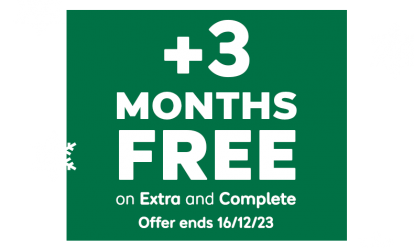 With 12 months of cover, new customers get an extra 3 months for free*.
*Added after 12 months, excludes Basic cover. New customers only. Ends 16/12/23, 7am.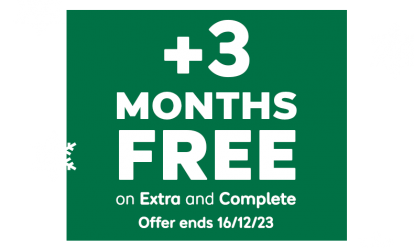 smart's all-electric EQ formula also includes its five-door forfour model. Jonathan Crouch checks it out.
Ten Second Review
We're now well used to the idea of an all-electric smart fortwo. But what if you want all of that car's urban advantages but need more than two seats? That's where this forfour EQ model comes in.
Background
The advantages of all-electric cars are well documented, but they can be expensive to buy. That's been part of the enduring appeal of smart's fortwo EQ model which, after government grants, can be yours for just under £17,000. It only has two seats though, which for some urban folk will be unreasonably restrictive. These people may well like the idea of being able to get a five-door 'forfour' version of the same car for less than £500 more. Smart is banking on that anyway. The brand has been offering battery-powered models for a decade now and here, it's delivered its most sophisticated technology yet.
Driving Experience
Around town, this smart's driving characteristics are agile and lively, aided by an ultra-small turning circle. And on the open road? Well how does the thought of 0-60 in 4.8 seconds grab you? Okay, it's 60km/h but, thanks to 160Nm of torque in something this light, it's still respectably quick. 0-62mph takes 11.5s on the way to 81mph flat out. It's certainly brisk enough to be able to sidestep the brake pedal and catapult the little forfour off the line. That it does so without anything in the way of engine noise is even more impressive, the merest whirr of the uprated 60kW (82hp) electric motor accompanying a scarcely perceptible whine from the one-speed transmission. It's all very serene and makes city driving rather stress free.
On the highway, you can theoretically reach an 81mph maximum, but this does rather chew the battery's range which, when driven a bit more sedately, can be eked out to up to 100 miles. An indicator on the dashboard lets you know how efficiently you're driving. Needless to say, you'll be tempted to gun it everywhere. It's too much fun not to. With all of the batteries mounted in the sandwich floor, the forfour electric drive has an admirably low centre of gravity and probably corners better than its petrol sibling. The lithium-ion battery's underfloor position is both thermally stable and good for crash protection.
Design and Build
No practical compromises have been made with this forfour model to incorporate the electric drive layout, so the recipe is much as it was in the (now discontinued) petrol version of this car. The forfour really does look like a smart fortwo that's been photoshopped into something longer and shares the smaller car's pug-like front end and the hallmark tridion safety cell. There's a lot of shape in the flanks, from the swage lines near the door handles to the almost Volvo-like shoulder line that's most apparent as it melds into the rear light cluster. Look down and there's a genuine concavity to the lower door panels, smart going a bit further than sticking a curved detail on there as you'd get on a Renault Clio or Captur.
The cabin features as many quirky touches as you can stomach and it's good to see smart pushing the boat out a bit with colours and textures, including a technical mesh finish. At the price charged, this should be a car that feels premium and different to the usual citycar norm. It's still not huge inside, and the boot measures a mean 180-litres. The good news is that the rear doors open to 85 degrees (which makes getting in the back simple) and the rear seats fold completely flat, offering up to 975-litres of space.
Market and Model
There are two trim levels on offer to smart forfour EQ customers - 'premium' and 'exclusive'. The base 'premium' version costs from just over £22,000. That puts this smart against tough competition. An all-electric Renault ZOE would cost much more - and would give you more interior space - but obviously, it wouldn't be as small and nippy as this fortwo. Smart also offers two-door fortwo coupe and fortwo cabrio variants with the same battery powertrain.
With the "smart control" app that comes with the car, lots of electric drive information can be accessed via smartphone, tablet or PC and functions such as pre-entry climate control or intelligent charging can be conveniently controlled remotely. Two programmable departure times can be entered in, meaning that intelligent charging and pre-entry climate control do not always need to be re-set for frequent journeys.
Options include a 'winter package' with a heated steering wheel and the 'electric drive design' package that gives the vehicle an expressive look with tridion safety cell and door mirror caps painted in exclusive electric green. Were I a purchaser, I'd want to talk to my smart retailer about the cost of adding a wall charging box at home to decrease the total charging time from seven to six hours.
Cost of Ownership
Once you've found the upfront list price of this car, the savings just keep coming. So there are no road tax charges to pay, no congestion charges, no bridge tolls, very low maintenance costs, tiny company car tax levies and only the cost of your electricity to pay, variable of course based on your supplier and the time of day you charge.
To give you some idea here, smart reckons that owners will be shelling out an average of between £1.60 to £2.40 in electricity charges every sixty miles or so, meaning that 6,000 miles would cost you only around £250 in 'fuel'. And, as long as you're buying your electricity from a renewable source, a warm and fuzzy green conscience comes as part of the deal. There's a three year warranty as standard, which you can extend to five years if you wish.
This model now has a powerful 22kW on-board charger as standard, which has made possible a quick charging time of less than 40 minutes (from 10-80% charge). With the "smart control" app, the charging process can be conveniently monitored remotely, the app also including many more functions such as intelligent charging.
Summary
We quite like the idea of the smart fortwo EQ model, but we can't really see why you would buy one when this five-door forfour variant costs just £500 more and gives you so many more ownership options. Either way, you get a charming piece of technology that works extremely well, drives nicely and seems a perfect technological fit. In some ways, it's more convincing than a rival Renault ZOE at doing the citycar thing and makes vehicles like the Peugeot e208 and the Vauxhall Corsa-e look rather over-priced, though it can't match the operating range of models like that. If you only need a car for short town trips, that may not matter.
A wider network of recharging points in car parks and service stations would be needed for vehicles like this smart forfour EQ model to really take off. That and further incentives to make electric cars more attractive to consumers. This smart appears to have the basics just about right though, and in urban areas particularly, it makes real sense.