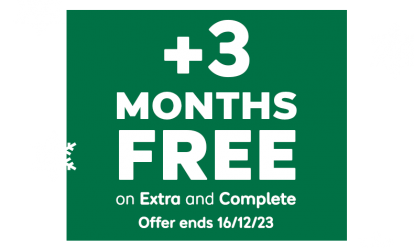 With 12 months of cover, new customers get an extra 3 months for free*.
*Added after 12 months, excludes Basic cover. New customers only. Ends 16/12/23, 7am.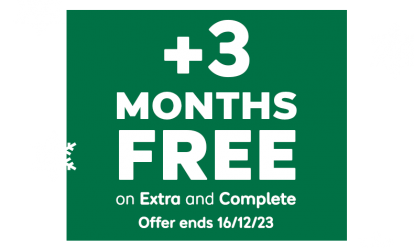 By Jonathan Crouch
Introduction
Renault's fourth generation Megane family hatchback proved to be a smarter proposition - in more ways than one. If you're shopping for something Focus or Astra-shaped from the 2016-2020 era, it'll probably not be one of the first cars you'll immediately think of, but this MK4 model is clever, sensible and very good looking, with the bold exterior styling matched by the cleverness of the fresh platform that lies beneath. In short, it might surprise you.
Models
5-door hatchback / Sport Tourer estate - 1.2, 1.3, 1.6, 1.8 [petrol] / 1.5, 1.6 [diesel] [Play, Iconic, Dynamique Nav, GT, R.S.]
History
Ordinary family cars can no longer be well, ordinary. People want polish these days, a smarter feel and hi-tech features that make them feel pampered and premium. Which means that in the Focus-sized family hatchback segment with models from the 2016-2020 era, they may find themselves looking at models like this one, Renault's rejuvenated fourth generation Megane.
Back in 2016 when this MK4 model was first launched, with the French maker's position as one of Europe's biggest car makers severely under threat and a slimmed-down range of conventional models forced upon dealers by this brand's commitment to electric power, it was hard to over-state this Megane's importance if you happened to run a showroom with the yellow-backed silver diamond above the door. Especially as this family hatch had failed to make much of an impact on the market in the third generation guise that sold between 2009 and 2016. But then, with underpinnings based on a second generation design dating back to 2002 and smart but unremarkable styling, there wasn't really much to set that car apart.
This one had to do better, which was why, for almost the first time in the Megane's history, a clean sheet approach was taken to its design. Well quite a clean sheet anyway. The new CMF platform, for example, was shared with a car that by 2016 we were already familiar with, Renault's Kadjar crossover. And the engines were mostly carried over from the previous generation range, though were quickly updated after launch.
Ultimately though, what was important here was that this was a more class-competitive Megane than any previous version we had seen to date. After all, the cabin was completely redesigned, the efficiency figures stack up and an increase in wheelbase freed up some more cabin space. Perhaps most significantly of all, this car looked genuinely desirable, longer and lower than its forgettable predecessor - and certainly more recognisable. All of this was crucial, for in the Golf and Focus family hatchback segment, this Renault had to take on and try and beat some of the very best cars family customers could consider.
The few that wanted more power from a mainstream Megane were kept happy with a 1.6-litre petrol turbo GT Nav model with 4-Wheel Steering (the engine borrowed from the Clio R.S.); that variant lasted until the Megane R.S. hot hatch was launched in 2017 with a powerful 1.8-litre petrol turbo engine; an even more track-focused ''Trophy' version followed.
In 2018, the mainstream diesel range was updated with a cleaner Blue dCi version of the brand's 1.5-litre dCi engine. And the 1.2-litre TCe petrol unit was replaced by a 1.3-litre powerplant. The early version of this MK4 Megane sold until the Autumn of 2020, when a facelifted version was launched. Here though, it's the pre-facelift 2016-2020-era versions we look at as a used buy.
What You Get
This MK4 Megane is certainly distinctive, primarily because of its unusual and rather eye-catching LED front lighting signature. Fortunately though, there's more to the aesthetics than that, the long, low hunkered-down stance and wide track giving this fourth generation model more dynamic and balanced proportions than we saw on any of its predecessors.
What'll you notice behind the wheel? Well the answer's obvious in a top variant - the 8.7-inch 'portrait'-style centre dash 'R-Link 2' touchscreen there to bring a touch of Tesla to this humble family hatch. We'd want it, not least because without this feature, the cabin of this car does look a touch ordinary. With this iPad-like colour display dominating the centre of the dash though, your Megane will feel satisfyingly sophisticated as you poke, pinch and swipe your way through menus for things like Navigation, 'Phone functions, apps, Multimedia options and a DAB audio system that offers superb sound quality when ordered with either Arkamys or BOSE 3D sound.
Time to take a seat in the back. We had quite high expectations here, given this fourth generation model's lengthier wheelbase and the fact that it's one of the widest cars in its class. In the event, accommodation here is quite tight, despite Renault's insistence that there's more shoulder room than most rivals can offer.
Finally, the boot. Lift the tailgate and you'll find that the opening is a good square shape but that the high sill will make it a little awkward to get heavier items in. The good news though, is that this fourth generation model's 'CMF' platform allows it to offer a much larger boot than that of the old MK3 model, capacity having risen by 62-litres to a 434-litre total. That's makes this one of the biggest luggage areas in the class from this era.
What You Pay
Please fill in the form here for an exact up-to-date information.
What to Look For
Most of the owners we surveyed seemed very happy with this MK4 Megane. There were a few of the usual issues with DPF diesel particulate filters getting clogged up; this might happen if the car you're looking at has only mainly been used for urban journeys. We did come across a few other issues. In one case, there was a fuel line leak. Renault issued a recall to fix this recurring issue for cars made been September 2018 and June 2019. Some cars made between June 2019 and July 2019 had problems with the catalytic converter that wasn't filtering NOx gasses properly. There was a recall for this too. Otherwise, it's just the usual things; check the inside for signs of child damage, inspect the alloy rims for scratches and insist on a full service history.
Replacement Parts
(approx based on a 2018 Megane 1.5 dCi 95 - Ex Vat) An oil filter is in the £6-£13 bracket. Front brake pads cost in the £16 to £30 bracket; rears in the £11-£40 bracket. Front brake discs cost in the £51 to £107 bracket . A front halogen headlamp is around £209-£249. A rear lamp costs around £133. A pair of wiper blades is around £25. And a pollen filter is in the £20 to £27 bracket. A water pump is around £50-£92. A thermostat is around £70-£78.
On the Road
So what's it like on the move? Well, as ever with a Megane, there's quite a difference between the sporting Renaultsport-tuned models and the more mainstream variants that most customers choose. These volume versions feature a softer set-up but were improved in this fourth generation model range courtesy of a lighter, stiffer 'CMF' chassis. Avoid entry-level trim and you also get the brand's 'Multi-Sense' driving modes system, one of those able to alter steering feel, throttle response, stability control settings and auto gearchange timings to suit the way you want to drive. Heck it even changes the engine note in an effort to put you in a sportier mood.
Under the bonnet, the range is mainly focused on diesel power, primarily the 1.5-litre dCi 110 unit that's particularly frugal; a 1.5 dCi Megane is capable of 76.4mpg on the combined cycle and 96g/km of CO2 (both NEDC figures). This base diesel powerplant, like the 1.2-litre TCe 130 petrol unit, can also be ordered with Renault's smooth-shifting EDC automatic transmission if you want it. If you want more diesel power, then two further 1.6-litre dCi options are offered, with either 130 or 165bhp. For the 2018 model year, all these mainstream engines were replaced, the 1.2-litre petrol unit by a 1.3-litre engine. All the diesels got superceded by a 1.5-litre Blue DCi unit. And if you want something a little more powerful? Well between 2016 and 2017, Renault offered a GT Nav model with a 1.6-litre turbo petrol engine from the Clio R.S. - and 4-Wheel Steering. Other than that, there's the Megane R.S. hot hatch, which featured a 1.8-litre petrol turbo unit offering 280hp. This car was offered with a choice of two chassis configurations - 'Sport' (for road-orientated use) and 'Cup (for track-style use). A top R.S. Trophy version only featured the 'Cup' chassis.
Overall
Renault had to step up its game and significantly improve its fourth generation Megane. It did. Coming up with something different, yet still appealing in the super-competitive Focus-class family hatch segment is never easy but in some respects, Renault really managed that with this car.
True, this may not be the European market leader it was a decade or so ago but it's a compact family five-door that now ticks an awful lot of boxes. And one that an awful lot of people we think, would rather enjoy owning.