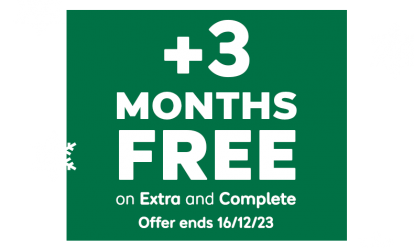 With 12 months of cover, new customers get an extra 3 months for free*.
*Added after 12 months, excludes Basic cover. New customers only. Ends 16/12/23, 7am.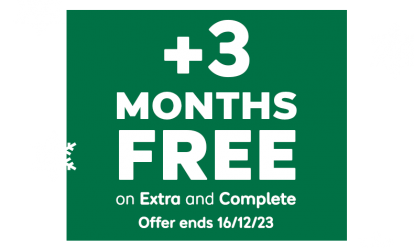 By Jonathan Crouch
Introduction
The SUV market offers a vast choice these days, but there are very few family-sized contenders that are actually properly capable off road. Mitsubishi's third generation 'QE'-series Shogun Sport though, was one of them, sold here between 2018 and 2021. Few compromises were made here for tarmac territory, but this can still be a luxurious seven-seater highway tourer that's as confident on the A6 as it would be in the Alps. If you yearn for the days when an SUV really could cross the Serengeti, then you'll probably like this one very much indeed.
Models
5dr SUV (2.4 diesel)
History
In third generation form, the Mitsubishi Shogun Sport offered buyers looking for a larger mid-sized seven-seat SUV a tougher option that had real off road credibility. The fundamentals here were based upon the brand's L200 pick-up, but Mitsubishi re-engineered them with extra technology and a bit of stylish crossover sheen. The brand claimed that this car was the most capable SUV it had ever made. Certainly, for those wanting a car of this kind from this period that can really walk the walk as well as talk the talk, you'd think this one might have some appeal.
Prior to 2016, we'd seen the Shogun Sport in the UK before - but not for some time. The first generation 'PA'-series version of this model was also L200-based and launched back in 1998, initially badged as the 'Shogun Challenger', before being re-named a year later the 'Shogun Sport'. That car sold until 2009 in the UK, before being re-launched in a second generation 'PB'-series form that wasn't sold in our market. Which was because at the end of the 21st century's second decade, Mitsubishi thought that tougher versions of its MK3 model Outlander and lower-order long wheelbase versions of its largest Shogun SUV would adequately meet the needs of the market that earlier Shogun Sports had previously sold into.
By 2016, the company had changed its mind on that and in mid-2018, two years into the production life of the third generation 'QE'-series Shogun Sport design, decided to re-introduce this model for British buyers. Analyse the brand's product range at this time and the reasons for this change of heart become fairly clear, with Outlander sales focused almost completely around the road-orientated Plug-in hybrid model and the fourth generation Shogun reaching the end of its sales life. Though at first glance, the company's UK product portfolio towards the end of the 21st century's second decade seemed well-stocked with capable 4WD products, once you took a second look, it became abundantly clear just how much the British importers needed an up-to-date large SUV with proper off-road and towing ability, diesel power and space for seven. This car delivered that formula precisely.
In an era where most SUVs are glorified 'Chelsea tractors', it was quite refreshing at launch to hear Mitsubishi's perspective that around 35% of all Shogun Sport sales would go to buyers likely to use this car in a purely working environment. Virtually all were sold fitted with a tow bar so that owners could exercise the prodigious 3.1-tonne towing capacity of the single 2.4-litre diesel engine the brand offered here. Despite that, there was no stripped-out entry-level model to target the farming and building markets, sales instead concentrated around high-spec trim levels that aimed to relieve buyers of nearly £40,000 when new. Perhaps because of that, sales were slow and this Shogun Sport finally left the British market when the Mitsubishi brand pulled out at the end of 2021.
What You Get
No one is going to pigeonhole this as a re-bodied Mitsubishi L200 pick-up - which is perhaps appropriate: true, the two models share the same fundamentals but the finished execution - in engineering as well as in design - is with this third generation Shogun Sport very different. It's most striking at the front, where you get the brand's 'Dynamic Shield' nose treatment, enhanced with chrome grille bars and striking full-LED headlamps. From the side, the way that the chromed lower glasshouse line broadens and sweeps up at the rear is perhaps the most distinctive touch. The rear styling's most notable for the distinctive vertical design of the LED tail lamps.
Inside, Mitsubishi tried to emphasise the 'Sport' element in this car's DNA. The raised silver-trimmed console between the seats aims to create a more dynamic 'cockpit-like' feel and there's a properly commanding driving position - not something you can take for granted in the SUV 'D'-segment from this era. Though the materials that feature here are some way off the quality of those you'd find in a premium brand model, most of what's used to fashion the upper part of the dash seems to be reasonably smart and will surely be hard-wearing. You view two clear dials through the four-spoke leather-stitched wheel and infotainment's taken care of by a 7-inch centre-dash 'Smartphone Link Display Audio' system. This delivers the usual DAB audio, Media and Bluetooth 'phone features - though not navigation: you're expected to access that through the standard 'Apple CarPlay' and 'Android Auto' smartphone-mirroring functionality.
And in the second row? Well it's not especially spacious in the middle row for an SUV that's 4.78-metres in length but there's reasonable room in the central berths for two adults - or three at a squash, with the third person's cause aided by the way that the central transmission tunnel has been kept reasonably low. Unfortunately, the seat base doesn't slide fore and aft in the way you'd find with some rivals - or in a conventional petrol-powered Outlander. But the middle row seat backs do recline for greater comfort on longer journeys. Where that prodigious body length does pay off is in enabling this Shogun Sport to provide third row seating that in theory ought to be more usable than it is on a conventional Outlander model.
Prior to taking a seat, we'd thought that the lack of a second row seat sliding function would rather compromise this Shogun Sport in the 3rd row. As it turns out though, this is less of a problem than you might expect: making use of that 2nd row seat backrest rake adjustment we mentioned earlier can make a lot of difference to the space you get for your knees. This Mitsubishi doesn't do too badly in terms of roof height, but the floor level really is very high in row 3, which necessitates the kind of high floor that'll see adults sitting with their knees positioned up towards their chins - far from ideal. For short-to-medium-length journeys though, it'll probably be OK for uncomplaining folk.
And luggage space? Well once the hefty hatch is raised, you'll find revealed a luggage space that will inevitably be rather small if all three seating rows are in place - there's 131-litres in this configuration, enough only for a few shopping bags. Once the third row chairs are folded, there is, as expected, a very decent amount of cargo room - 502-litres in total. If you need more space, then folding the second row backrest (unfortunately, it divides 60:40 rather in a more convenient 40:20:40-split) frees up 1,488-litres of space.
What You Pay
Please fill in the form here for an exact up-to-date information.
What to Look For
Most owners seemed very happy with this 'QE'-series MK3 Shogun Sport model, but there are things you need to look out for. Unlike many family 7-seat SUVs of this type, this one will very likely have been used seriously off road and for towing, so you'll need to check underneath; and look for signs of clutch slip on the test drive. If there is an excessive amount of mud underneath, this could have trapped water and led to corrosion. Make sure there are no nasty gashes caused by rocks and ruts in the tyre side walls. And obviously check the big alloy wheels too for undue scratching.
Inside, the plastics aren't of the highest quality and could have been scratched - or damaged by unruly kids. The spare wheel is situated under the rear floor of the car, so could have been exposed o an opportunist thief; make sure it's still there. We came across reports of creaks from the steering column - a recognised model problem. And one owner complained of the engine cutting out when idling. There's a Shogun Sport Facebook online website for owners where you can get other tips. And of course, insist on a fully stamped-up service history.
Replacement Parts
(approx based on a 2019 Shogun Sport 2.4 ex VAT) An oil filter is in the £4 bracket. Front brake pads sit in the £39-£42 bracket; rears will sit in the £16 bracket. An air filter is around £9.
On the Road
It doesn't take long behind the wheel before you get a feel for the sort of SUV this is. There's a heft and weight to everything this Shogun Sport does that might remind you of a sold, capable 4WD pick-up: which is hardly co-incidental because that's exactly what this car is derived from. Its engine, platform and Super Select 4WD system are all shared with a Mitsubishi L200 LCV. Elsewhere though, there are some fundamental engineering differences between the two models. The most significant of these lies in the substitution of the L200's crude old leaf-sprung rear suspension for a much suppler multi-link rear arrangement with coil springs. Other differences over Mitsubishi's pick-up include the installation of a new 8-speed auto gearbox, a quicker steering rack, bespoke body mounts, more car-like damping and additional cabin insulation. It's all enough (just about) to give this Shogun Sport at least a semblance of mass market SUV credibility. Providing potential buyers don't much care about the way this car lurches through corners taken at any kind of speed and rather crashes over poorer urban tarmac tears.
The steering rack may be sharper but it still offers you little feedback as to what's going on as you turn into a bend. The single engine on offer, a gruff 2.4-litre diesel, has a whiff of LCV too, though the extra cabin insulation will be enough to soften its grumble if you can keep the revs down. Cruising in this car is actually surprisingly relaxed. The ride settles down at speed and you're actually more likely to hear tyre rumble and noise from the big mirrors than the engine on highway journeys. The slick-sifting 8-speed auto gearbox you have to have on this model helps this Mitsubishi's cruising demeanour too. And of course, when you venture off road, this car comes into its own, courtesy of a tough 'Super Select II' 4WD system that incorporates the option to lock centre and rear differentials and switch into a low range gearbox for really gnarly terrain. Plus you get specific off road driving modes aimed at different kinds of surfaces. A relatively lofty 218mm ground clearance figure enables this car to wade through up to 700mm of water too. The weighty mechanicals needed for all of this push weight up to the 2.1-tonne mark, so you'll need to manage your expectations in terms of the fuel and CO2 figures, quoted at 32.8mpg on the combined cycle and 227g/km of CO2 (both NEDC figures).
Overall
If you're looking for a larger family SUV from the 2018-2021 period with seven seats and real off road and towing ability, you'll find this third generation Shogun Sport an interesting alternative to the volume-maker seven-seat contenders from this period in the SUV 'D' sector. Don't bother with it if all your driving will be done on-tarmac. But if at last some of the time, you'll need to tow heavy loads or venture from a paved surface, then this Japanese contender could appeal.
Mitsubishi provided us here with a spacious, well equipped flagship 4x4 that delivered everything loyal brand buyers would expect a Shogun to be. In short, it's an SUV worthy of the name. And there aren't too many of those about these days.