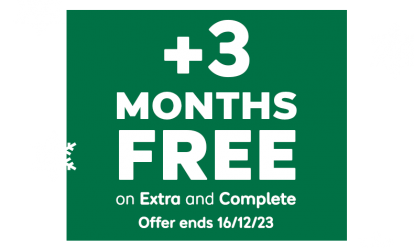 With 12 months of cover, new customers get an extra 3 months for free*.
*Added after 12 months, excludes Basic cover. New customers only. Ends 16/12/23, 7am.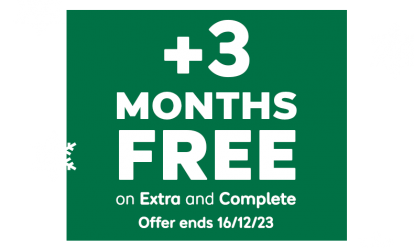 Maserati returns to the supercar sector with the MC20. Jonathan Crouch takes a look.
Ten Second Review
The MC20 is everything you might want a Maserati sports car to be - fast, grand and gorgeous. Everything's been developed from scratch, including the engine, and there's a choice of coupe or convertible body styles. Both with plenty of 'want one' factor.
Background
A Maserati supercar. It's been a while since we had one of those. In fact, it's been a while since we had a new Maserati sports car of any kind, but this model, the MC20, puts that right, the first mid-engined Maserati in a generation.
Let's start with the name. 'MC' stands for 'Maserati' and 'Corsa' ['racing']; '20' designates the year of model unveiling. And it had better be good, not only because it costs the best part of £200,000 but because the rivals it must beat are of very high quality indeed - McLaren's Artura, Lamborghini's Huracan and the Ferrari 296 GTB. Maserati though, is setting its sights high now that it's freed from the shackles of previous partner Ferrari and owned by the Stellantis Group. Just how high we're about to find out.
Driving Experience
There's a satisfying exhaust crackle when you prod the steering wheel-mounted starter button. Maserati engines are no longer sourced from previous partner Ferrari. This one, the twin turbocharged 3.0-litre V6 known as the 'Netuno' ('Neptune') was entirely developed in-house and puts out 630hp to the rear wheels via an 8-speed auto gearbox borrowed from the current Chevrolet Corvette. You select gears via either shift paddles on the steering wheel or by a button on the centre console. A rotary controller offers four drive modes - 'GT', 'Sport', 'Corsa' [the race mode] and 'Wet'. Two levels of damper stiffness feature in each of the drive modes. And a mechanical limited slip differential helps traction through the turns.
Helped by launch control, the MC20 is brutally quick off the line, dispatching 62mph in just 2.9 seconds. 124mph passes in just 9 seconds on the way to a top speed of 203mph. Which is all very supercar like, but Maserati says that its also developed this car for everyday driving and the quality of ride really reflects that; you can enjoy this Maserati as much on a long distance GT trip as on your favourite winding back road. The brakes are impressive too, combining 330mm (front) and 350mm (rear) carbon ceramic discs with (respectively) 6-piston and 4-piston calipers.
Design and Build
There are two body styles available - the Coupe and the Cielo spyder model. Either way, this is one of those cars that looks better the longer you stare at it. It's certainly striking and brand enthusiasts will note cues to Maserati's of the past; touches like the low-set grille and the chromed Trident symbol. Beneath the skin, carbon fibre and carbon fibre-reinforced plastic panels shroud an advanced monocoque fashioned from, you've guessed it, carbon fibre. Plus there are aluminium subframes at either end.
To get in, you pull on the butterfly doors which arch up, leaving a wide entry aperture to gain entry to the dark trimmed cabin. There's a minimalist vibe, with very little switchgear on the narrow centre tunnel. You get a couple of high-res displays, one for the instruments and another for infotainment functions. And neat touches include a rear view mirror that projects real-time video provided by camera situated on the boot lid. The carbon fibre-backed Sabelt seats are low-set and of the race variety but they feature powered adjustment and lots of lateral support. There are no token rear chairs but even so, luggage space is at a premium; there's 100-litres in the back and another 50-litres in a recess up front.
Market and Model
From launch for this MC20 coupe, Maserati was asking just over £187,000, but most owners will be spending close to £200,000 once they've specced up their cars to taste. Expect to pay close to £200,000 before you've started adding to spec if you'd prefer the alternative convertible body style. Either way, six exterior colours are available. The three key rivals here are the Ferrari 296 GTB, the Lamborghini Huracan and the McLaren Artura. There's also an open-topped Cielo Spyder version available.
If you're urban-based (or even if you're not), we'd suggest you consider paying extra for the suspension lift system, which helps when ground clearance is needed - for example to cross over speed humps. With this, you just press a button to lift the front axle by 50mm. The system works at speeds up to 25mph. If faster, it automatically returns to the normal ride height. You'll also want to trim out the interior to your taste; there's a choice of the finest leather, Alcantara and carbon fibre. And you can have what Maserati describes as 'the best sound made in Italy', courtesy of the optional Sonus faber High-Premium Audio System.
Cost of Ownership
A full-electric MC20 is under development, but if you've an ounce of petrol flowing through your veins, you're going to want this V6 turbo version. And you're going to have to pay for the pleasure at the pumps of course. Maserati quotes a combined cycle figure of 24.4mpg for the coupe - and a lowest figure of just 13.6mpg - which you'll probably be lucky to hit if you're using the car on track. Combined CO2 emissions are just as bad, rated at 262g/km. The low cycle figure there is a smoky 470g/km...
But all of this is par for the course for a supercar in this segment of course. You'll also need to allow a decent amount in your ownership budget for replacement of tyres and brakes if you're planning to use the car hard. Still, you should cheer up a bit when it comes to considering residuals, which should be very solid indeed given this car's extreme rarity.
Summary
So the wait was worthwhile. For as long as most of us can remember, a Maserati sports car was a model you chose if you couldn't quite afford a Ferrari and wanted more of a GT. Or, more recently, it wasn't a sports car at all but a luxury saloon or an SUV. Now however, just as Maserati returns to motorsport, it returns to the supercar sector - and in some style with this MC20.
Be in no doubt, if you're fortunate enough to be looking at a Ferrari 296 GTB, a Lamborghini Huracan or a McLaren Artura, this Maserati should also be in your thinking. There's so much about it you might love - the engine, the styling, the driving experience - and the fact that it's rather better than the competitors just mentioned at being both a sports car and a GT. And the best bit is that with new Stellantis investment behind the company, this might be just the start of what Maserati can achieve. A new era has begun.