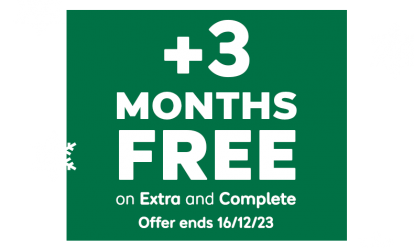 With 12 months of cover, new customers get an extra 3 months for free*.
*Added after 12 months, excludes Basic cover. New customers only. Ends 16/12/23, 7am.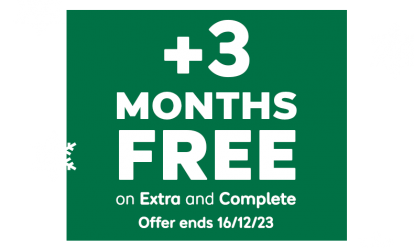 BY ANDY ENRIGHT
Introduction
If ever a manufacturer could afford to rest on its laurels it was Lancia circa 1996. The Group S and Group B categories of international rallying had just been cancelled and its Delta HF 4WD had just easily beaten all comers to take the 1996 World Rally Championship in its very first season. Few realised what was to come. The Delta HF Integrale would evolve over the next six years into one of the most potent road and rally weapons ever and went on to not only carve a place in automotive history but also acted as a halo model, propping Lancia up through some very thin times. Used Integrales are now getting very collectible indeed. Just make sure you know what you're looking at.
Models
Models Covered: 5 DOOR HATCHG 2.0-LITRE PETROL (BASE, 16V, EVOLUTION, '5' & '6' SPECIAL EDITIONS, EVOLUTION II)
History
The Delta HF Integrale owes much of its existence to the HF 4WD model launched in 1986. Fitted with a 165bhp 2.0-litre engine with turbocharger and overboost, this 'narrow body' car was, in many respects a quasi-Integrale and represenst the value pick for those looking to avoid the big mark ups many vendors slap on a 'true' Integrale. The first of these cars was the 185bhp Integrale. Identifiable by its more aggressive blistered wheelarches, this car was fitted with an intercooler, twin balancer shafts and an integrated electronic injection management system. An instant success despite only being offered in left hand drive guise, the Integrale spawned a number of copycats.
The most significant change in the Integrale's history camne in May 19889 when it adopted a 16-valve cylinder head. This yielded 200bhp and a hydraulic clutch, an ABS braking system, wider wheels and tyres were fitted. Purists loved this car due to the fact that, for the first time, a majority of torque was directed to the rear wheels. This model was replaced in October 1991 by the Integrale Evolution with wider wheel arches and wider track front and rear. The suspension was revised and the brakes and the steering were also beefed up. With 210bhp on tap, the Integrale Evolution was a genuinely rapid car.
Special edition Integrale '5' and '6' cars were launched to celebrate Lancia's success in the 1991 and 1992 World Rally Championships but it wasn't until June 1993 that the next significant change occurred. The Evolution II was launched packing 215bhp with the Final Edition models being sold in November 1994, the Integrale then passing into automotive history with over 44,000 examples sold worldwide.
What You Get
Given the strength of its reputation and the many iterations available, it's easy to forget that the Delta HF Integrale was only on sale for six years. The pace of change during these six years was, to say the least, frenetic and the original 'Grale was a very different beast to the last of the line Evolution IIs. Many buyers will prefer the anti-lock brakes fitted optionally to the 16v versions and the added performance and tractability of the multivalve engine won many buyers over. Unless you buy a car that's been converted after sale, the Integrale has its steering wheel on the left hand side. This doubtless deterred many potential customers who relished the opportunity to get out and overtake a bunch of stuff but didn't fancy the tentative peek into the oncoming. The Integrale is rare in offering uncompromised rally-replica thrills with the added practicality of five doors. Yes, it is a little tight in the back but when all's said and done it's a five-door supermini and is as capable of doing the weekly shop as it is blasting around a Forestry Commission gravel track.
What You Pay
Please fill in the form here for an exact up-to-date information.
What to Look For
Although Lancia latterly adopted a belt and braces approach to rustproofing, the early Integrale 8vs are rather susceptible and it wasn't until the launch of the Evolution models that the company really got to grips with corrosion. If you are going to look at an 8 or 16v model, check for rust around the front windscreen pillars, the top of the rear tailgate, the leading edge of the front doors, the rear wheel arches (some sharp sellers will fit plastic spats to conceal the rot) and the rear suspension turrets.
Rear disc brake calipers have been known to seize, especially if the car has been driven enthusiastically in the dirt. These control the handbrake and the cable for the handbrake is also prone to failure so make sure all is OK before leaving the car on a slope at the end of your test drive.
Synthetic oil is a must if turbo life is to be prolonged. The turbo should develop full power at around 3,000rpm when the engine is good and warm. If boost comes in much higher than this the turbo is probably on its way out. Check to see if the turbo has ever been replaced by the previous owner as cars on their original blower are now getting scarce.
Cam belts should be changed every 30,000 miles at the very minimum. More scrupulous owners will swap out the cambelt every two years or every 15,000 miles. Don't worry too much about a stiff second gear on the Integrale. It usually loosens up when the gearbox warms up. Cars that keep stalling usually have a potentiometer out of adjustment and cars that pull to one side during acceleration and the other during braking are likely to have rogered front suspension bushings. Check the oil cooler on later cars for corrosion on the oil pipe unions. These tend to break, spraying oil about which is never good mid-corner. The VAF valve is also a common source of aggro for Integrale owners. This valve controls the amount of air directly entering the engine and if the car won't idle at a constant engine speed the valve is probably out of commission.
Replacement Parts
Replacement parts costs vary wildly according to source and model of car. There are three key problems that can arise with the Integrale. The first is a broken cambelt which will cost around £1,500 to fix, inclusive of labour. A cooked clutch will be £700 to replace but the big bill is for a crankshaft failure brought about by a seized big end bearing. This will be a wallop in the wallet to the tune of £2,000. There are a number of Integrale specialists who can advise on servicing, spares and repair, the best of the bunch undoubtedly being John Whalley Ltd of Bishop Stortford.
On the Road
If you're accustomed to the overengineered build quality of modern performance hatches, the Integrale will feel like a collection of parts flying very quickly in loose formation. Despite this initial impression of reedy thinness, the Integrale is in fact a very rugged thing as its tally of six consecutive World Rally Championships and countless privateer successes will attest to. With low weight, great all round visibility and an excellent seating position, even the 8v model will scorch away from most of today's hot hatch brigade, registering a sprint to 60mph of just 6.6 seconds and a top speed of over 134mph. Trade up to a 16v and you'll find a more measured spread of power, sprinting ability dipping to 5.7 seconds. The Evolution models are genuine supercar scarers, with superb handling and plenty of brakes.
Overall
What price a legend? The Delta HF Integrale is one of the most evocative names in modern motorsport and if you appreciate your rallying history you owe it to yourself to get behind the wheel of a 'Grale before you die. Owning one is another step altogether and you'll need to budget a hefty sum for upkeep and fettling if you're not to cruelly deplete the Integrale population by one. A well looked after Integrale makes most other so-called performance hatches look distinctly toothless and has an irrevocable coolness that none can match. Are you hardcore?