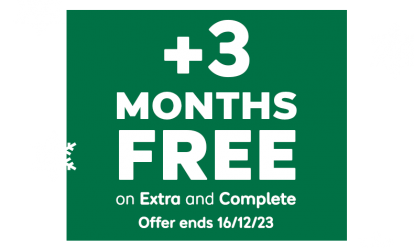 With 12 months of cover, new customers get an extra 3 months for free*.
*Added after 12 months, excludes Basic cover. New customers only. Ends 16/12/23, 7am.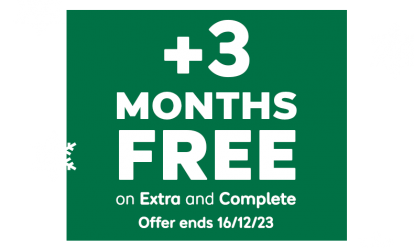 By Jonathan Crouch
Introduction
The Freelander 2 is the compact 4x4 we all knew Land Rover had the capacity to build. Whereas its predecessor's spread of talents was distinctly patchy, the Freelander 2 offered superior build quality, sleeker styling and even better off-road potential. It was also a car that improved quite significantly over the course of its life and the models we look at here are those built from 2008 through to the 2011 model year facelift that arrived in dealerships at the end of 2010.
Models
5dr Compact 4x4 (2.2-litre diesel [S, GS, XS, HSE])
History
By the time 2008 rolled round, the Land Rover Freelander 2 had already earned its reputation as the classiest compact 4x4 around. Now contributing to rather than living off the Land Rover brand, the Freelander nevertheless found itself looking down the barrel of the credit crunch with buyers keeping what money they had under lock and key while nervous banks refused to extend lines of credit to anybody without an impeccable credit score and some serious collateral to back it up with. In other words the market for smart 4x4s virtually evaporated overnight.
Remedial action was required. The first and most obvious change was to can the slow-selling, thirsty and expensive 3.2-litre petrol engined cars. An environmental and austerity pitch couldn't be taken seriously when there was a 232bhp slugger in the line up that managed 25mpg and spouted 265g/km of carbon dioxide. Land Rover decided that an all-diesel line up was the way forward and reinforced the message by introducing the TD4_e, a model that reduced the diesel engine's CO2 from 194 to 179g/km and featured a Stop/Start system that cuts the engine when the car is stationary - a first in the SUV sector. This Stop/Start technology was rolled out to all manual models in 2009.
What You Get
If you're thinking of graduating to this Freelander 2 from an original Freelander, you're in for a treat. It's fully 50mm longer, 109mm wider and 32mm taller and the wheels were shifted further towards each corner, freeing up another 105mm in the car's wheelbase, making rear seat accommodation a whole lot better and improving off-road ability into the deal. The kerb weight crept up to over 1,900kg in the process but a parallel improvement in safety and refinement is a transaction most customers will be willing to accept. Quality-wise, the interior is a somewhat unusual mix of very high quality materials with some surprisingly cheap plastics. It's better than you'd expect in a mainstream compact 4x4 but perhaps not quite of the standard you'd find in the Freelander's premium-badged German rivals.
There are four trim levels offered: S, GS, XS and HSE. The S model misses out quite badly in not being fitted with the amazing Terrain Response system, so I'd be tempted to walk on by.
The Freelander feels a classier and more sophisticated proposition than compact 4x4s such as Nissan's X-Trail, Toyota's RAV4 and Honda's CR-V. By the same token, though, its genuine off-road prowess and Land Rover badge mean you're far more likely to see a mud-splattered Freelander than a premium compact SUV like the BMW X1 or Audi's Q5 with soiled alloys. The Freelander's mix of quality and honest practicality set it apart and the latest cars add greater efficiency into that rare mix. You'll need a manual TD4_e model to take advantage of low emissions and superior fuel economy. By contrast, the automatic model looks increasingly outmoded.
What You Pay
Please fill in the form here for an exact up-to-date information.
What to Look For
The Freelander used to have a distinctly second rate reliability record, but the Freelander 2 has improved things hand over fist. Check if a tow bar has been fitted and also check the tyres for odd wear patterns. Although the Freelander 2 is very capable off road, there are limits to its ground clearance so inspect the underside for signs of damage to the suspension, exhaust and front valance. The diesel engine is a tough unit and if you're test driving the car on a cold day, don't be afraid if the Stop/Start system fails to kick in. The engine is programmed to keep running at temperatures below three degrees Celsius. The lower dash plastics can scratch easily and make sure the glove box hinges are still in requisite order.
Replacement Parts
(Based on 2009 Freelander TD4 - approx excl. VAT). Mirror glass retails at £20 for the flat panel and £25 for convex glass. Tail light bulbs are just 29p a pop, and a lamp assembly for the rear number plate is £10. An auxiliary drive belt is £15 and oil and air filter elements are £7 and £6 respectively.
On the Road
This Freelander 2 is very much a tale of two gearboxes. The manual model gets the Start/Stop system and returns superior economy and less carbon emissions. The automatic version, well, it doesn't. The buying decision ought to be fairly cut and dried in that case and while we'd still counsel you to go for the manual model, there remains the inescapable fact that the automatic is just nicer to drive. Decisions, decisions.
Assuming that you have chosen the manual car, you'll get from zero to 60mph in a middling 10.7 seconds on the way to a top speed of 112mph, so it's doubtful you're going to win any drag races. Body control through corners is way better than in the old Freelander, though, and this Freelander 2 is a car from which you can derive some enjoyment on a challenging section of road.
It's off road that the magic is revealed, and only once you've taken your Freelander 2 off road (ideally under the initial auspices of people who know what they're doing) that you'll marvel at how well Land Rover has integrated that ability and enabled it to work with what are often the conflicting demands of road driving. The Terrain Response system allows the driver to select what sort of off-road conditions the car has to tackle via a rotary knob on the dashboard and the car's electronics work out how best to apportion power and maximise traction. There's still no low range transfer case, but you do get a sophisticated Gradient Release Control system which offers a logical extension of the much-imitated Hill Descent Control system for descending very steep inclines.
Overall
If you're in the market for a compact 4x4 that can cut it off-road and yet which offers a civilised on-road performance, stop right here. Your shortlist need only run to this Land Rover Freelander 2. There may be other rivals that handle a little better on the black top, but for a truly versatile vehicle, nothing can top this Freelander 2. The used market is quite vibrant at the moment, and while it's hard to find genuine bargains, you should still be able to find solid value for money. The best buy is probably a low mileage manual GS model with a fully stamped-up service book but it's hard to go too far wrong with this generation Freelander.