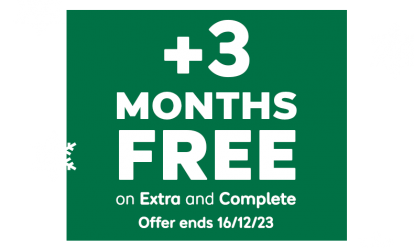 With 12 months of cover, new customers get an extra 3 months for free*.
*Added after 12 months, excludes Basic cover. New customers only. Ends 16/12/23, 7am.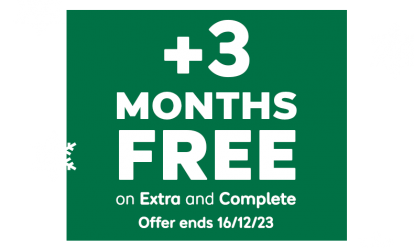 BY JONATHAN CROUCH
Introduction
If you're looking for an affordable used family hatchback, it's impossible to ignore Ford's Escort. There are, after all, literally thousands from which you can choose. Find a good one and you've got yourself a good buy. But how to go about it - that's the question...
Here, we'll be considering the merits of the newest fourth generation-shape model, which had two beauty make-overs during its lifetime, following an original launch in 1990. The most significant was at the beginning of 1995.
Buying the most recent example you can afford is a statement that applies to every used car purchase. However, it's particularly applicable to the Escort. A 1990 car is budget A to B transport; no more. A post-1995 example, by contrast, is reasonably capable.
Models
Models Covered: (Fourth generation [1990-to date]) Fourth generation Escort - 1990-2000 Escort 1.3 3 & 5dr Hatchback, Estate [base, Encore, Popular, L, LX, GLX, Ghia] / Escort 1.4 3 & 5dr Hatchback, Saloon, Estate, Cabriolet [base, Encore, L, LX, GLX, Ghia, Dash] / Escort 1.6 3 & 5d Hatchback, Estate, Cabriolet [S, LX, GLX, Ghia] / 1.6 16v 3 & 5dr Hatchback, Saloon, Estate, Cabriolet [L, LX, Si, Ghia, Silhouette, Mistral, Solar, Flight, Finesse] / Escort 1.8 16v 105,115 & 130bhp 3 & 5dr Hatchback, Saloon, Estate, Cabriolet [LX, Si, Ghia, Si Ghia, XR3i] / Escort 1.8 D 3 & 5dr Hatchback, Saloon, Estate [Popular, D, Encore, L, LX, GLX, Ghia] / Escort 1.8 TD 3 & 5dr Hatchback, Saloon, Estate [Encore, L, LX, Ghia, Flight, Finesse] / Escort 2.0 16v 3 & 5dr Hatchback [RS 2000, RS 2000 4x4] / Escort 2.0 16v Turbo 3dr Hatchback [RS Cosworth, RS Cosworth Lux])
History
The new-shape Escort was launched to generally lukewarm press reception in 1990. Engines were carried over from the previous range, with the 1.6-litre version basically an enlarged variation of the 1.4-litre 1980 unit. Body styles? Well, the usual wide choice of three and five-door hatches, a four-door saloon called the Orion (which reverted to the `Escort` badge in 1993), an estate and a cabriolet.
The early cars were criticised roundly for their dull handling, flexing bodies and spongy seats. Ford, to their credit, quickly set to work to put the early problems right. In 1991, the superb 2.0-litre 16v RS2000 was launched. A few months later in early 1992, the widely praised 16v Zeta engine arrived in 1.8-litre form to produce a vast improvement in more basic models (though it was also offered in the new XR3i). The summer saw the launch of the superb RS Cosworth 4x4, originally developed for the rally circuit.
At the same time (August 1992), Ford decided it was time for a facelift (which didn't affect the Cosworth). This in fact was more than that. The whole body was stiffened and strengthened and to display the fact, minor bodywork changes were incorporated. These included a new corporate 'smiling' oval front grille and minor changes to the tail lamps.
1993 saw the deletion of the slow-selling XR3i and the Orion name, the availability of the Zeta 16-valve engine in 1.6-litre form and the introduction of a 1.8-litre turbo diesel. Airbags by now were standard fare. More recently, 1995 saw the introduction of a substantially improved range, incorporating further body strengthening measures and a new bonnet and grille.
In 1996, it was announced that the RS2000 and the RS Cosworth variants were to be deleted. They could not be engineered easily to meet strict new European emission laws. Ford tried to paper over the cracks by promoting a new `sporting` 115bhp version of the 16v 1.8-litre Escort Si. The Cabriolet range - specifications for which had been changed frequently - was also revised again, now to two models - the Calypso and the Ghia; both 1.6 and 1.8 16v engines were offered. They were deleted early in 1997.
When the new Focus range was launched in October 1998, the Escort range was slimmed down to a series of value for money models dubbed Flight and Finesse. Only the old 1.8-litre turbo diesel and the 16v 1.6-litre petrol engine were offered in five-door and estate bodystyles. This range eventually petered out in 2000.
What You Get
There are so many derivatives it's difficult to know where to start. Early examples are little more than practical transport. Later cars, cabriolets, XR3i models and RS variants are by contrast, surprisingly entertaining. Either way, you'll get yourself a good, reliable family car for not much money.
What You Pay
Please fill in the form here for an exact up-to-date information.
What to Look For
Many examples suffer from starter motor and alternator problems. You may also expect uneven tyre wear and water leaks. Check that the carpets in the front and rear load deck are dry and that there is no rust beneath them.
While you're at it, check for rust under the wheelarches and on the battery tray. If the car you're looking at has completed over 36,000 miles, also examine the camshaft belt for signs of wear. Bright colours tend to hold their value for longer. Avoid dowdy green or mustard hues.
Normally aspirated diesels are slow and noisy, so avoid them. Don't settle for a 1.3 or 1.4-litre version unless you absolutely have to; 16v models can be found at surprisingly affordable prices. Many examples will of course have had company use. No bad thing necessarily, as long as you have a full service history on hand.
Replacement Parts
(approx based on a 1992 Escort 1.4 LX) As you might expect, parts are plentiful and relatively inexpensive. A clutch assembly is around £90. Front dampers are in the region of £30 each and a set of rears around £30 each. Front brakepads are around £30, a rear and centre exhaust are about £30 and £40, a catalyst about £235. An alternator is around £170 and a tyre around £40. A starter motor is just under £95, a front wing about £50, a door mirror is around £45 and a tail lamp is about £30. A headlamp is about £60, a radiator is about £160 and a windscreen is around £65.
On the Road
Try and afford a 16-valve version. You need a reasonably long test drive to find out why. For a start, the Zeta unit's much quieter than the ageing engines that soldiered on in the previous models. It's also got a great deal more pulling power - which means fewer gear changes - and is more efficient - which means better performance and improved fuel consumption.
Late in the Escort's life, Ford added deadlocks to complement the key code security system. This is a security feature which can be linked to an alarm/engine immobiliser that responds to any attempt to open the doors, bonnet or boot, hot-wire the engine or steal the radio. Not all diesel versions have the same security precautions as the petrol variants, so make sure you check.
Overall
Good value family transport that may just spring an entertaining surprise if you buy carefully.