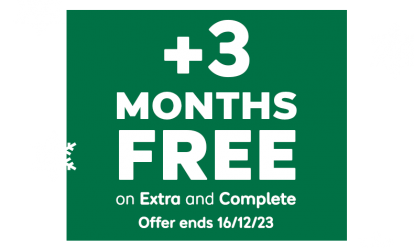 With 12 months of cover, new customers get an extra 3 months for free*.
*Added after 12 months, excludes Basic cover. New customers only. Ends 16/12/23, 7am.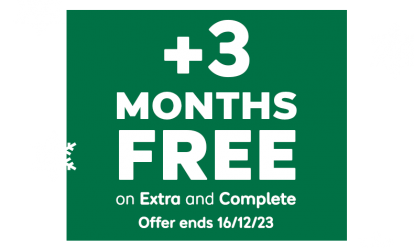 The seventh generation Ford Fiesta is arguably still at its most appealing in conventional three cylinder 1.0 EcoBoost petrol form. Jonathan Crouch takes a look at the revised model.
Ten Second Review
Ford's latest Fiesta is a useful development over what went before. What hasn't changed is the 1.0-litre EcoBoost turbo petrol unit that most buyers will probably want. That's a good thing.
Background
Ford knows what it's doing when it comes to developing small cars for a demanding clientele and the improved version of the seventh generation Fiesta is no exception. This current car is effectively an update of the MK7 model we first saw in 2017 and, as with that model, one of the strongest weapons this one has is its 1.0-litre three cylinder EcoBoost petrol engine.
Since we first saw this unit back in 2012, virtually every other rival has developed its own downsized three cylinder 1.0 or 1.2-litre petrol turbo engine to try and compete. This Ford powerplant still feels a cut above most of them though and was updated in 2020 with mild hybrid technology. It's the conventional non-hybrid 100PS base unit we look at here though.
Driving Experience
Certain realities exist in the supermini market. The additional cost of diesel engines rarely makes them big sellers, so this is where the state of the art in petrol engines is often played out. For some years now, Ford's 1.0-litre Ecoboost three-cylinder unit has been in the box seat in this regard. It's available in the conventional 100PS guise that's our focus here. And can also be had with mHEV mild hybrid tech in 125 and 155PS forms. Either way, it's pretty vivid. In 100PS form, 62mph from rest takes 10.8s en route to 112mph. In the 125PS mild hybrid model, those figures improve to 9.4s and 124mph, while with the 155PS derivative, you're looking at 8.9s and 136mph.
Variations on the Fiesta theme may come and go but before driving any version of Ford's definitive supermini, there's one thing you almost always know for certain: that it'll be a great steer. This current generation model is 15% stiffer than its pre-2017 predecessor and both front and rear track measurements are wider. The engineers tell us that the chassis offers 10% more cornering grip than that old generation car, supported by Electronic Torque Vectoring Control, which enhances the driving experience by applying a small amount of braking to inside wheels to assist traction and stability when cornering.
Design and Build
If you go by the maxim that if something looks right, it is right, then you'll probably like the look of this improved version of the seventh generation Fiesta. As before, it's offered in both three and five-door bodystyles and all variants are tidy pieces of styling - especially in this updated form. The bonnet's been revised, the nose of the car raised and the brand badge moved into the grille, which is flanked by restyled LED headlamps.
Inside, Ford has added a 12.3-inch configurable digital instrument display screen, which complements the usual 8-inch SYNC 3 centre infotainment screen. It incorporates 'Apple CarPlay' and 'Android Auto' smartphone-mirroring - and can include a 575-watt B&O stereo and a rear view camera too. Storage for personal belongings is delivered with a 20% larger glovebox and a 1-litre media bin in the centre console.
Rear seat passengers aren't as cramped in the back of a Fiesta as they used to be; changes made in 2020 added 16mm more knee room, supported by slim-back seats that offer decent side-to-side support. This Fiesta's tailgate is wide for easy access to the 311-litre boot. If you're able to flatten the 60:40 split-folding rear backrest, you'll find that the revealed cargo floor ends up with quite a step in it, but the total capacity figure looks reasonable by segment standards - 1,093-litres.
Market and Model
You'll need to be budgeting the best part of £19,400 for a Fiesta with the 1.0-litre EcoBoost petrol engine we've been looking at here - list price-wise anyway. As usual, there's a £650 premium to pay if you want the extra flexibility of five doors. This engine is offered right across the range, starting with the base 'Trend' level of trim and rising up through 'Titanium', 'Active' and 'ST-Line' models.
Key recent additions on the options list include Matrix headlights, which block individual light rays to avoid blinding oncoming cars when high-beam is enabled. These headlamps can also adapt to bad weather and surrounding traffic. Safety-wise, an extra addition is 'Wrong Way Alert', which stops you turning into a road where you'll be driving against the traffic.
As usual on a Fiesta, you'll be offered some up-scale equipment options, examples including an openable panoramic glass roof. There's sophisticated safety too, including a Pedestrian Detection system that can even prevent collisions at night. And 'Active Park Assist' with brake interventions to prevent low-speed collisions when parking hands-free. As for standard equipment, even base models get features like air conditioning, Bluetooth, an 'Emergency Assistance' system and a 6-speaker stereo.
Cost of Ownership
The Fiesta has always been a bit of a star where running costs are concerned. When the engines used to be a bit off the pace, the asking prices were low. Now that the Fiesta has some of the most fuel efficient engines in the sector, the list prices of the cars are a little higher - but to compensate, residual values have improved a little in turn. There's an mHEV version of this 1.0-litre EcoBoost engine available but even in its conventional form, this unit returns some excellent figures with the 100PS variant returning a decent 53.3mpg on the combined cycle and registering 121g/km. With the 125PS mild hybrid model, the figures are 56.5mpg and 113g/km.
Insurance premiums and maintenance costs have been kept low by an intelligent approach to manufacturing. Bake-hardened steel on the front wings, for example, offers better resistance to low speed bumps and scrapes. Headlamps and tail lamps are positioned high, away from potential impacts, while specially shaped 'crash cans' are designed as sacrificial parts, collapsing predictably in an impact to prevent more extensive damage and higher repair bills.
Summary
The Ford Fiesta has always been a vehicle that the British public has warmed to and it arguably makes most sense in this conventional 1.0 EcoBoost 100PS guise. There's an unpretentious quality to this seventh generation model and a focus on providing the things that really matter to small car buyers - fun handling, an affordable asking price, low running costs and decent accommodation and space.
With this improved MK7 design, to that little list, you can add strong safety provision and sophisticated media connectivity as well. The latest car has a polish and self belief that we've never seen from the Fiesta before. In short, this blue collar car has made good.