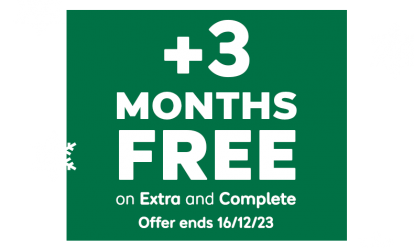 With 12 months of cover, new customers get an extra 3 months for free*.
*Added after 12 months, excludes Basic cover. New customers only. Ends 16/12/23, 7am.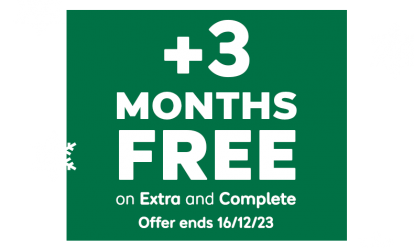 BY ANDY ENRIGHT
Introduction
The Ford Focus C-MAX confused quite a few people upon launch in 2003. What exactly was it trying to be? It didn't offer any additional seating capacity over the standard Ford Focus hatch and wasn't as good looking. It was, on the other hand, a fair bit pricier and it didn't feel quite as sharp to drive. Small wonder that sales were initially a little sticky. After a while word got round that the C-MAX was a car well worth having. Well stocked with practical features and riding on the next-generation Focus chassis, it may not have been quite as sporting as the old Focus hatch but it offered more for the family motorist. Here's the lowdown on used examples.
Models
Models Covered:
5dr mini-MPV: 1.6, 1.8, 2.0, 1.6, 2.0 turbo diesel [Studio, LX, Zetec, Ghia, Ultima])
History
As far as problems go, it's quite a nice one to have. So successful was the Ford Focus hatch that when it came to designing an all-new model, Ford had quite a task on their hands. Instead of trying to replicate the dynamic feel of the old car, Ford's engineers instead opted for a more grown up feel and the first cars to use the next-generation Focus chassis were the Focus C-MAX mini-MPV and the Volvo S40/V50 models, all of which nevertheless garnered critical acclaim as sweet driving cars.
The Focus C-MAX was launched in October 2003 and after a slow start, sales have picked up nicely. Euro IV versions of the diesel engines were offered alongside the non-compliant units at a premium of around £300. Towards the end of 2004 a 1.6-litre Ti-VCT petrol engine was added to the range with 115bhp it was slightly quicker, more frugal and more expensive than the existing 1.6 engine which continued to be offered.
A major facelift in the spring of 2007 brought revised styling borrowed from the larger S-MAX model and emphasising the polished driving dynamics of the C-MAX. Sports packs became available on all models from this point.
What You Get
Think about how we use our cars for a moment. Many of us rarely even use the back seats for anything but shopping bags and jackets. If you've got a family in tow, you may well need four or even five seats but if you seriously need seven seats, it makes sense to go with the additional carrying capacity of a full sized MPV like a Ford Galaxy. Sales figures at the time of the C-MAX launch showed the Citroen Xsara Picasso - a car endowed with a mere quintet of seats - residing in the number one position. Therefore it was Ford's aim to build the best and most practical five-seat mini-MPV possible that would appeal to 'real world' requirements.
With a wheelbase some 25mm longer than the Focus, the C-MAX offers a good deal of interior space, helped by a novel seating arrangement. The 'wheel at each corner' design also helps maximise interior dimensions. The styling may disappoint those expecting something as ground breaking as the Focus originally was, but having seen the Fiesta and the Fusion, it's perhaps not surprising that the C-MAX follows a similarly conservative design theme. The metallic finish around the front grille and the jewel-effect lights give the car a Mondeo-like nose, whereas the back end looks distinctly Fiesta. If you'd have sketched a Ford mini-MPV before you'd even seen the C-MAX, you would probably have been pretty near the mark. Still, this is a market where conservatism tends to pay off.
If the exterior may be a little underwhelming, the C-MAX more than makes up for it with the ideas factory that is the cabin. Although it's unlikely to be available on entry-level versions, Ford's rear seat flexibility system really is the ace in the C-MAX hole. A 40-20-40 "tip and tumble" rear seat sees the centre section flip rearwards into the luggage compartment, leaving the remaining two seats to slide diagonally along a runner towards the centre of the car, giving unprecedented levels of space for four. With 100mm of extra legroom and 60mm of additional shoulder room, even extravagantly dimensioned passengers should be able to find space in the back of the C-MAX. Even in the standard three-abreast bench position there's plenty of room, offering 946mm of legroom and 582 litres of luggage compartment space. Remove the rear seats altogether and there's a monstrous 1,692 litres available. One trick Ford did miss was the ability to tumble the front passenger seat forward to a flat position.
What You Pay
Please fill in the form here for an exact up-to-date information.
What to Look For
All of the engines are tough units and the diesels are especially good so no major mechanical issues there. The cabins are reasonably hardwearing too but look for damage in the rear caused by tots. The C-MAX tends not to be driven quite as hard as regular Focus models but it's still worth keeping an eye out for mega mileage company hacks. Worn carpets, and scuffed trim are the usual clues.
Check that all the electrical items work properly, ensure that the air conditioner delivers chilled air soon after the engine is started and remember that there's no excuse for missed servicing with a car of this age.
Replacement Parts
(approx based on a Focus C-MAX 1.6) As you might expect, parts are plentiful and relatively inexpensive. A clutch assembly will be around £115 and an alternator should be close to £165.
Brake pads are around £35 a front set with rear shoes around £45 and a replacement headlamp is close to £140. A full exhaust is about £275 and a catalyst is about £285. Dampers are around £60 each and a radiator about £140.
On the Road
Ford claim the C-MAX moniker is an amalgam of both the C-segment in which it competes and a combination of maximum comfort, maximum confidence and maximum control. Whilst some of this sounds like marketing flannel, it's a source of great importance for Ford that the C-MAX should uphold the reputation of its Focus progenitor as a sparkling drive. Rumour has it that during the development cycle, an all-electric steering was developed that developed far better feedback than any electric power steering system to date. Thing was, it still wasn't as good as the Focus' existing helm, so despite being undoubtedly clever, it was ditched. Instead Ford uses a hydroelectric pump system that offers great feel and a three per cent fuel saving over conventional systems. This, coupled with the celebrated control blade rear suspension, ensures that the C-MAX feels a very capable handler.
Five engines are offered - a pair of diesels and a trio of petrol units. The 108bhp 1.6-litre diesel is a development of the existing 1.4TDCi common rail unit but the pick of the range has to be the punchy 134bhp 2.0-litre TDCi engine sourced from Peugeot. Backed up by a six-speed gearshift, this will be the car to take the fight to Citroen, Renault, Volkswagen and Vauxhall. Both oil-burners are now available in Euro III or Euro IV compliant forms. Petrol buyers are catered for with 100bhp 1.6-litre, 120bhp 1.8-litre and 145bhp 2.0-litre options. Ford would neither confirm nor deny the eventual existence of 1.8-litre SCi direct injection petrol and hot rod V6 ST versions of the C-MAX but the twinkle in the engineer's eye when the question was raised spoke volumes. The Durashift CVT gearbox is offered with the 1.6 TDCi Euro III diesels.
Overall
If you're not too fussed about seating seven and you still want a car that feels like a car and not a delivery van, the Ford Focus C-MAX is one of the best possible picks. It's beautifully finished and feels like a premium product, a fact reflected in its upscale used pricing. The diesel models are the pick of the bunch with the 2.0-litre TDCi being a real gem.