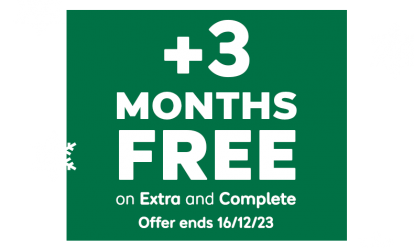 With 12 months of cover, new customers get an extra 3 months for free*.
*Added after 12 months, excludes Basic cover. New customers only. Ends 16/12/23, 7am.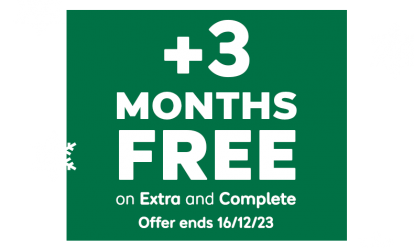 By Jonathan Crouch
Introduction
If you've ever got out of a Volkswagen Golf feeling you could do with a bit more space, the answer is right here in the chiselled form of the Golf SV. Here, back in 2014, the Wolfsburg brand at last brought us a proper, purpose-built family-sized five-seat MPV offering properly purposeful advantages to justify its premium over the standard hatchback model. It's Volkswagen's idea of what a Scenic or a C-MAX should really be and if you're buying in this segment from this ear and want something with a really quality feel, you could find it hard to resist.
Models
5DR MPV (1.2, 1.4 PETROL / 1.6, 2.0 TDI DIESEL)
History
Designing an MPV People Carrier needs to amount to more than just raising the roof height of a conventional family hatchback and giving it a different badge. Volkswagen knows that now after a sobering experience with their slow-selling Golf Plus model, launched in 2005 and updated in 2010. That car was supposed to be the brand's answer to five-seat People Carriers like Renault's Scenic and Ford's C-MAX, contenders that were successful because they were properly developed to offer families significantly more. Constrained by restrictive old fashioned turn-of-the-century underpinnings, the disappointing Golf Plus couldn't deliver that kind of proposition. Its replacement though, the Golf SV 5-seat people carrier that was launched in 2014, certainly could.
The 'SV' moniker stands for 'Sports Van', a name the importers here understandably didn't much like, hence its shortening to a couple of simple letters. True, some utilitarian MPVs are little more than refurbished vans - Volkswagen's own Caddy Life model for example. This one though, is a long way from being an LCV. By the same token, it also sits some distance from sportiness. What buyers do get though is a proper five-seat compact MPV in the Scenic or C-MAX mould that borrows from its conventional MK7 model Golf stablemate but, thanks to the hi-tech flexibility of the Group's clever modern day MQB platform, doesn't have to sit on that car's restricted wheelbase. It's free-er, in other words, to do its own thing - just as, after purchase, Volkswagen hopes potential buyers will be.
The niche here is an admittedly narrow one. If a standard Golf isn't enough but you still want something pretty compact, there's the Volkswagen brand's straightforward Golf Estate, their 7-seater Touran small people mover or the van-derived Caddy Life MPV we mentioned earlier. None of these cars though, have the dynamic style, flair and driveway cred necessary for widespread acceptance in the Scenic and C-MAX class. In contrast, the Golf SV has always claimed to offer exactly that. It's still not the largest car of its kind - but claims to be the classiest. The SV sold in its original form until early 2018, when it was updated with slightly smarter looks and a more modern range of petrol engines, plus upgraded safety and media kit.
What You Get
With this SV people carrier Golf variant, the last thing the stylists wanted was the high-roofed Toytown awkwardness of the old Golf Plus. Though this car is just as tall as that 'Plus' predecessor model, its proportions are far more carefully considered, with aesthetic tricks like a glasshouse-extending fifth side window and bonnet-lengthening creases preserving the smartly conservative look of Volkswagen's best-selling family hatch. We also like the so-called 'winglets', struts in the lower area of the bumper that act like small wings, framing the middle air intake and the fog lights.
Moving round the car, your eyes follow a strong character shoulder line that runs through the door handles and culminates in aerodynamically-optimised two-part rear tail lamps. If you owned an old Golf Plus, you'll note that the screen these sit below is much, much wider and is capped off by a neat, sleek roof spoiler.
So far so good. The important part though, as ever, is the bit you can't see, in this case the hi-tech MQB Modular Transverse Matrix chassis that transformed the way that Volkswagen's developers could go about designing this car. Its Golf Plus predecessor had to cope with the restrictions of exactly the same wheelbase as an ordinary Golf hatch, thanks to a fixed floorplan the Wolfsburg spannermen couldn't tamper with. The seventh generation Golf model's far more modern MQB underpinnings are very different, their flexibility enabling the wheelbase of this car to grow by 50mm over that of its standard hatch counterpart. That's made all the difference, both to the looks and to the practicality and space you can expect once inside.
Let us start to try and paint that picture for you. In terms of overall size, what original buyers ended up with here was an inevitably bigger car than the old Golf Plus, though interestingly, the height's pretty much the same. It's a body style designed to sit plumb in the middle of the seventh generation Golf bodystyle line-up, with a 4.34m total length that makes an SV 83mm longer than the ordinary hatch, but 224mm shorter than a Golf Estate. So, enough with the stats: what does it all mean? Well, a very practical car indeed is the short answer. Some of the motoring magazines moaned that this SV didn't have quite as much luggage space as its direct rivals, but that's a bit misleading as it's a comment that applies to a seats-folded total cargo configuration you'll hardly ever use.
In terms of the standard boot, the thing you'll use every day, the capacity that this Volkswagen can offer is actually class-leading - 590-litres with the neat sliding rear bench pushed right forward, which is 30% more than a Golf hatch can offer and only a fraction less than you'd get in a Golf Estate. Even if you need to use that bench for adults and activate the 180mm of travel it offers going backwards, there's still 500-litres available, 76-litres more than a comparably-configured version of the old Golf Plus and importantly, significantly more than you get in a Ford C-MAX. It's a decently shaped and very usable cargo area too, thanks to a repositionable boot floor that can be set to various heights, including one flush to a boot lip designed to be accessibly close to the ground.
The flexibility continues once you push the rear bench forward, something that's possible to do in a 40:20:40 configuration that's very useful if all you want to do is to poke long items like skis through from the boot. Completion of the folding process though, reveals a disappointment, namely the lack of the kind of flexibility you'd get at this point in a rival Scenic or a C-MAX, both of which allow for the rear bench to be tumbled forward and, if necessary, totally removed. If you've owned either of those two competitors, you may also notice the point we alluded to earlier, namely that the seats-folded capacity you get from this Golf SV is less, the 1,520-litre total figure around 15% less than you'd get in a C-MAX and about 20% less than you could expect in a Scenic.
If removal van ramifications matter to you, then that might be an issue. But we're guessing that for most potential family owners, it won't be. After all, how many Scenic or C-MAX owners have ever taken out their rear seats? Or completely used all of the capacity their cars could offer? Very few we're guessing. No, what's important here is that the luggage area is quite sufficient for class competitiveness, the 1,795mm total length being 35mm more than the old Golf Plus could offer. It's also beautifully trimmed, the neat flaps that smooth over the not-quite-flat floor area being a nice touch. If you are occasionally likely to need to maximise carriage capacity, then make sure that you try and find an SV whose original owner ordered the car with the optional fold-forward front passenger seat. That'll significantly increase your potential total loading length to over 2.5m, so yes, that kayak, that bicycle or that surfboard will certainly fit.
On to the driving experience you get from a seat up-front. Enter in through the wide-opening doors and there's a low enough hip point to make getting comfortable easier for older owners. That's despite the fact that in proper MPV style, you do sit a little higher up here than you would in a Golf hatch or Estate. We're guessing that the slightly more commanding view of the road ahead this provides will be a major SV selling point.
And behind the wheel? Well, this isn't the same dashboard you get in an ordinary Golf hatchback. But you'd never know that, primarily because all of the elements embedded into it are exactly the same. This is of course no bad thing and the design, with its soft-touch finishes, it's classy gloss black inlays and clear instruments you view through a sculpted three-spoke leather-trimmed wheel remains class-leading, certainly far nicer and more up-market than you'd get in a rival Ford or Renault from this era. The quality of the materials used is better and build quality from the Wolfsburg factory more solid.
True, you could say that this cabin lacks the high-tech ambience of, say, a Citroen C4 Picasso but that's not to say it doesn't have its sophisticated touches. Take the infotainment touchscreen system, controlled from a display either 5.8 or 8-inches in size, depending on whether you get a car whose original owner specified the 'Discover' satellite navigation system (which needs the larger monitor). Either way, the screen works with a neat proximity sensor touch system that hides certain menus and controls until your fingers near the screen, at which point they suddenly appear, ready to be operated.
As for practicality, well yes that's been well thought through too. There's a neat centre armrest with an integrated storage compartment, the usual couple of cup holders, storage bins in the upper part of the dashboard (providing you don't get yourself a car whose original owner ordered the optional Dynaudio sound system) and properly-sized door bins capable of holding a 1.5-litre bottle in the front or a 1.0-litre one in the rear. Not quite so well-shaped are the rather small under-seat drawers (included providing you avoid entry-level trim).
And in the rear? Well, it's true that in a rival Scenic, a C-MAX or a C4 Picasso, you've the option of taking out the middle seat to free up more space for the two outer passengers: that's not an option here - but then how often would you really want it to be? Of more significance for us is the fact that if you're a middle seat occupant in the back, your legroom will be considerably inhibited by the prominent fixed transmission tunnel, something that seems rather superfluous on what is, after all, a front wheel drive car. On the positive side, most models get useful fold-out seat back tables, plus more importantly, headroom's good and can be improved by the included seat reclining function. Likewise, your legroom can be similarly enhanced to almost limousine levels by the fact that the rear bench can slide backwards and forwards throughout a travel of 180mm. Lovely.
What You Pay
Please fill in the form here for an exact up-to-date information.
What to Look For
Most Golf SV MK1 owners we surveyed were very happy with their cars, but inevitably, there have been those who have had problems you'll want to look out for. One owner reported squeaky noises coming from the suspension over speed humps. Another noted that his steering wheel made a slightly wheezy noise when going round bends slowly. There were reports of the boot juddering when closing. And fuel caps that were difficult to open, making re-fuelling a struggle. One owner reported vibration from the door cards at the front and the rear. And another reckoned that his infotainment system was choosing not to function in very cold weather - and at times, was choosing to control itself.
As for mechanical stuff, well we came across one owner who'd had a clutch go after just 4,600 miles - but that's very unusual. Another experienced faulty injectors. And another experienced a power failure related to his DSG auto gearbox. Also look out for smearing wipers, problems with the cabin air blowers and a rattle from the gearbox over speed humps.
Replacement Parts
(approx based on a 2014 1.6 TDI) An air filter will be priced in the £12 to £18 bracket, an oil filter will sit in the £9 to £13 bracket and a fuel flier will cost in the £19 to £46 bracket. A radiator will likely cost between £143 and £153. The front brake discs we came across sat in the £45 to £70 bracket for a pair, with pricier-branded discs costing between £80 and £132 for a pair. A pair of rear discs sit typically in the £44-£70 bracket, with pricier brands costing up to around £145. A set of front brake pads are in the £24 to £37 bracket for a set but for pricier brands, you could pay in the £62-£70 bracket. A set of rear brake pads sit in the £31-£46 bracket. A timing belt is around £20-£40, though go for a pricier brand and you could pay as much as £93-£135 for one. Wiper blades cost in the £10-£19 bracket. A shock absorber will be around £88.
On the Road
Surely this car can't handle exactly like the Golf hatch it's based upon? After all, it's got about 80mm more length and width, 120mm more height and it's about 120kg heavier. You'd have to notice all of that around the corners - wouldn't you? Really though, you don't. We're not saying there's no difference at all: you do get a touch more bodyroll through tighter bends, but in truth, it's not terribly significant. Or perhaps it's just that your mind is distracted from the issue by the surprisingly sharp way that this SV turns into the bends. Credit for this goes to a standard XDS electronic differential lock that automatically brakes the inner wheel through each tight curve just before it loses traction, sharpening turn-in and firing you from bend to bend. The rival Ford C-MAX uses a similar system and overall, remains a slightly more rewarding steer, though the differences aren't great.
In fact, they're not very noticeable at all if you're able to stretch to one of the more powerful SV variants that could be ordered by original owners with a DCC Dynamic Chassis Control system that aims to very effectively deal with that touch of extra body roll we just mentioned. DCC offers specifically-tuned 'Sport' and 'Comfort' options, depending on how you want to drive, modes you select from the 'driver profile selection' system you'll find on all but the most basically-trimmed versions of this car - another welcome feature borrowed from the ordinary Golf. Without the DCC ride control package, this profile selection set-up's four standard settings ('Eco', 'Sport', 'Normal' and 'Individual') merely allow you to alter throttle response, steering feel, air conditioning efficiency and, on automatic models, gearshift timings. Still, even this is enough to change the character of your Golf SV to better suit the mood you're in and the road you're on.
The other thing that fundamentally changes the character of this car is something over which owners will have less control. As it has with more ordinary versions of this Golf, Volkswagen (a little meanly) has decided to save a few pennies by equipping all mainstream versions with an old-tech torsion beam suspension set-up that can give you a bit of a fidgety ride at low speeds over poor surfaces. To avoid this and get a proper modern multi-link system like the one you'd find across the range in, say, a rival Ford C-MAX, you have to stretch to the very pokiest petrol or diesel Golf SV variants.
That's a little disappointing, but the engine range on offer isn't. The two powerplants we just referred to (the only ones that from new could be ordered with that DCC ride control system) offer 150PS, buyers choosing between either a 2.0-litre TDI diesel or a 1.4-litre TSI petrol unit. Of the pair, we'd always go for the diesel, primarily because you don't have to have it in a pricey top 'GT' trim level that forces you into a car with an unnecessarily firm suspension set-up. In any case, the 2.0-litre TDI isn't even much slower than its direct petrol equivalent, the 9.2s 0-62mph showing less than half a second tardier. Both cars max out at 132mph.
Most Golf SV customers though, won't need that kind of performance. From new, nearly all of them plumped for the 110PS version of its trusty 1.6-litre TDI diesel. You can see why this variant was so popular, this base diesel unit offering a persuasive blend of decently perky performance and 70mpg efficiency. In one of these, you can expect 62mph from rest to occupy 11.3s en route to 119mph, though we should point out that these are figures only just superior to those returned by the 90PS version of this same engine.
The other powerplant choices are all petrol-driven and continue the all-turbo theme. A couple of 1.2-litre TSI units prop up the range, respectively developing either 85 or 110PS. Personally, we'd avoid these. The feebler variant (which takes over 13s to get to 62mph) will quickly run out of puff when your Golf SV is heavily loaded. The pokier one cuts that time by over 2.5s, but there's not much point in buying it because for only a little more, you could get yourself a bigger-capacity 1.4-litre 125PS TSI petrol engine that's a more satisfying choice all round. Here, the 62mph sprint takes 9.9s on the way to 124mph.
Overall
If you think you'd need a very good reason to buy a compact MPV with fewer than seven seats, you might like the Golf SV. It offers a range of very good reasons. The class, style and quality on offer here are certainly very tempting compensations for the absence of those extra chairs. And if you have decided that you can do without the additional pews, an SV certainly stacks up very well against the other potential five-seat solutions on offer for families seeking more flexibility than an ordinary Golf or Focus family hatch could offer. Do you really want the mundanity of an estate or a converted van, the rather self-conscious funkiness of a Qashqai-style crossover - or the maternity unit practicality of, say, a Scenic or a C-MAX?
Here's a slightly different way to go. A proper Golf that is also the kind of proper People Carrier its Golf Plus predecessor never was. True, other five-seater MPVs from this era can offer you slightly more space and seat-fumbling flexibility, but the incremental benefits they deliver aren't really very significant. Overall, this is a car that adds a dash of desirability to the business of owning what is, at the end of the day, nothing more than a practical family tool. The result is a car you could be proud of.