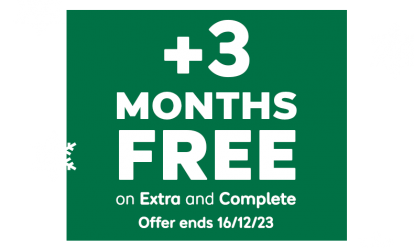 With 12 months of cover, new customers get an extra 3 months for free*.
*Added after 12 months, excludes Basic cover. New customers only. Ends 16/12/23, 7am.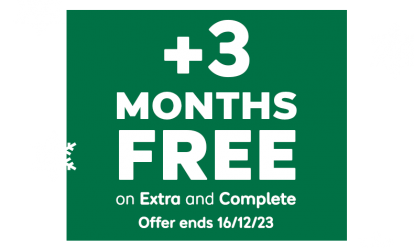 Fiat's improved Panda gets mild hybrid tech and remains cute and sensible. Jonathan Crouch reports.
Ten Second Review
Fiat's Panda aims at being all the car some buyers will ever need. It's large where it matters, yet still small enough for its urban purpose. It's more efficient - especially in its latest 1.0-litre mild hybrid form - yet can offer surprising reserves of performance. And you can make it high-tech - or specify one that's super-affordable. The Italians have always done this kind of thing very well. They still do.
Background
Almost every car you can think of on the market can be pigeonholed into a specific market segment. And even if it can't be, it's likely to appeal to a very specific group of customers. The Fiat Panda's different. Though sized and priced as a little citycar, it's so versatile and class-less that it can really function as.... well, almost anything you want. Depending on the flavour you choose, it's a design as suited to city living as it is to the needs of a mountaintop farmer. It can be a hot hatch - or eco-conscious transport for Friends of the Earth. It can be a second vehicle for older empty-nesters. Or the sole car for a rural family. Less a citycar. More an 'essential' car, it is, in the words of one top Fiat executive 'the official car for doing whatever the hell you like'.
This is the Italian brand at its very best. A modern-era MK2 Panda design was launched back in 2003 to replace a first generation model that sold for over twenty years from 1980. The MK3 design we've got here was originally launched back in 2011, but in early 2020 was significantly updated with the option of 1.0-litre mild hybrid power; it's this improved Panda that we're going to take a look at here. Functional, solid, intelligent and free spirited, it's still, we're told, a car that thinks outside the box. Let's try it.
Driving Experience
The volume Panda range is now based around Fiat's newer three cylinder 70hp 1.0-litre mild hybrid powerplant, which improves fuel efficiency without impeding performance. It also ensures a very high standard of driving comfort thanks to a 12-volt 'BSG' 'Belt-integrated Starter Generator', allowing for a quiet, vibration-free restart of the internal combustion engine in Stop&Start mode. The engine (which we've already seen in Fiat's alternative citycar, the 500) puts out 92Nm of pulling power and works via a 6-speed manual gearbox integrated with that 'BSG' set-up we just mentioned. The 'BSG' system is mounted directly on the engine and is operated by the belt that also drives the auxiliaries. The new system also involves lowering the entire power unit 45mm so the car behaves better on the road thanks to the lower centre of gravity.
All Pandas are of course especially at home in a city environment. True, the five-speed gearbox could be a little more precise, but you'll appreciate the way this car takes even quite nasty small urban bumps in its stride. And delivers neat little touches like the steering's 'City' mode option to increase the assistance it gives at parking speeds so that you can use the tight 9.3m turning circle more easily. Urban-friendly through and through you see.
Design and Build
Fiat has given this updated MK3 model Panda a slightly smarter look, courtesy of revised bumpers, smarter wheels and fresh colour options. It remains a tall car, with a vertical tail, a five-door-only shape and a large glass area, plus there's the usual tiny roadway footprint. And the familiar friendly look remains, based upon what Fiat's designers call 'a squarical' theme, rounded rectangles in vogue everywhere from the headlamps to the front air intake, from the wheelarches to that trademark extra third rearward side window.
The squarical touches continue on inside, now updated with seats and dashboard created from recycled materials. As for those squarical touches, you'll find them in the instrument binnacle, on the steering wheel boss, the ventilation controls on the centre console - even on the seats where embossed rounded squares are there to better help air circulate between your body and the backrest. The dashboard itself is enveloped in a colourful frame of your choosing with a roomy storage pocket in front of the front passenger supposed to evoke a nod towards original Eighties Panda motoring.
Overall then, this is a cabin of reasonable quality given the affordable asking prices. Storage for bigger items is taken care of by a 225-litre boot that's square and usefully shaped. As for rear seat passenger space, well thanks to the slim seats, it's perfectly adequate for a couple of fully-sized adults.
Market and Model
Panda pricing now starts at around £14,000, which gets you the base 'City Life' Panda model with its 1.0-litre mild hybrid engine. At this level in the range, you get 15-inch 'Style' wheels, air conditioning and roof bars.
If you like an SUV look but don't need a 4x4, you'll like the 'City Cross' variant, which costs around £15,500. The 'City Cross' model gives you LED DRL headlights, black door mirrors and door handles, a roof rack and special side sills, 15-inch alloy wheels, body-coloured bumpers and skidplates. Inside, blue and black two-tone eco-leather upholstery on the door panels and seats with silver stitching and fabric side panels finish the look. Automatic climate control is also standard. There's also a meaner-looking top 'Cross Garmin' model, but that costs around £17,500. It includes a full bodykit, 15-inch Matt Black alloy wheels and Garmin satellite navigation. All of these variants use the 1.0-litre mild hybrid engine.
Cost of Ownership
You'd certainly expect this Panda to be at or near the top of its class when it comes to the issue of WLTP-rated running costs. For the 1.0-litre mild hybrid 'City Life' model, the official combined cycle fuel figure is 57.6mpg and there's an CO2 emissions figure of 111g/km. For the 1.0-litre mild hybrid 'City Cross' model, the CO2 reading can rise up to 113g/km and the fuel figure falls slightly to 56.5mpg.
The warranty is a typical three year affair but with a 100,000 mile limit that's significantly higher than some other brands will give you. Pandas hold their value very well and that's unlikely to change any time soon. The car is covered by a three-year, unlimited mileage warranty and there's 36 months of breakdown cover included as well. Servicing needn't be too costly as Fiat parts are relatively cheap. The brand also offers fixed price service plans that take care of all service charges, labour and replacement fluids. You can pick from durations that span from one to five years, with corresponding mileage from 9,000 to 45,000 miles.
Summary
Loved by small car people the world over for more than thirty years, the Panda continues to define everything that a very compact multi-purpose model should be. It's had to evolve of course, with more efficient engines and clever technology. But its heart remains simple, functional and innovative. Which is why, while other citycars will please only citycar folk, you could imagine this one being bought by.... well, just about anyone.
A few other rivals may be a little cheaper, more refined or slightly trendier but few push the boundaries of design quite like this Fiat. It happily challenges just about every tiny car perception in the book. That you can't get really impressive fuel and CO2 figures without forking out loads of money for a diesel. That you can't seat five in this class of car. Or carry really large items. Or get big car hi-tech features. Panda people think differently thanks to a car that lets them do just that. It's got tough competition these days, no question. But in a growing segment full of talented offerings, it's a key contender you just can't help liking.