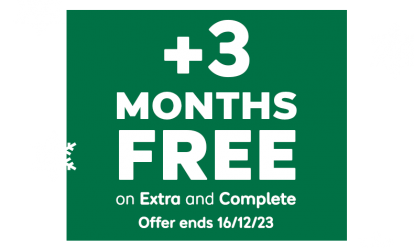 With 12 months of cover, new customers get an extra 3 months for free*.
*Added after 12 months, excludes Basic cover. New customers only. Ends 16/12/23, 7am.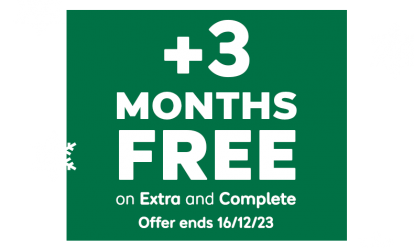 Fiat's Doblo van borrows shared engineering in third generation form. Jonathan Crouch sees how it measures up.
Ten Second Review
Fiat's Doblo van has evolved and there's now the option of all an all-electric version. Much about this latest design is now shared with competing brands in the sector for compact LCVs, but this one still deserves a look if you're seeking a modern value-based package.
Background
For the first time in a long time, the Fiat Professional van range is looking properly modern and cutting-edge. Recent changes have seen the launch of the refreshed 'Series 8' Ducato large LCV and the all-new Scudo mid-size van, both with full-electric versions. Even more significant is the redesigned Doblo compact LCV model we look at here, which like the Scudo has switched to shared Stellantis Group underpinnings, specifically here the EMP2 chassis already used by the Peugeot Partner, Citroen Berlingo, Vauxhall Combo Cargo and Toyota Proace City. Which means there can now be an all-electric E-Doblo model too.
There's inevitably good and bad in this. Good in that it brings us a much more sophisticated Doblo than businesses have ever had access to before. And bad in that it also brings us the priciest Doblo we've ever seen here. Value was always this Fiat van's calling card. Can this one still deliver in that regard?. Let's take a look.
Driving Experience
One day in the not-too-distant future, you won't be able to acquire a new van of this size with a combustion engine, but for the time being, fossil-fuelled powerplants are very much alive and well in the Doblo range. If you don't care about the current zeitgeist, you'll probably want a diesel, so Fiat offers two 1.5-litre units, one with 99bhp and the other with 128bhp. There's also a 1.2-litre three cylinder turbo petrol powerplant (also Peugeot/Citroen-derived) with 109bhp. A neat touch is Fiat's 'Grip Control System', designed to aid traction on slippery surfaces. And for those awkward deliveries on building sites, there's a Hill descent control set-up for gradients of over 3%.
Your Fiat Professional dealer is also going to want you to consider the option of the alternative all-electric E-Doblo, which uses exactly the same powertrain as its Peugeot Partner, Citroen Berlingo, Vauxhall Combo Cargo and Toyota Proace City segment cousins. This sees a 100kW motor drive the front wheels powered by a 50kWh battery, which when fully charged can take the E-Doblo 173 miles (2 miles more than an e-Partner or an e-Berlingo). As usual with this powertrain, there are three driving modes, 'Normal', 'Eco' and 'Power'.
Design and Build
This Doblo might be a re-badged version of an existing Stellantis Group small LCV design but at least from the front end, it doesn't look it. The nose gives this van its own sense of urban style, with Fiat's latest retro brand badge where you'd normally expect the grille to be: cooling is taken care of by a large intake lower down. As you'd expect, there are long and short wheelbase van and 5-seater Crew Cab versions. Sadly though, there's no option for the kind of high roof variant that was so useful to operators with the previous generation Doblo Cargo.
Inside, the dash and instrument layout is of course as you'll find it with this model's other Stellantis cousins. You'll like the 'Magic Cargo' feature, which enables the van to carry up to three people in the front seats or, alternatively, increase the cargo area's length and loading volume. The passenger-side seat can be raised and the compartment underneath used for boxes or fragile items. On the E-Doblo, one neat touch, unique at launch, is the 'Magic Plug', which makes it possible to use the battery energy to power tools or other electrical appliances.
Market and Model
Prices start from around £19,500 for the combustion variants and from around £28,500 for the E-Doblo (the latter figure following subtraction of the government's £2,500 Plug-in Van Grant). These figures are way higher than Doblo owners have been used to paying in the past: but this this current model is way more sophisticated than any Doblo van ever seen in the past, specifically with new connectivity, infotainment and safety technologies that help drivers overcome daily challenges and obstacles. There are standard and plusher 'Primo' levels of trim.
The Doblo and E-Doblo come with 18 level two autonomous advanced driver assistance systems (ADAS). The stand-out available safety feature on both models is the Magic Mirror, which thanks to two cameras - one under the right rear-view mirror and the other above the rear doors - ensures the driver has three different views (displayed on a five inch digital rear-view mirror) to perform the most complicated manoeuvre in the safest possible fashion. You can opt for a Head-Up Display too.
Additional ADAS safety features include Adaptive Cruise Control (adapting the vehicle's speed to that of the vehicle in front); Lane Keeping Assist (warning the driver if a longitudinal lane marking on the ground is accidentally crossed); and Blind Spot Detection (informing the driver if another vehicle is present in the van's blind spot). Both vans are available with a safety pack as standard which includes advanced emergency braking, lane departure warning and traffic sign recognition.
Practicalities and Costs
The dimensions are perfectly in line with the segment, with a length of 4,403mm for the short wheelbase version, ensuring an optimum effective usable length of 1.81m and a 3.3m3 capacity, sufficient to accommodate two Euro pallets. There are slide-opening side doors and twin side-hinged rear doors that open to 180 degrees. Plus the payload is up to one tonne. The long wheelbase version, which is 4,753mm long, provides even greater load capacity - 3.9m3. Yet more space can be freed up with the clever 'Magic Cargo' feature. This uses a folding front passenger bench to add an extra 0.4m3, while also increasing the maximum load length by 1.3m. Payload across the range is up to 1,000kgs. And there's a 1.5-tonne towing capability that's un-bettered in the class.
And running costs? Well here, there's little for operators to worry about. Returns from the various turbo-charged, direct injection petrol and diesel engines are competitive, CO2 emissions starting from 111g/km and fuel economy of up to 67.3mpg possible for the 1.5-litre 99bhp diesel. The 1.5-litre 128bhp diesel manages 65.7mpg and 113g/km. And the 1.2-litre 109bhp petrol variant delivers 51.4mpg and 125g/km. All powertrains meet the stringent Euro 6d-TEMP emissions standard. On the move, an engine stop-start function supports fuel economy and lower emissions.
The E-Doblo is available with a 'Rapid Charge Mode', which allows 80% of the battery to recharge in 30 minutes when hooked up to a 100kW public charger. This Fiat can't match the 10 year warranty cover you get on a comparable Toyota Proace City Electric but you can extend the usual 3 year/60,000 mile warranty to five years with Fiat Professional's optional '555' package, which also gives you roadside assistance and servicing for that period. The battery gets separate cover up that promises to retain up to 70% of its capacity over 8 years or 100,000 miles. On all Doblos, maintenance schedules are up to 25,000 miles/two years.
Summary
We'd be disappointed if Fiat stopped fundamentally designing its own cars, but it does seem logical in the current climate for the brand to be sharing the design of its vans. As it's done for decades with its medium and large-sized models. Even the city-shaped tiny Fiorano van was a shared design. But the Dobo LCV has always been a stand-alone Fiat - until now.
At least it still has its own unique front-end look. And the E-Doblo's fractional range advantage over its Stellantis Group cousins and its clever 'Magic Plug' might be selling points that sway you Fiat's way. These are fractional advantages, but these days, the difference between small vans tends to be just that - fractional. This one's worth a place on your shortlist.