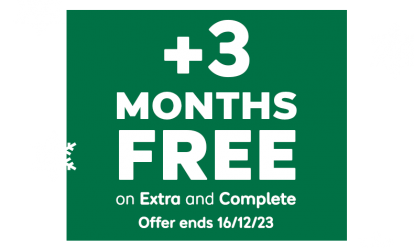 With 12 months of cover, new customers get an extra 3 months for free*.
*Added after 12 months, excludes Basic cover. New customers only. Ends 16/12/23, 7am.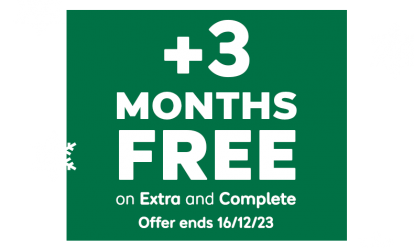 BY ANDY ENRIGHT
Introduction
The Daewoo Korando is one of those cars that splits opinion. In order to split any opinion however, one must first have heard of it. The Korando is not one of the first names that crop up when drawing up a 4x4 wish list. Those who do know it either love or hate the styling. Like a BMW M-Coupe, Fiat Multipla or Hyundai Coupe, there will be those who think its looks are bold and interesting and those who find it plain ugly.
Get past the challenging appearance though and a used Korando makes a lot of sense. It's based on rugged underpinnings and features a pair of powerplants sourced from a German concern called Mercedes-Benz, who are reputed to know a thing or two about engines. Priced attractively from new, the Korando makes a left-field alternative to a Jeep Wrangler, and one that will guarantee a certain exclusivity.
Models
Models Covered: 3dr 4x4, 2.3 petrol, 2.9 diesel
History
At this stage, you may well be suffering from a gnawing sense of dejà vu. That's because the Korando wasn't always a Daewoo. When it was launched in 1997, it was marketed by Ssangyong, who in turn were subsumed by the Korean giant in 1999. It's sister vehicle, the Musso, proved more popular in UK markets and was also subsequently rebadged as a Daewoo.
The vehicle didn't stay exactly the same as Ssangyong's offering. Daewoo's designers couldn't resist a little cosmetic fiddling, resulting in new tail lights and door mirrors, with different (but sadly optional) alloy wheels. Take a seat inside, and you'll find new seat fabric and imitation wooden trim for the dash. Under the bonnet, the old Ssangyong diesel engine the Musso had campaigned with was replaced with a Mercedes-sourced five cylinder unit.
As a Ssangyong, the Korando suffered from prices considerably higher than the Jeep Wrangler and above some Cherokee models. Prices were cut by more than £2,000 to make the Korando a more tempting proposition. Sales stocks dried up towards the end of 2002 and the Korando was no more.
What You Get
Although British designer Ken Greenley may disagree, what you get is a somewhat unusual looking, but incredibly tough, 4x4. It will generally appeal to those who need a serious off-road vehicle but find the Wrangler a little bit too 'Marlboro Man', a Land Cruiser too dear and a Land Rover Freelander too 'Cool Britannia'. Daewoo claims the Korando "blends a neo-classical look with a muscular modern image". The effect of this is slightly odd. From the front, the Korando looks for all the world like a pastiche of the original Willys Jeep, with its twin circular headlamps and separate wings, albeit one which has been squashed from either side. The rear is utterly oriental-conventional, though, with a neat, boxy shape. The overall look is of two different concepts melded together.
The engine choices available are both well up to the task. Built in Korea under licence from Mercedes-Benz, the 2.3-litre petrol unit is as refined as you'd expect, but the 2.9-litre turbo diesel, also a Mercedes unit, has proved more popular. Daewoo's unique sales strategy has always focused on value for money, so it's no surprise to find the Korando now better equipped. You'll find remote central locking, different (but optional) alloy wheels, a driver's airbag, anti-lock brakes, electronic traction control and semi-automatic air conditioning. Other creature comforts carried over from the previous model include electric front windows, electric mirrors, a height adjustable driver's seat with lumbar support, a tilt-adjustable leather-covered steering wheel, power steering, tinted glass, an alarm and immobiliser plus an RDS stereo radio cassette player.
Certainly, despite the three-door-only availability, the Korando makes practical sense. There's ample head and legroom for five people, a split/folding rear seat and a respectable 1254 litres of boot space. Try that with a Jeep Wrangler.
What You Pay
Please fill in the form here for an exact up-to-date information.
What to Look For
The engines and gearboxes are proven items, and the ladder-framed chassis boasts good ground clearance, so the Korando keeps its nose clean on these counts. As with any vehicle that purports to offer serious off road capabilities, check the underbody for signs of damage. Concentrate on the suspension, exhaust and chassis, and make sure the steering and differential are still serviceable.
Inspect the wheelarch liners for rust-inducing punctures and ensure that the four-wheel drive selector works properly, as these 'shift on the fly' mechanisms are prone to accidental damage. Otherwise, the usual reminder to obtain a service history applies. Daewoo's excellent after sales service means that well-maintained models that still have free servicing and warranty will be around for some time, and these are definitely worth a look.
Replacement Parts
(Estimated prices, based on a 2.9TDi) Offering low new prices, an attractive warranty and great equipment, there must be a chink in Daewoo's armour somewhere. Arriving in your Korando, destroyed exhaust pipe in hand, it becomes apparent. Don't expect change form £1,000 for a new system, and a catalyst will be around £410. Front brake pads will retail for at least £100, while a new radiator weighs in at around £250. An alternator will be in the region of £240, and a new starter motor £200.
On the Road
Though it may be damning with faint praise, the Korando is better than it looks on the road. Despite being based on a proper off-road ladder chassis with meaningful ground clearance, the on-road ride is good. Coil sprung rear suspension gives a relatively composed ride, and stability feels good. There's none of the tilting, toppling and swaying that some 4x4 owners have become used to, that feeling that when the steering wheel is turned the upper and lower halves of the vehicle are going in opposite directions.
Anti-lock brakes are fitted as standard, and the front suspension resists dive quite well. The four-wheel drive selector takes the form of a simple dash-mounted button rather than an awkward lever, and this can be operated at speed of up to 43mph. Once off-road, the short front and rear overhangs give the Korando admirable clambering ability, although it will struggle to match a Land Cruiser; there's just not the torque available. Of the two models, the diesel is the off-road weapon of choice.
Overall
A used Daewoo Korando is an individual, funky and strangely charming choice. You'll revel in the blankly puzzled faces of your neighbours when you park it on the drive. People will smile at it or recoil in abject horror, such is the unusual nature of its nose. It will certainly be noticed.
There are any number of prettier, more recognisable four-wheel drive vehicles about. If you'd like to have a dabble at recreational off-roading, but still need a cost effective, practical vehicle, the Korando is a wise choice. For the money, little can match its blend of capabilities and none will be powered by new Mercedes-Benz engines. With only around 360 having been sold in the UK, first you have to find one