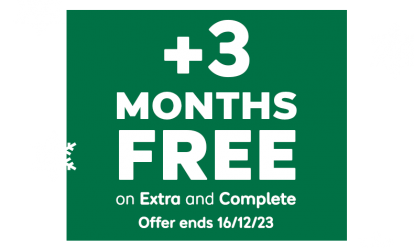 With 12 months of cover, new customers get an extra 3 months for free*.
*Added after 12 months, excludes Basic cover. New customers only. Ends 16/12/23, 7am.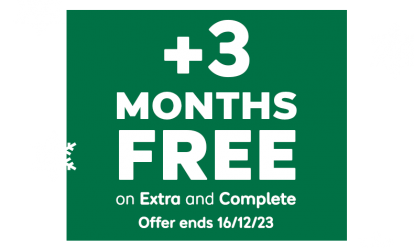 Although 84bhp doesn't sound that exciting in a world where that's barely enough to power a small hatch, the Caterham Seven 170 shows that working smarter rather than harder is the way forward. Jonathan Crouch reports
Ten Second Review
The Caterham Seven is an anachronism right? Wrong. With 'just' 84bhp to play with, this Suzuki-engined Seven 170 produces performance figures that would scare a really quick hot hatch, yet is affordable, economical and as environmentally sound as any EV or Hybrid. So much for the view that it's behind the curve. Maybe all sports cars should be built this way.
Background
A resolutely modern Caterham: it's a very different thing from a resolutely modern sports car - but in its own way, maybe that bit better. There's nothing quite like a Caterham Seven and for years, the entry point to the range was the brand's most affordable 160 model. Now though, that's been superseded by this rather different variant, the 170. Its maker says that it's a distillation of everything the brand stands for in delivering accessible, simple, light-weight sports cars: we'll see.
Caterham has long believed in the credo of efficiency and effectiveness through light weight and simplicity and this 170 model, powered by a tiny Suzuki engine, shows that this philosophy never really gets old. Although you've got just 84bhp to play with, this car is quicker than plenty of hot hatches, while being way more economical and greener. Plus it offers a superior power to weight ratio. Sounds intriguing.
Driving Experience
If you've never driven a Caterham before, it can initially feel a little overwhelming. Compared to the rather synthetic feel of many sports cars, the Seven experience is rather more organic. Turn the saucer-sized steering wheel and you can see the front wheels respond behind their cycle mudguards. Hit a bump and you'll see the suspension at work. Drive down a country lane at 40mph and it'll seem as if you're about to make the jump to light speed. You'll emerge, juiced and with slightly shaky hands wondering how such a full-strength adrenaline hit can still be legal.
But will the proper Seven experience be retained with an engine up-front just 660cc in size? If the car it's bolted to is light enough, yes. Holding true to the mantra that spawned the original Seven, to 'simplify and add lightness', the Seven 170 weighs a little over 440kg, which in part, is thanks to lightness of its turbocharged Suzuki powerplant. Ok, it only produces 84bhp and 116nm of torque, but there's a rorty engine note and because of the feather-light kerb weight, there's an impressive power-to-weight ratio in excess of 170bhp-per-tonne. Which means that the 0-62mph sprint can be achieved in just 6.9 seconds and top speeds can exceed 100mph, though you'd have to be brave to manage that.
Complementing the 170's favourable power-to-weight ratio is its marrying of a 155-section tyre and live rear axle suspension, which should enable drivers of most capabilities to extract the full potential from this Caterham's mechanical configuration. Everything else is pure Seven. The steering is weighty but communicative and the brakes have the ability to hang you off your belt. Traction control? That's down to your right foot.
Design and Build
The 170 not only represents the brand's lightest Seven produced to date, but measuring 1470mm in width, it's 105mm narrower than anything else within its current range, making it the smallest Seven as well. There are several features that appear on the Seven 170 that haven't been on previous production models, including new alloy wheels, rear LED lights and a smarter stripe design.
Otherwise, it's a familiar Seven recipe here. While this Caterham might have the ability to embarrass a Porsche 911 on a twisty road or racetrack, it can't hope to compete with a lardy sports coupe when it comes to practicality. This is not the sort of car to pick up the weekly shop in. Although ergonomics have been improved quite significantly in recent years, the cabin still resembles a throwback to the 1970s with a fiddly popper fit roof, some rather endearingly idiosyncratic minor controls and space for two rather slim-hipped occupants. If you're on first name terms with the employees in your local KFC, you might well need to make sure you fit.
Despite its rather basic look and feel, the Seven has been developed over many years and Caterham have ironed out niggling faults due to a very close relationship with owners. Yes, the cars may be quirky but there's actually very little to go wrong and the fundamentals are tried and tested. Build quality in the conventional sense of soft feel plastics and doors that thunk shut are a non-issue here. Far more important is the ability to do forty laps of Brands and then drive home without missing a beat. That's where Caterhams are utterly unbeatable.
Market and Model
Prices for the Seven 170 start from around £25,000. That's a big chunk less than the other variants in the range, which all use a four cylinder 2.0-litre Ford Duratec unit. As usual with Caterham Sevens, this one's available as either a complete kit or factory built. Buyers can pick from two packs, the road-ready 170S or stripped back, more track-focused 170R.
The 170S is for the more laid-back driver, comes with a five-speed gearbox and a road suspension pack. Equipment features include 14-inch 'Silver Juno' alloy wheels, a full windscreen and weather gear including a hood and side screen, plus black leather seats and a Momo steering wheel. There's a choice of four paint colours.
If you're choosing this car exclusively for track days, then you'll want the more circuit-focused 170R variant, which has a stiffer Sport suspension pack, a limited-slip differential and is identifiable by the black finish applied to its 14-inch 'Juno' wheels. Inside, there are composite race seats, a four-point race harness, a Momo steering wheel, carbon-fibre dashboard. Again, there are four paint options.
With both variants, the prices being asked represent good value in our book, though you will have to regard the Seven as a second or, as is frequently the case, a third car. There are, however, a large and loyal section of Caterham's clientele that take a rather perverse pride in their Seven being their only vehicle and stick with the cars come rain or shine. For these people, a windscreen is a rather fey luxury item.
Cost of Ownership
Caterhams are among the least costly sports cars to run. Because of their inherent lightness these cars are very easy on things like tyres and brakes. With less forces acting upon them and with less work to do, the materials last longer. The other benefit of not lugging a bunch of extraneous kilograms around is economy. Even a rather spirited drive in a Seven will often see average fuel economy in the region of 30-35mpg. The 170 takes that efficiency formula a stage further, being one of Caterham's most environmentally friendly cars to date. Both ULEZ and Euro 6 compliant, this model is the company's lowest emission Seven. With a CO2 figure of 109g/km it is even greener than some Hybrid vehicles, including the Toyota Yaris.
The other big factor that reduces the pence per mile ownership figure is residual values. Caterhams attract a cult following and if you were to buy a Seven 170, three years down the road it would probably still be worth over 65 per cent of its original price. That's cheap motoring by ay stretch of the imagination. A cult following also includes an active community of owners, so finding the best deals on upgrades, parts and insurance is usually only a few mouse clicks away. Several specialist insurers will offer attractive rates on Sevens, knowing that owners are often more responsible, committed and knowledgeable than with most other marques. Mileages on Sevens also tend to be modest.
Summary
The Caterham Seven ought to have been superseded long ago. Something smarter and cleverer should have consigned this design into history. That's usually the way of automotive product development, but just occasionally, a formula is so inherently right that successive generations of cars only serve to underline its relevancy. Such is the case with the Seven and this Suzuki-engined 170 model shows that the Seven is a roadster that, if anything, is more in tune with the times now than it was thirty years ago.
This is a car that's fun even when you're not posting huge numbers on the clocks. And one that's economical and environmentally sound, yet which nevertheless retains a steely focus with drive capability that refuses to be emasculated. So many sports cars today nanny their drivers, offering a dumbed-down, synthesis of all the visceral emotion that should accompany a proper roadster. Caterham doesn't subscribe to this view. Long may that continue.