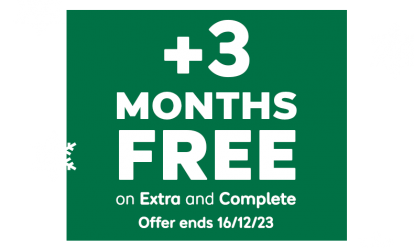 With 12 months of cover, new customers get an extra 3 months for free*.
*Added after 12 months, excludes Basic cover. New customers only. Ends 16/12/23, 7am.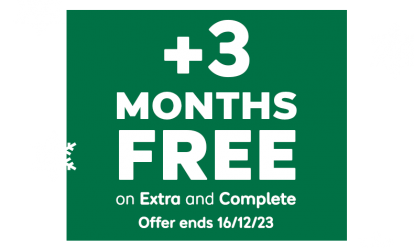 By Andy Enright
Introduction
The MiTo has been Alfa Romeo's most convincing and successful small car since the legendary Alfasud. Designed to tackle boutique rivals such as the MINI and the Audi A1, the MiTo sold well straight off the bat, despite being part of an Alfa product portfolio that was slimmed down to just two model lines. If you're shopping for this car in the secondhand market, it's best to ignore the early 2009 models and go for a version produced from 2010 onwards, that being the point from which the range benefitted from some significant engine upgrades. Here's what to look for when choosing a used example.
Models
3dr hatch (0.9, 1.4 petrol, 1.3, 1.6 diesel [Turismo, Lusso, Progressive, Distinctive, Veloce, Sportiva, Quadrifoglio Verde, Cloverleaf, Turismo Sport special edition, Live special edition)
History
It took a long time for us to see a product that properly competed with BMW's MINI. That car proved that European drivers were prepared to pay quite a premium for something three-door and compact, provided it was stylish, sporty and had the right brand cachet. Step forward Alfa Romeo's MiTo. It was launched in the UK early in 2009 but substantially improved less than a year later with the introduction of hi-tech Multijet II diesel and revolutionary 1.4-litre MultiAir petrol units. It's these 2010-onwards models we look at here, cars that lasted until a further revised range was introduced in late 2013.
That MiTo name is a clever play on words, combining as it does the first two letters of Milan (where Alfa Romeo was conceived) and Turin - or in Italian 'Torino' - (where the cars are made). It's also the Italian for 'myth', or legend, a nod to the ambitious future the brand has in mind. Yes, this car is a lot cheaper than the larger Alfa Romeos you may have been used to, but it's also still pretty profitable given that the money to develop its underpinnings and engines was already spent a few years before this car's original launch on its close cousin, Fiat's Punto. Fortunately for potential buyers, the two cars have a very different feel thanks to the MiTo-specific steering, seating, suspension and brakes. Its engines are tuned differently too and of course, there are these unique looks.
Other developments since the 2010 upgrades? Alfa introduced a Turismo Sport special edition in 2010 and the TCT twin clutch transmission in early 2011. The range underwent quite a significant reshuffle in 2011, streamlined from 17 versions to nine, with both Turismo and Lusso trim levels being replaced with the Sprint. Entry level versions became known as Progression, while Distinctive and Quadrifoglio Verde versions replaced Veloce and Cloverleaf trim levels. The three-year warranty was upgraded to a five-year deal in April 2012 and the 900cc TwinAir engine debuted in July 2012. The Mito Sportiva model appeared a month later, based on the Distinctive trim but with £1,500 worth of option upgrades for a price hike of £750. A MiTo Live special edition appeared in 2013 and towards the end of the year, a facelifted 2014 model year car was announced.
What You Pay
What You Get
Most cars have some kind of styling brand identity but with an Alfa, the whole shape has a unique look that could belong to no other marque, from the serpent-eating-baby badge on the shield-shaped front grille to the rounded jewel-like LED tail lights. The sleek look with its slippery 0.29 Cd drag co-efficient is derived from 450bhp Alfa's 8C Competizione supercar and is one you'll either love or hate.
Unfortunately, this is a three-door-only shape, but at least there's decent space in the back for a couple of adults on shorter journeys, even if it is a little awkward for them to get in to start with. There's a lot more room back here than the pathetic berths offered by a MINI though and the 270-litre luggage bay is nearly twice that car's size, even if its opening is a little narrow with a high-ish loading lip. As usual, you can extend the space on offer by pushing forward the rear seat - though the usual split-folding arrangement you'd expect was, rather meanly, offered at extra cost on original base-trimmed models.
If you're going to pay premium money for something sized somewhere between a supermini and a family hatchback, then you want it to feel pretty special inside as well as out - and the MiTo doesn't disappoint. The main dials are hooded in true Alfa-style and the carbonfibre-look dashboard covering is part of a variety of racy trim materials employed to impressively up-market effect.
What To Look For
What You Pay
Please fill in the form here for an exact up-to-date information.
What to Look For
The MiTo has a reliability record that's at the lower end of acceptable. In a very comprehensive review in 2013, the German TuV organisation looked at all 2-3 year old used cars and ranked them in order from 1 to 132. The MiTo ranked 96th which isn't a stellar score, but a few years ago, you'd have put money on a used Alfa being in the bottom twenty, so that's progress of a sort. Issues reported by owners include speakers that frequently fail, chrome trims losing their lustre and front spoiler lips coming adrift. The engines tend to be solid and rustproofing is excellent. Check the tyre wear across the tread on the 170PS versions. They have an appetite for tyre shoulders.
Replacement Parts
(approx based on a 2010 MiTo 1.2 excl. VAT) Parts are a bit more expensive than you'd expect to pay for many similarly-sized cars. A clutch assembly will run you around £190 and an alternator should be close to £145. Brake pads front and rear are about £60 and £50 respectively.
On the Road
This car was launched with a 78bhp 1.4-litre petrol engine to offer buyers an affordable lead-in price point (and to make MINIs look expensive) but where the MiTo really took off was when the brand launched the turbocharged MultiAir petrol models in 2010. These powerplants really are very clever indeed in their remit to meet needs for higher performance at the same time as better fuel and CO2 returns. Not so long ago, the best engineers could do in this respect was to fit a turbocharger. In recent times though, they've tried a bit harder. Variable valve timing systems have certainly moved things forward, but not to the point where a decently performing petrol unit can properly begin to stack up to an alternative diesel when it comes to torque and fuel consumption.
Back in 2010, the 1.4-litre MultiAir turbo powerplants found in the MiTo were amongst the first engines to do just that, offering 105, 135 and 170bhp performance but combined cycle fuel returns of around 50mpg. In the 135bhp version, sixty from rest occupies only 8.4s - and only slightly longer if you go for the 6-speed TCT twin-clutch semi-automatic gearbox rather than the standard 5-speed manual. For the 170bhp variant, the 0-60mph time is 7.5s. Pulling power through the gearbox - a short-shifting six-speed manual in the case of the 170bhp version - is even better, all delivered in a manner so torquey, smooth and lag-free that you'd swear a normally aspirated six cylinder engine rather than a little turbo four lay under the bonnet.
In its own way, this car's diesel technology is almost as eye-catching, thanks to the use of clever Multijet II technology. The engineers developed both 1.3 and 1.6-litre JTDm-2 units, with the lower-powered 95bhp 1.3 being especially impressive. Thanks to a meaty 200Nm of torque, it pulls like a train from lower speeds, with overtaking capability more potent than the 11.6s 0-60mph sprint time would suggest. It's impressively fuel-efficient and eco-friendly to run too.
To help get the most from the performance on offer right across the MiTo range, Alfa turned to some sophisticated electronics to further set their car apart. The first you may not be totally sure about. The DST (or Dynamic Steering Torque) system is supposed to give a counter-steering effect to combat oversteer and help maintain an even course through quick corners. No doubt it does but the electric whole set-up feels a little over-assisted and somewhat vaguer than we'd expect from a car of this kind. Much better thought out is the use across the range of Alfa's clever Q2 differential, which diverts engine torque to the wheel that has the grip to use it, so uselessly spinning wheels aren't a part of hard cornering. The brakes are very effective but you won't have to over-use them into bends as body roll's well controlled. If you do, there's a CBC (Cornering Brake Control) system to discharge the pressure at each wheel and maintain vehicle stability.
The reason that body roll is so well controlled is that the suspension on this car has been set up very firmly - too firmly for many people - though that isn't so much of an issue in the top 170bhp MultiAir model as it was the first car in its class to feature active suspension able to automatically adapt itself to suit road surface and driver input. The MiTo's party trick however, is the DNA set-up that was laudably standard on all models for quick driver control of throttle and transmission response, power steering assistance, stability control and, in the case of the 170bhp MultiAir model, suspension firmness too. The initials stand for 'Dynamic', 'Normal' and 'All-weather' and these three settings are accessible via a three-position rocker switch that's rather tucked away behind the gear lever. Unlike some systems of this sort, you don't need to be a professional driver to notice the difference it makes, especially if you're driving a 1.4-litre MultiAir model where, courtesy of an extra overboost effect for the turbo, switching to 'Dynamic' mode really makes the car wake up and take an interest in the road ahead.
Overall
Want to ensure things are simple and stress-free in your choice of used supermini? Then you could always buy a used Volkswagen Polo. If, on the other hand, you prefer a bit more verve and style in your life, the Alfa Romeo MiTo could well be a very smart choice, especially in post-2010 guise. Reliability isn't going to be as good as that of a duller small hatch, we wouldn't pretend otherwise, but the issues that have affected the MiTo are relatively minor. You might get something minor like a buzzing speaker that your dealer will need to rectify but there are none of the kind of major old-school Alfa issues that used to dog the brand. The MiTo has sold well and it's easy to see why. Track down a car that's been well looked after and it ought to make a decent used buy too.