Need to know
---
Drivers set to make an estimated 19.6m separate trips by car to see friends and family between Monday 19 December and Christmas Eve

40% of all getaway journeys crammed into just two days - Friday 23 December and Christmas Eve

Transport analytics specialists INRIX expects travel times to be around 14% longer compared to the same period last year
INRIX expects stretches of the M25, M60 near Manchester, M6 in the north-west and M40 in Oxfordshire to see some of the longest jams. However, it only takes a single breakdown on a major road for tailbacks to form quickly, so the advice is for drivers to check their vehicles are ready for the road and plan ahead to avoid the worst of the jams.
Leisure traffic is expected to build steadily through the course of the week, peaking on both 'frantic' Friday 23rd and Saturday 24th December with a predicted 7.9m getaways over the two days expected to be made. Christmas Eve sees a largescale walkout from rail workers which the RAC is warning will only lead to yet more traffic on the roads that evening. And, with drivers getting away for Christmas vying for road space with commuters and everyday motorists, total traffic volumes are likely to be far greater causing jams in and around cities and at key pinch-points on major roads.
Christmas Day itself is also expected to see a lot of people on the move, with an estimated 3.6m leisure journeys by car taken, with a further 3.3m on Boxing Day and an extra 1.4m trips across both days – but with no commuter traffic on the roads, overall traffic volumes are should be lower, meaning serious delays are less likely.
Transport analytics specialists INRIX expects travel times to be around 14% longer compared to the same period last year with stretches of the M25, M60 near Manchester, M6 in the north-west and M40 in Oxfordshire seeing some of the longest jams. However, it only takes a single breakdown on a major road for tailbacks to form quickly, so the advice from both the RAC and INRIX is for drivers to check their vehicles are ready for the road and plan ahead to avoid the worst of the jams.
Advice from the RAC, INRIX and others
---
RAC Breakdown spokesman Rod Dennis said: "Our research suggests getaway traffic will build steadily all week, culminating in two frantic days of travelling just before Christmas itself. By Friday, we fear it will be a case of 'jams today and jams tomorrow' on the roads as millions of people jump behind the wheel to see family and friends – with last-minute Christmas shoppers as well as the impact of another rail strike also leading to an increase in traffic. If possible, drivers should try to make their trips on a quieter day earlier this week if they possibly can.
"One saving grace for drivers might be that much of the country will see milder weather conditions this week with a much smaller chance of snow and ice like we saw just a week ago. Nonetheless, it's still vital drivers do everything they can to avoid their cars letting them down. Checking oil and coolant when the engine is cold are two simple things that can cut the chances of a serious breakdown, as is ensuring tyres have plenty of grip and are inflated properly. Topping up with a good quality screenwash that protects to well below zero degrees is also important as gritted roads create a constant need for clearing the windscreen."
INRIX transportation analyst Bob Pishue said: "With pre-pandemic levels of travellers hitting the road this holiday, drivers must be prepared for delays – especially in and around major cities. Our data shows, and our advice is, to avoid travelling during peak commuting hours this week. If schedules allow, leave bright and early or following the end of the afternoon commute."
National Highways customer service director Andrew Butterfield said: "We don't want roadworks to spoil Christmas, so we're doing everything we can to make journeys as smooth as possible; that's why we're keeping almost 98% of the road network we manage free from roadworks.
"We know from experience that peak travel times can vary in the run-up to Christmas, so we're encouraging drivers to check conditions before heading out to help keep traffic flowing. And we're also asking motorists to be prepared before setting off. Almost half of breakdowns can be easily avoided if motorists carry out simple vehicle checks before their journeys."
Tips for preparing for travel and avoiding a breakdown
---
If you're part of the 81% of drivers that rarely or never check your car before a long trip, it is even more important for you to do your necessary car checks now. They can reduce the likelihood of a breakdown. We recommend you follow our FORCES guidance:
F is for FUEL - Ensure you have enough fuel for your journey. Cars use more fuel in heavy traffic and start/stop conditions which can be regular occurrences.
O is for OIL - To avoid engine damage and a potential breakdown, remember to check your oil level (with a cold engine) and top up when necessary
R is for RUBBER - Your tyres can tell you a lot about how your car is performing. If they aren't wearing evenly, then tyre pressures may be mismatched or there could be a fault with the steering.
Check that all four tyres have at least 3mm of tread and are inflated to the correct pressure - this is vital to maintaining good grip in wet conditions.
For everything you need to know about how to check your tyres you can read our how to check your tyres advice complete with short video.
Also take a look at your wiper blades to ensure they're clearing the screen effectively and that the rubber has not perished.
C is for COOLANT - Make sure it's topped up to your vehicle manufacturer's recommended levels and it contains the right amount of anti-freeze.
E is for ELECTRICS - Check all of your lights are working correctly including your indicators, brake lights and fog lights - and replace any faulty bulbs or blown fuses.
S is for SCREENWASH - Top-up your windscreen washer fluid by using a good quality screenwash which is effective at all temperatures.
We also have a detailed guide to avoiding a breakdown.
Top tips from RAC patrols on avoiding a breakdown
"Put simply, a well-maintained car is much less likely to break down than one that hasn't been looked after. So, if you have a big drive coming up and suspect something on your car's not quite right then get it into a good garage as soon as you can this week." – Ben Aldous, Manchester-based patrol
"Keep your locking wheel nut somewhere you can easily find it as this makes it quicker for us to do a tyre change if needed. Make sure that everything fixed to the outside of your car – bikes, roof boxes – are properly secured. If you're travelling with a dog, again ensure it's secure inside and has some food and water. And download and use the free myRAC mobile app as it makes it much easier for us to find you." – Kevin Andrews, Bath-based patrol
"Check your tyres every time, especially the inside front edges. You can fully lock the steering one way or the other so you can see the condition of your front tyres easily. And whatever you do, don't start a journey with a known problem!" – Stuart Lurc, Salisbury-based patrol
What should I take in my vehicle if I am doing a long journey?
The most important thing is to be prepared for anything, including a breakdown so you should ensure you have:
A fully charged mobile phone – charge your phone up while you drive if you can, or consider taking a portable 'power bank' charger in case your battery runs low
Water or other hydrating drinks
A blanket plus extra layers to keep you and your passengers warm
Some food or snacks
It's worth taking items with you that will keep young passengers in the back seat entertained
Details of your breakdown provider
What else should I think about before I travel?
Planning your trip is just as important as the trip itself. We recommend the following:
Plan your journey with a map, a sat-nav or route planner to ensure you do not have any navigation problems on your journey. If possible, plan your journey for when roads are likely to be quieter and remember that it's important for your safety to take breaks on longer journeys
Let your hosts know when you're setting out. It's always worth letting those you're visiting know when you're leaving, and when you expect to arrive
The myRAC app, free to download for iOS and Android devices, also offers up-to-the-minute traffic information and smart route planning guidance. If you're already an RAC member, the quickest way to get help is to report your breakdown online. Just go to rac.co.uk/breakdown.
---
Traffic warnings for this period
---
The RAC and INRIX have issued Severe Traffic Warnings for the following roads:
Monday 19 December at 1700hrs for the M25, Greater London. Anticlockwise between junction 4 for Bromley & Orpington and the Dartford Crossing, journey times increased to 43 minutes with average traffic speeds of 12mph
Monday 19 December at 1700hrs for the M60, Greater Manchester. Clockwise between junction 7 for Altrincham & Stretford and junction 18 for the M62, journey times increased to 54 minutes with average traffic speeds of 14mph
Friday 23 December at 1230hrs for the M25, Greater London. Clockwise between junction 7 for the M23 and junction 16 for the M40, journey times increased to 82 minutes with average traffic speeds of 26mph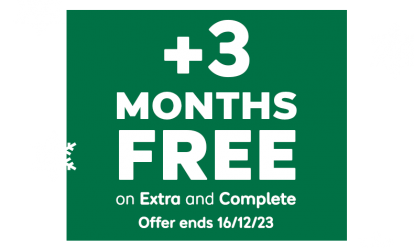 With 12 months of cover, new customers get an extra 3 months for free*.
*Added after 12 months, excludes Basic cover. New customers only. Ends 16/12/23, 7am