Drivers are collectively planning 13m trips by car to see family and friends during the coronavirus 'travel window' between 23 and 27 December, although a fifth (22%) don't expect to make any such journeys this year because of the virus, research by
RAC Breakdown
suggests.
1
With two weeks to go until Christmas, the greatest number of individual trips, some 3.1m, look likely to take place on the first day travel restrictions are eased in England, Scotland and Wales (Wednesday 23 December).
Christmas Eve and Christmas Day are predicted to see 2.8m and 2.5m trips respectively, around the same number as are traditionally planned for these days based on an analysis of RAC data over the last five years. A further 2.1m expect to travel between 23 and 27 December but aren't sure on which days yet.
The research, which was conducted after the UK Government, announced that family and friends would be allowed to meet up in person over a limited number of days by forming a three-household bubble, shows how just how pronounced the effect of the pandemic might be on travel habits this Christmas with nearly three-in-10 (28%) fewer drivers saying they are planning to use major roads to visit friends or family this year compared to last.
In total, more than half (57%) aren't planning on visiting friends or family by car at all, of which 22% cite concerns about coronavirus, with the remainder (35%) saying it is for other reasons.
The 'coronavirus effect' is most evident after Christmas Day when traffic is expected to tail off drastically – with drivers only planning an estimated 1.6m trips on Boxing Day, which is in stark contrast to previous years when there are usually 4.5m journeys. On Sunday 27 December just 933,000 trips are planned.
Add in the lighter traffic volumes this year as a result of continued home-working by many people, and the effect is likely to be fewer queues on the roads compared to previous years – although a single breakdown or collision always has the potential to change that.
Separate RAC research suggests drivers favour local trips this year, indicating problems with congestion may be more concentrated on smaller, town and city roads rather than major motorways.2
Nearly six-in-10 (57%) expect their longest return trip to be no more than 50 miles in length, with a quarter (25%) saying it will be up to just 10 miles. Just over a quarter (27%) say their longest journey by car will be in excess of 100 miles.
Of drivers who will be using their cars for other purposes over Christmas, doing local grocery shopping is the top reason (82% of these drivers), followed by driving to go for a walk or get some exercise with people from the same household (41%).
Just one-in-five of these drivers (18%) plan on using a car to visit a town or city centre for last-minute Christmas shopping, with a slightly smaller proportion (15%) doing the same thing at an out-of-town retail centre.
RAC Breakdown spokesman Rod Dennis said: "The pandemic looks set to have a profound effect on drivers' plans to see family and friends at Christmas time this year.
Despite the loosening of restrictions to allow people to meet up as part of 'festive bubbles', our figures suggest many drivers aren't keen – with a fifth saying the coronavirus is the reason why they're not travelling.
"That's not to say the roads will be empty over Christmas. Our research indicates millions of leisure journeys on major motorways and A-roads will still be taken, with 23 December being the focus of what will be a much less pronounced Christmas 'getaway' than we've grown to expect. An estimated 5.3m trips to see family and friends will take place on Christmas Eve and Christmas Day combined, roughly in line with other years – and we expect many of these to be more local journeys.
"It's also the case that just a single breakdown or road collision can cause traffic to quickly snarl up and cause delays. This could especially be the case with drivers opting for more local journeys this year rather than the familiar criss-crossing of the country that tends to happen at Christmas time.
"Everyone can do their bit to reduce the chances of breaking down by checking over their car before they set out. Checking the tread, condition and pressure of tyres, together with oil, coolant and screenwash levels, make the chances of an unwelcome breakdown much less likely.
"This is even more important in a year when vehicles have been used less regularly. Drivers should also ensure they plan their journeys before they set out.
"The car will also come into its own for other sorts of festive trips – with Christmas grocery shopping the number-one reason, whether that's shoppers going to browse and buy or take advantage of the rise in click-and-collect services. Problems in booking grocery delivery slots as a result of high demand this year might also have the effect of forcing more people to visit supermarkets by car.
"Whether drivers are using their cars for longer journeys this Christmas, or staying much more local, our teams will be working as hard as ever to keep people moving and give them peace of mind at the end of what has been a challenging and unprecedented year."
How do the predicted number of leisure trips vary this year from previous years?
| Date | Predicted trips 2020 | Avg predicted trips 2015-2019 |
| --- | --- | --- |
| 23 December | 3.1m | 2.4m |
| Christmas Eve | 2.8m | 2.8m |
| Christmas Day | 2.5m | 2.6m |
| Boxing Day | 1.6m | 4.5m |
| 27 December | 933k | 2.9m |
Top reasons for using a car in the run-up to Christmas, other than to see family and friends
For local grocery shopping – 82%
To go for a walk/get some exercise away from home (but not seeing anyone else) – 41%
To get to or from a place of work – 36%
Christmas/gift shopping in a town or city centre – 18%
Christmas/gift shopping in an out-of-town retail centre – 15%
With 12 months of Ultimate cover, new customers get 3 months for free!*
Guide to travelling by car this Christmas
There's little doubt that 2020 has been a challenging year for everybody, but as we head into Christmas the RAC has produced a guide to give you all of the necessary advice ahead of what will be a different Christmas on the roads to what we are all used to.
What am I allowed to do during the Christmas period?
In late November, the UK Government along with the Devolved Governments in Scotland, Wales and Northern Ireland agreed a common approach to meeting with family over Christmas.
You should refer to these guidelines before making plans over Christmas to ensure your journeys and visits to see people are as COVID-secure as possible.
How can I prepare my car for travel over Christmas?
Car use across Britain has been lower throughout 2020 due to numerous movement restrictions and the advice to work from home if you're able to. If you've been using your vehicle less than you would do normally, it is even more important for you to do the necessary checks, particularly with the weather getting colder. This can reduce the likelihood of a breakdown over the Christmas period. The RAC recommends you follow our FORCES guidance: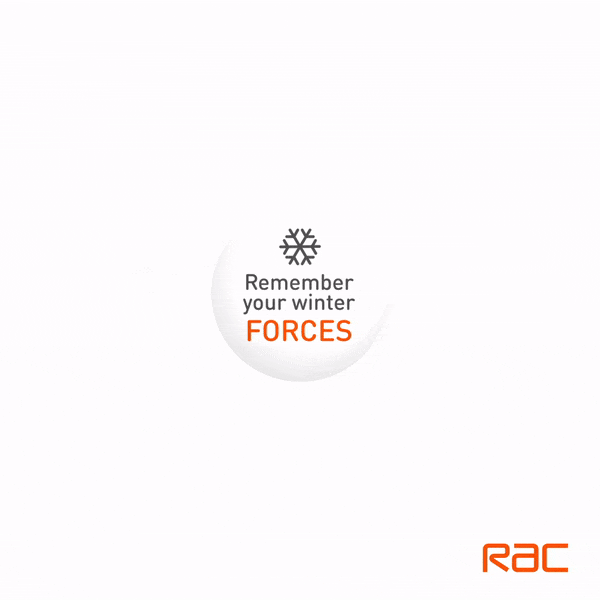 F is for FUEL - Ensure you have enough fuel for your journey. Cars use more fuel in heavy traffic and start/stop conditions which can be regular occurrences, especially in wintry weather
O is for OIL - To avoid engine damage and a potential breakdown, remember to check your oil level and top up when necessary
R is for RUBBER - Your tyres can tell you a lot about how your car is performing. If they aren't wearing evenly, then tyre pressures may be mismatched or there could be a fault with the steering.
Check that all four tyres have at least 3mm of tread and are inflated to the correct pressure - this is vital to maintaining good grip in wet and even icy conditions.
For everything you need to know about how to check your tyres you can read our how to check your tyres advice complete with short video.
Also take a look at your wiper blades to ensure they're clearing the screen effectively and that the rubber has not perished
C is for COOLANT - Make sure it's topped up to your vehicle manufacturer's recommended levels and it contains the right amount of anti-freeze
E is for ELECTRICS - Check all of your lights are working correctly including your indicators, brake lights and fog lights - and replace any faulty bulbs or blown fuses
S is for SCREENWASH - Top-up your windscreen washer fluid by using a good quality screenwash which is effective down to cold temperatures. Remember that colder conditions demand a more concentrated solution
What should I take in my vehicle if I am doing a long journey?
The most important thing is to be prepared for anything, including a breakdown so you should ensure you have:
A fully charged mobile phone – charge your phone up while you drive if you can, or consider taking a portable 'power bank' charger in case your battery runs low
Water or other hydrating drinks
A blanket or a coat that keeps you warm
Some food or snacks – mince pies work, just remember to save one for Santa
A face covering for when you might need to stop and go into an indoor public space, or in case you break down
It's worth taking items with you that will keep young passengers in the back seat entertained
Details of your breakdown provider
And of course, your Christmas gifts!
Am I allowed to take others in my vehicle over Christmas?
Guidelines on vehicle sharing can be found here.
What key things should I do before I travel?
Planning your trip is just as important as the trip itself. We recommend the following:
Plan your journey with a map, a sat-nav or route planner to ensure you do not have any navigation problems on your journey. Did you know that RAC research shows that directions are often one of the biggest causes of arguments in the vehicle? If possible, plan your journey for when roads are likely to be quieter and remember that it's important for your safety to take breaks on longer journeys
Check the weather forecast. Wintry weather will make your journey much more hazardous, so be prepared for all types of weather and be flexible to avoid travelling when the weather may be at its worst
Let your hosts know when you're setting out. It's always worth letting those you're visiting know when you're leaving, and when you expect to arrive
---
1 Survey of 1,500 UK drivers conducted for the RAC by Ragdoll between 26 and 30 November. 13m trips figure based on % of drivers completing trips between 23 and 27 December
2 Research of 1,500 UK drivers on the RAC Driver Opinion Panel between 3 and 7 December
RAC Approved Garages follow our COVID-19 code of conduct, and many offer a Collect-and-Return service. Book with confidence today.