Staying on top of
regular maintenance
and servicing is vitally important to the long term health of your vehicle.
Knowing your car's service history can identify potential problems and keep your car running smoothly for years to come – no matter if it's for your own vehicle use, or if you are looking at buying or selling.
When it comes to vehicle maintenance, car service history is a critical piece of data. By keeping track of when your car was serviced and what was done, you can stay safe out on the roads and make sure that your car is in top condition.
A well-maintained car will not only last longer, but will also perform better and more economically.
In order to keep a record of your car's service history, make sure that you keep all service documents and receipts in one place.
If you've ever had any type of servicing done on your car, it's important to ask the garage for an itemised receipt that documents all of the work that has been carried out. This includes details such as the date and mileage of the service, the type of work performed, who carried it out, and any parts that were replaced.
If you're buying a used car, it's important to ask for the car's service history. This will give you a better understanding of what work has been done on the car, how often the vehicle has been serviced, and any potential issues that may have been identified and fixed.
What is a service history?
Simply put, this is the yearly list of what work has been carried out on a vehicle by a mechanic – including servicing, maintenance, or repairs.
This will usually be logged in a service book, which the local garage will use to document all of the work that has been carried. However, some garages may record the service history digitally - which means you will need to ask for a paper copy of the servicing documentation after the work has been carried out.
Servicing should be carried out at least once a year, or every 12,000 miles – whichever comes first. Although many people tie this in with their annual MOT.
The car service record itself typically includes details such as the date and type of service, parts replaced, and any other relevant information.
It is important for car owners to maintain a complete service history for their vehicles, as it can be used to verify the condition of the vehicle and aid in any future repairs that may be needed. If you are looking to sell your car, a prospective buyers will be more willing to pay the full asking price if you can show it has been meticulously cared for.
Additionally, having a service history can help a car owner to maintain their vehicle's value and performance over time.
Staying up to date with your servicing is a preventative measure to keep your car road legal and safe – as well as saving you money in the long term.
Depending on the type of service you choose, almost every part of your vehicle will be reviewed and either repaired, updated, or replaced. It will also ensure you stay on top of important maintenance items, such as cam belt replacement and air-con regassing.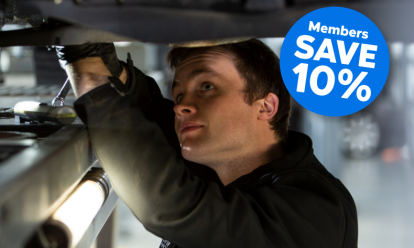 From £19 a month†.
Spread car maintenance costs with our affordable monthly plan.
Beat inflation – lock in today's prices for two years!
†Minimum price for RAC members. Non-member prices start at £21.11.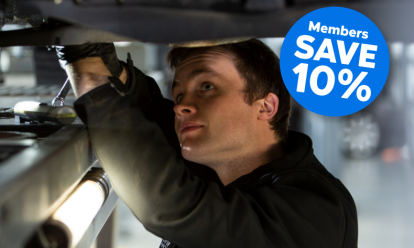 Where do I find my car's service history?
If you're looking for your car's service history, there are several ways to get the necessary information.
Thanks to modern technology, you can now find your car's service history in several places. However, if your car is a bit older, it may be a challenge to find all of its data.
First, you can contact your car's manufacturer – especially if you have had your servicing carried out by one of their approved dealerships.
They will be able to provide detailed service histories for their cars, which include all maintenance and repairs done to the vehicle. The service history may include information such as the type of service, date of service, and cost of service.
In some cases, you can even contact them on their official websites to get the necessary information.
If you have used a franchised dealership or national garage, then they will likely keep digital and paper records of the work carried out on their vehicles.
Another place to check your car's service history is with your local or independent car dealership or garage. However, this may be slightly more challenging if your vehicle is older as they may not keep multiple years of servicing records.
Finally, you can check with the previous owner of your car. If the car was previously owned, the former owner may have kept a record of the service history. This is especially true if the car was owned by a business or dealership.
This is one of the may reasons why it is important to store this information yourself in case you ever need it.
In order to request your servicing history, you will need to prove that you are the owner of the vehicle. The garage or dealership may charge you an admin fee to provide the servicing documentation.
You will need your V5C form, VIN number, car keys, and maybe a receipt of previous work carried out on the vehicle.
Full service history (FSH)
A full car service history is a record of all the maintenance and repair work that has been done on a car over its lifetime.
It includes details of all the inspections, repairs, replacements, and any other servicing that has been done to the car.
A full car service history is vital for owners as it can help protect the car's value and ensure that it is running safely and efficiently since it was originally purchased.
You may also see Full Dealership Service History (FDSH). This is where all services have been carried out at an official dealership associated with your car's manufacturer.
Part service history (PSH)
A part car service history is a record of the maintenance and repair services that have been performed on a vehicle – but does not have a full history of the work carried out on the vehicle.
If any information is incomplete or missing from the record, then this is a part service history.
In some cases, you can gain historical data to make it complete – however, this depends on the age of the vehicle and where the work has been carried out over the years.
What to do if I have lost my service book?
If you have lost your physical car service book, then there are a few steps you will need to make to regain this information.
Before you do anything, make sure that you have your vehicle identification number (VIN) and your car's registration details.
Contact the last place you had your car serviced – they should have your details on record.
Most have a centralised digital system that keeps all the information for all vehicles that have had work done on them over the years.
You can also contact the car manufacturer to see if they have any digital records of any service history they have available.
How can the DVLA help?
If the information above hasn't provided you with the details on your vehicle's service history, then the Driver and Vehicle Licensing Agency (DVLA) might be able to assist you.
Using the V888 form on the Government agency's website, you can request past records on previous owners, as well as the dealerships they were sold from.
This will cost £5 and you will need to fill out and send a form with all the relevant details to the DVLA.
You can only do this for a vehicle that you currently own.
Should you need any more information, you can research the dealerships and garages where the work was carried out on the vehicle.
Vehicle history check
When you are looking to buy a used vehicle, you should carry out a series of checks and gather up as much information as possible.
However, most major motor organisation will offer a full history check before you buy a vehicle.
Although this won't look at the service history, it will check if the car has ever been written off or been involved in legal issues.
This will normally cost a small fee.
Why your vehicle's service history is important
Having a full or partial service history can be a very useful thing for car owners. Obviously, having the full service history provides the greater benefit.
When buying a car, you will know everything about the car's past – and the work carried out on it.
For those looking to sell, you can ask for a higher price, as there are no surprises.
If you currently own the vehicle, it can provide yourself and the mechanic the full history of the vehicle, work carried out, when, and if there are any repeating problems.
Should you carry out at least an annual service, your vehicle will be in the best condition possible – making it safe, fuel efficient, and will save you from many major repair bills.
How to check that your car service history is legitimate
The only way to know if your car service history is 100% accurate is to check with the places where the service has been carried out.
Alternatively, if you are buying a car from a reputable dealership that has advertised a full or partial service history, then you will know that it is legitimate.
If you are unsure then get a vehicle history check or ask to see if there are any receipts for any services that have been done since the car was originally bought.
A vehicle's official logbook should contain physical copies of all the relevant information.
Types of car servicing
If you are looking to have your vehicle serviced, then there are four different types available.
Interim service – carried out every six months or 6,000 miles, this should work alongside a full annual service. It will cover the essentials and keep on top of the necessary repairs and maintenance.
Full service – this should happen every year or every 12,000 miles – whichever one comes first. This should be a vital part of the yearly ownership of a vehicle, and will keep it in the best condition possible.
Manufacturer's service – if you own a higher spec or older, 'classic' vehicle you may need a more specialised service. This information will be displayed in your car's handbook. Any work will be carried out by a professional from the manufacturer.
Major service – this is a more comprehensive version of a full service and involves more in-depth work on the vehicle.
The various car service options provide many benefits to drivers, and shouldn't be ignored.
MOT, repairs, and servicing
The cost of living crisis has drastically impacted the world of motoring – and drivers have been looking at ways to make savings where possible.
Unfortunately, this means that many have started to neglect servicing and regular maintenance on their vehicles.
Although they may not be spending the money immediately, they will end up with a higher bill if something goes wrong. This would be spotted by a mechanic during a service.
The RAC MOT & Service Plan lets car owners spread the cost of routine servicing and MOTs over a two-year period.
This means that you won't have to make any large one-off payments for your service or MOT. These plans are available at over 500 garages across the UK.
If you have any advice for anyone looking to get a service, leave your comments below.