The ultimate one-stop RAC app means you can now access our services anytime, anywhere.
You can find all the useful RAC services you need, including our popular route planner and traffic news, at your fingertips.
A wide range of RAC services are easily accessible while you're on the go. So whether you've broken down and need to contact us from the road, you've had an accident and you're not sure what to do next, or you need to plan the best route to your destination, you can do it all from your tablet or smartphone.
The iPhone app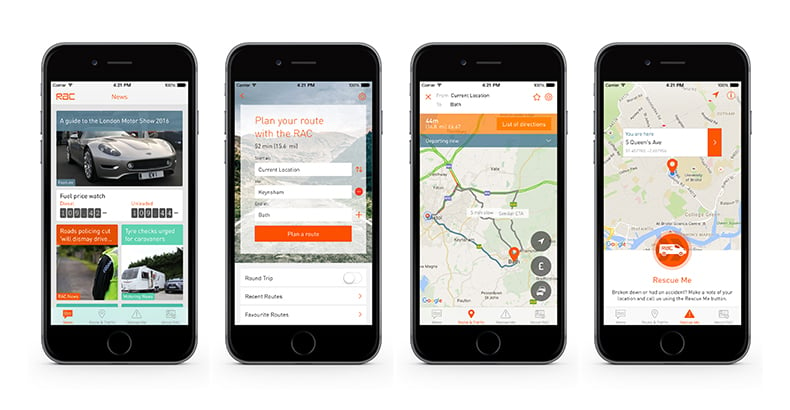 Our new iPhone RAC app has all your motoring needs in one place. Check out our handy route planner with live traffic information, as well as all the latest motoring news and advice. And if you break down, our new 'Rescue Me' function means it's easier for us to find you.
Key features include:
Rescue me
The new "Rescue Me" function provides your postcode and/ or location, so we don't have to spend time trying to find you if you break down or have an accident.
Route Planner
Our route planner shows you clearly how to get to your end destination, so you can plan the quickest route for every journey. You can also work out the cost of a journey using our expenses calculator or - if you're car-sharing- the cost per passenger. If you need to leave at a certain time, our route planner will work out when you're expected to get to your destination, based on normal traffic conditions at the time you leave.
Traffic
Don't get caught out by traffic- our app shows real-time traffic flow information as red (heavy) / amber (slow)/ green (moving), so if you need to, you can plan an alternative route and avoid delays. You can also see planned road works, road closures and traffic incidents to find out how these could impact your journey.
Latest motoring news
Entertaining and informative motoring news, features and advice from RAC Drive.
Join the RAC
Our new app is available to everyone, but if you're not a member you can join through the app.
We'll be updating the app with even more great features this year, so download now and you won't miss out.
The Android app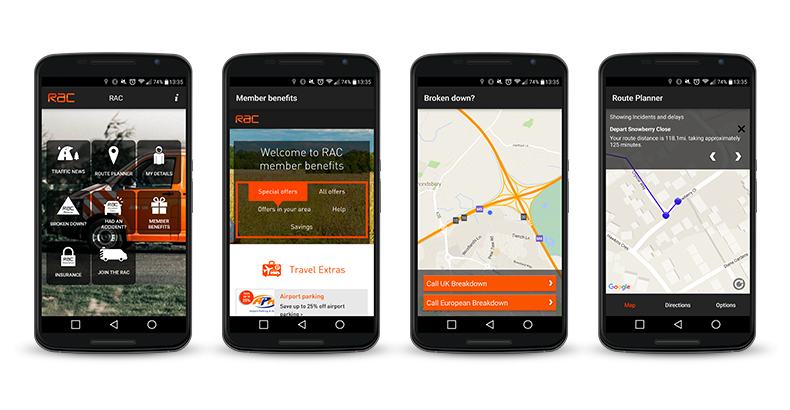 The Android version of the RAC app offers you instant access to a range of our useful services at the touch of a button.
Our range of services include the RAC route planner, latest traffic news and member benefits section all immediately accessible via your smartphone or tablet.
Key features include:
Broken down?
Use the map to pinpoint where you are, and use the breakdown section to contact us if your car breaks down.
Traffic news
View incidents, delays and roadworks for the whole of the UK, on a map or in a list. Zoom in and zoom out to see traffic on major and minor routes with the UK's most comprehensive and up-to-date traffic data.
Route planner
Simply add in your starting point and destination, view a map of your journey and access a separate directions tab. You can plan the journey by the shortest or quickest route, and view live traffic updates along the way.
Membership details
Store all your details, including membership number, safely so you have all the information you need, when you need it.
Had an accident?
Should the worst happen, you can use the accident section to call our accident care helpline and get all the help you need.
Member Benefits
Already an RAC member? Keep up to date with the latest exclusive member offers from the RAC.
Insurance
In just a few easy steps, you could make a great saving by getting a quote on anything from car and home to travel insurance.
Join the RAC
Our new app is available to everyone, whether you are an RAC member or not. But if you break down and you're not a member you can join the club, through the app.