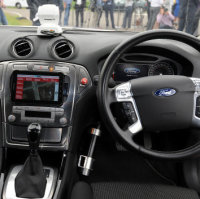 One in four people would quite happily nod off while travelling in a self-driving car, the results of a new survey suggest.
But while a quarter (26%) of those questioned claim they would feel relaxed enough to go to sleep, just over half (51%) say they would not feel safe in an autonomous car.
Carried out by Whatcar.com, the survey also asked people what sort of driving they thought autonomous cars were best suited to.
N early half (49%) say they like the thought of being able to hand over the control of their cars in traffic jams with a further one in five (18%) believing they would be good for city driving.
One in three (32%), meanwhile, say driverless cars would come into their own on motorways.
However, little over one in 10 of those surveyed think there will be fully autonomous vehicles on the road before the end of the decade.
Jim Holder, Whatcar.com's editorial director, says the results of the survey show that the thought of self-driving cars is still a long way off from being fully embraced.
People are slowly warming towards the idea though, he adds, thanks to technologies such as automated emergency braking, radar-governed cruise control and blind spot monitors.
Copyright Press Association 2016. Motoring News articles do not reflect the RAC's views unless clearly stated.