The Chancellor Jeremy Hunt is set to announce a new £200m funding scheme to help tackle the plague of potholes on roads across Britain.
Started by the Daily Mail, the campaign to help improve Britain's roads will see more than four million potholes filled in.
It also represents around a 20% boost in funds to fix roads in towns, cities, and rural roads.
The funding will initially be released to councils in England in the coming weeks. This means that residential streets and country lanes will initially be targeted for upgrades.
Hunt told the Daily Mail: "Potholes cause misery for motorists. The Mail's campaign has put the issue under the spotlight, and I agree it's time for action.
"This cash will fix up to four million potholes, keeping the country moving and putting growth in the fast lane.'
Following this, Transport Secretary Mark Harper said: 'Potholes are a blight on Britain's roads. This latest round of funding shows we are committed to supporting all road users – from motorists to cyclists and bus passengers – and making journeys smoother and safer for all."
The 'End the Pothole Plague' campaign from the Daily Mail highlighted the continuous trouble Brits have had with potholes in recent years.
Department for Transport (DfT) data has revealed that almost half of smaller residential roads need resurfacing or having potholes filled in. Furthermore, up to a quarter of B and C roads are in need of updating.
According to DfT, 15% of unclassified roads in England are rated as 'red' – the worst ranking available for roads.
RAC head of roads policy Nicholas Lyes said: "While welcome, another £200m is unlikely to make a big difference to the overall quality of our dilapidated local roads.
"We need to significantly increase funding for local road maintenance and improvement so councils can resurface roads properly rather than patching them up and hoping for the best.
"Last year the Government spent £1.125bn on local roads in England which is in stark contrast to the £7bn that went into major roads from car tax, despite local roads covering so many more miles."
A spokesman for the Local Government Association, told the Daily Mail: "We look forward to seeing the details of how this money will be allocated. Despite the best efforts of councils, which repair a pothole every 19 seconds, our local roads repair backlog is rising and would take more than £12billion and nine years to clear."
Have you noticed the quality of roads decreasing in recent years? Have you had any horror stories when out on the roads? And, what more can be done to tackle this issue? Leave your comments below.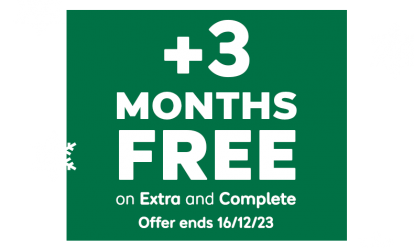 With 12 months of cover, new customers get an extra 3 months for free*.
*Added after 12 months, excludes Basic cover. New customers only. Ends 16/12/23, 7am