British construction firm JCB have launched their latest machine, which aims to tackle the nation's pothole problem.
The Pothole Pro can fix a pothole is just eight minutes, with a cost of around £30. Traditional repair can take hours and can cost over double the JCB machine.
In recent years, repair costs for UK drivers caused by potholes have soared – with the state of the roads making the issue worse.
So far, the Pothole Pro has fixed over 23,000 miles worth of roads – and JCB is now taking orders from across the world for its machine.
The award-winning JCB Pothole Pro is a unique three in one solution specifically designed to sort out any pothole repair or large reinstatement operations, efficiently, economically, and permanently.
The machine comes with three attachments to cut, crop and clean, and there's no need for additional specialist equipment or extra manpower. All that is needed is to add tar.
Councils across Britain, including Stoke-on-Trent and Coventry City have already highlighted the success of the Pothole Pro.
Below is a video from the trials in Stoke, comparing traditional work vs the new technology.
First trialled in the city in 2021, the machine fixed three years' worth of potholes in just four months.
In November last year, data released by the Department for Transport (DfT) analysing the conditions of roads across the country, found that there has been no improvement over the last two years.
One third of all local roads in England are now in need of urgent maintenance and repair according to statistics collected from 109 local authorities.
Six-in-ten drivers believe the condition of local roads they use regularly is worse than a year ago, with a similar proportion (55%) complaining the standard of pothole repairs is – at best – 'poor', new RAC data has found.
New research into potholes in Britain conducted for the 2022 RAC Report on Motoring with 3,102 drivers also showed that those believing their local roads had got worse had grown by 2% from 58% in 2021 and by 8% from 52% in 2020.
RAC head of roads policy Nicholas Lyes said: "Our research shows that the majority of drivers believe local road conditions have worsened in the last 12 months and our Pothole Index suggests drivers are around 1.5 times more likely to suffer a pothole-related breakdown than they were in 2006."
What do you make of the new machine from JCB? Should it be introduced across the UK to tackle the ongoing pothole problem? Leave your comments below.
Image: JCB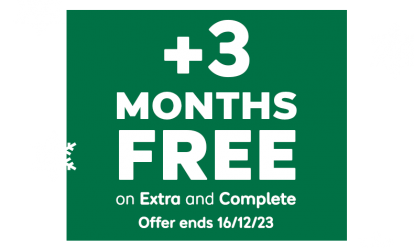 With 12 months of cover, new customers get an extra 3 months for free*.
*Added after 12 months, excludes Basic cover. New customers only. Ends 16/12/23, 7am