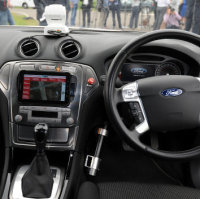 Self-driving cars could be a common sight on Britain's roads by the end of the decade, thanks to a new bill that is set to be published during the Queen's Speech on May 18.
The new laws could enable motorists to get a driverless vehicle covered under an ordinary car insurance policy.
Transport Secretary Patrick McLoughlin says that while autonomous car technology may sound like something from the realms of science fiction, it holds "huge" economic potential, which he is determined to help the UK fully benefit from.
The Department for Transport has previously predicted that the development of driverless cars will play a vital role in the country's economic future and help create new jobs.
At the moment the fledgling autonomous car market is said to be growing at 16% a year, but experts are forecasting that worldwide it could be worth nearly a trillion pounds by the middle of the 2020s.
The Queen's Speech on Wednesday is also set to include a proposal for the UK's first commercial spaceport and plans related to drone technology.
Copyright Press Association 2016. Motoring News articles do not reflect the RAC's views unless clearly stated.