New car sales hit a six-year low in 2019 amid low consumer confidence and a "patchwork of different standards" for diesel vehicles.
Figures from the Society of Motor Manufacturers and Traders (SMMT) show 2.3 million new cars were registered in the UK in 2019, down 2.4% on the previous 12 months.
It is the third consecutive year of decline and the lowest annual total since 2013.
Demand for petrol cars grew by a modest 2.2%, while diesel registrations suffered a 21.8% decline over the past year.
Diesel cars had a market share of 25.2% in 2019 compared with 31.5% in 2018.
SMMT chief executive Mike Hawes said "A third year of decline for the UK new car market is a significant concern for industry and the wider economy.
"Political and economic uncertainty, and confusing messages on clean air zones have taken their toll on buyer confidence"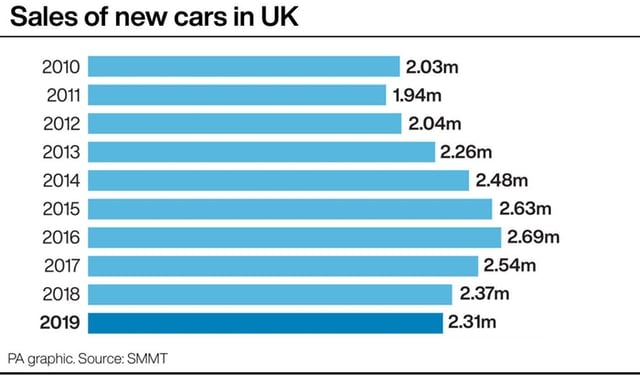 In October last year, Bristol City Council revealed plans to ban diesel vehicles from the city's roads, while London's Ultra Low Emission Zone (ULEZ) charges diesel owners to use the capital's streets.
A "patchwork of different standards" across the country means many people are "keeping hold of their older cars for longer", Mr Hawes said.
Alternatively-fuelled vehicles bucked the trend and saw a surge in sales take them to a record 7.4% market share.
Battery electric vehicles (BEVs) reported a 144% surge in demand as 37,850 BEVs were sold in 2019, however they only make up a 1.6% market share.
Mr Hawes said the industry had been challenged to meet "some very aggressive goals" such as a Government target of pure electrics having a market share of 50-70% by the end of the decade.
"We urgently need more supportive policies: investment in infrastructure; broader measures to encourage uptake of the latest, low and zero emission cars; and long-term purchase incentives to put the UK at the forefront of this technological shift," he said.
Despite the uptake of BEVs, the average amount of CO2 emitted by new cars in the UK rose by around 2.7% to 127.9g/km in 2019.
EU regulations – expected to be adopted by the UK after Brexit – state that by the end of 2020, new cars must only emit an average of 95g of CO2 per kilometre.
He said the UK needed a "massive shift" to cut its average by around 35% to meet that level.
"The pure finances do come into effect. These are still expensive technologies. They carry a price premium," Mr Hawes added.
"That's why incentives are so significant in determining the uptake."
Thinking of picking up a new or used car of your own? Platforms such as RAC Cars have allowed motorists to save money by buying cars away from dealerships.
RAC Loans can also offer up to £25,000 toward the cost of your next car.
Breakdown cover from just £7.95 a month*. Plus up to £150 of driving savings!