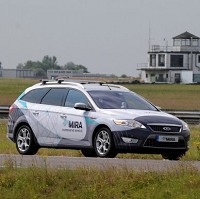 Most British motorists (54%) do not want to own a driverless car, according to a new survey.
The poll of more than 1,000 drivers also finds that 95% worry about self-driving vehicles' safety capabilities, while two in three would shun them on school runs.
Autonomous cars will be trailed on Britain's public highways for the first time next January.
But their use throws up many grey areas in the fields of law, liability and also car insurance . As it stands, any driver testing Google's driver-free vehicles must pay 5 million dollar (£3,030,000) premiums.
Motorists are clearly concerned about this, with 15% saying their main reservation is the question of liability in the event of an accident.
A further one in eight (12%) drivers fear that computer hackers would take over control of their car.
But many respondents point to the value of driverless cars for disabled and blind motorists.
Copyright Press Association 2014