Uber and other taxi-hailing services have contributed to a spike in CO2 emissions in London, according to a new report.
The European Federation for Transport and Environment (T&E) reports a correlation between emission rises and the number of licensed private hire vehicles (PHVs) on the capital's roads.
Since Uber's arrival in London, taxi and PHV trips in the city have increased by roughly 25%. The figures strongly correlate with a 23% increase in CO2 emissions for taxis and PHVs in the UK in the same period.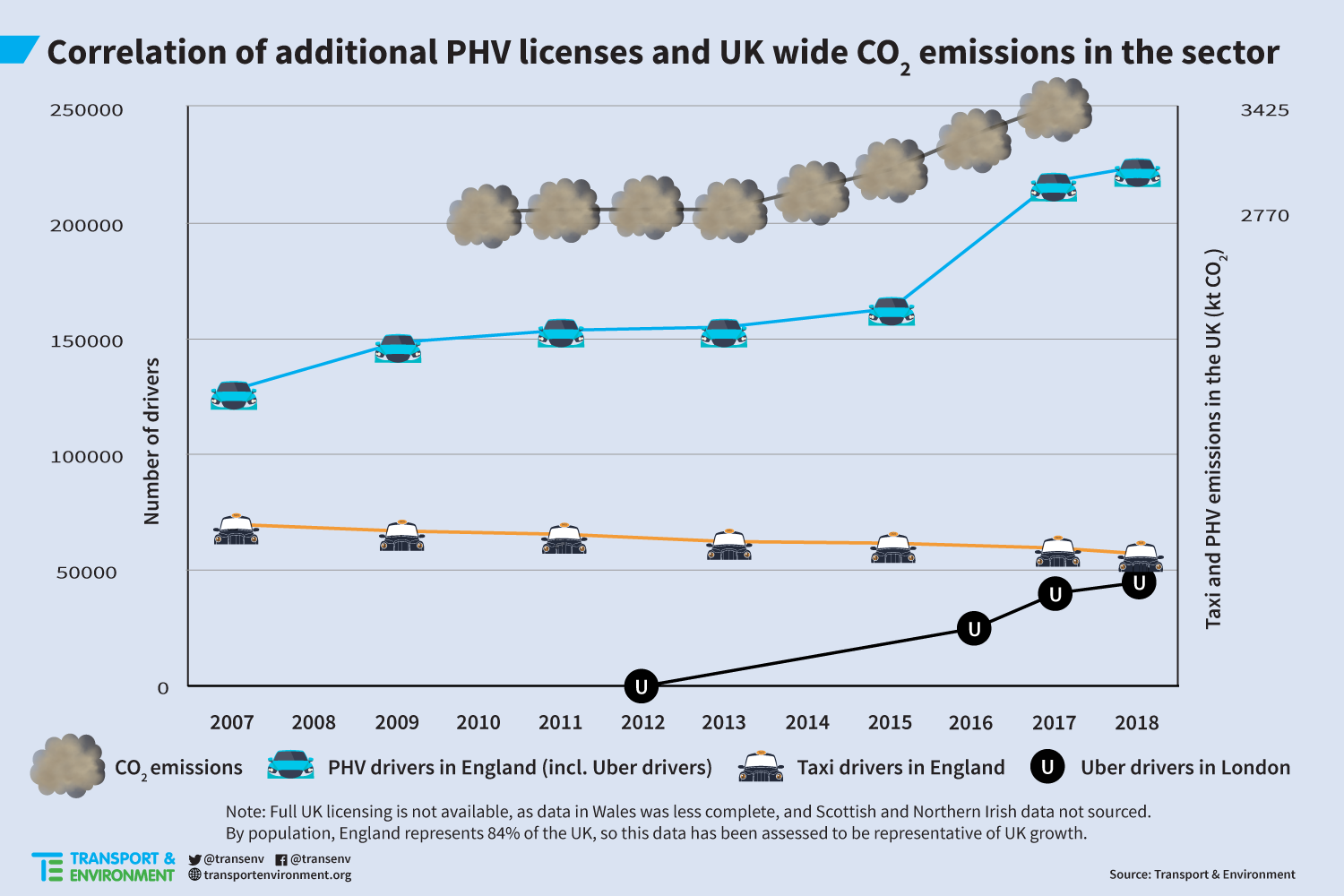 Yoann Le Petit, new mobility expert with T&E, said: "Uber's CEO tells us they 'do the right thing, period.' But the reality is that Uber is part of the traffic and pollution problem, adding car trips in our cities and adding to the climate and pollution crisis.
"If it wants to become part of the solution Uber needs to stop using petrol and diesel cars and rapidly shift to 100% electric rides. That's the right thing to do, full stop."
Private car driver numbers doubled between 2012 and 2017 to 89,000.
For Uber alone, driver numbers almost doubled in a much shorter period, from 25,000 in 2016 to 45,000 in 2018.
The app-based company accounts for around half of all PHVs in London.
The analysis paints a similar picture in Paris, where data from 2017 shows 90% of PHVs were diesel.
Combined emissions of Uber services in Paris and London could be as high as half a megatonne of CO2, the equivalent of an extra 250,000 privately owned cars on the road.
London is Uber's biggest European market with 3.6 million users. Paris had 2.7 million users in 2017.
The company has outlined measures in its Clean Air Plan to ensure every car on the app in London is fully electric by 2025.
Recent findings that have shown SUVS to be the second biggest cause of a rise in global emissions may suggest that PHVs aren't solely to blame.
To help tackle emissions, Transport for London have launched the Ultra Low Emission Zone, charging vehicles that don't meet emission standards to travel through the capital.
Greg Archer, UK director of Transport & Environment, said: "Forced by London's clean air rules, Uber has already committed to 100% clean rides in London by 2025.
"This proves that it is a financially viable option for the company. If it wasn't, they would have pulled out of the market already. So our question to Uber is: why not Bristol, Birmingham, Manchester and Leeds? Are those second-class citizens? Are their lungs any different?"
Get covered in our half price Breakdown Cover sale from just £7 a month.* We're the UK's best breakdown provider as voted by Auto Express drivers 2021.