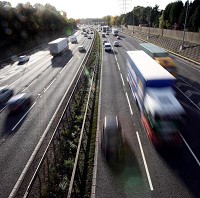 Motorists driving under the influence of drugs face tougher punishments from Monday.
New regulations - which include legal limits for eight illegal drugs and eight prescription drugs - mean there will be virtually zero-tolerance for drivers caught with substances like heroin, cocaine and cannabis in their system.
Officers will use "drugalysers" to screen for cannabis and cocaine at the roadside, while they will also be able to test for these and other drugs such as ecstasy, LSD, ketamine and heroin at the police station.
Morphine and methadone are among the prescription drugs for which new legal levels have been set. Drivers using these drugs within the recommended amounts outlined by their GP will not be penalised.
RAC spokesman Simon Williams said: "The introduction of this new offence sends out a clear message to users of banned substances that driving while under the influence is not acceptable and can now be detected with drugalyser devices.
"However, it has the potential to affect hundreds of thousands of people who use certain drugs for medicinal purposes. Motorists should keep copies of their prescriptions on them at all times, and discuss the effect of their medication with a doctor. Even if drugs you are routinely taking have never impaired your driving, if you're over the new limit for a particular drug and are caught, you will fall foul of the offence. So the message is - don't risk it, check it."
Motorists found to be driving under the influence of drugs risk losing their licence and a prison sentence. They also face the prospect of higher car insurance premiums in the future, just as with other motoring convictions.
Copyright Press Association 2015