Image: Police stop a driver at a checkpoint in York to check whether they are making an essential journey. PA.
A motorist was caught flouting essential travel rules when he picked up a set of windows so large, they forced his wife to sit in the boot.
The man was returning from Salford to Coventry with new windows which he'd picked up for £15 on eBay when police stopped him on the M6 in Cheshire.
His wife was set to travel 110 miles in the uncomfortable position to make way for the precious cargo.
North West Motorway Police issued the man with a traffic offence report before tweeting about the incident on Sunday.
A driver has travelled from Coventry to Salford to collect a £15 EBay purchase of windows. His wife could not fit in the vehicle so she was travelling in the boot for the return journey when stopped on the M6 Cheshire. The driver was given a TOR for the offence.

— North West Motorway Police (@NWmwaypolice) March 29, 2020
Some of the public saw the funny side as Twitter user Jonny Evans replied: "Maybe he saw a window of opportunity", and another tweet from Paul Downes said: "What a pane".
Other motorists have been left less amused, instead asking whether additional fines had been given for making an unnecessary journey.
It's unclear whether the constabulary made use of their new powers to fine members of the public for non-essential travel.
Boris Johnson introduced measures on the 26th March allowing police to issue a fixed penalty notice of £60 to offenders, although this is lowered to £30 if paid within 14 days.
Those found leaving the house for non-essential reasons a second time can be fined £120, doubling on each further repeat offence.
North Yorkshire police have started to roll out checkpoints on roads across the county to deter needless travel and slow the spread of coronavirus.
Assistant Chief Constable Mike Walker said: "The message is clear and the warning stark: stay at home, save lives."
"You may never be in such a position again where your simple actions will lead directly to saving lives".
Mr Walker explained that his officers will be a highly visible presence and out on foot to disperse groups and enforce social distancing measures.
The region has seen unusually high numbers gathering at resorts including Scarborough, Whitby and Filey.
Just last week, the local police force highlighted that speeding and other driving offences are on the rise on the county's quieter roads amid the lockdown.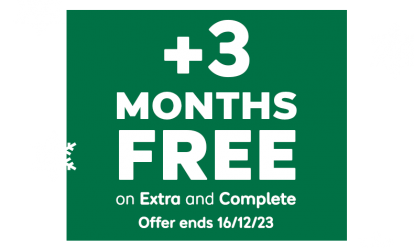 With 12 months of cover, new customers get an extra 3 months for free*.
*Added after 12 months, excludes Basic cover. New customers only. Ends 16/12/23, 7am