Image: Lancs Road Police
An unsuspecting driver narrowly avoided disaster after a flying tyre crashed into his windscreen on a motorway.
The unnamed man was traveling on the M6 near Leyland in Lancashire when a tyre from an oncoming HGV came loose and bounced terrifyingly across the central reservation.
The wheel then careered into the windscreen of the driver's Peugeot at high speed, shattering the glass and tearing off the roof.
Thankfully, he somehow avoided serious injury, managing to pull into the hard shoulder and escape in one piece.
Lancashire Roads Police posted pictures of the smash on Twitter, showing the windscreen and roof completely caved in by the tyre: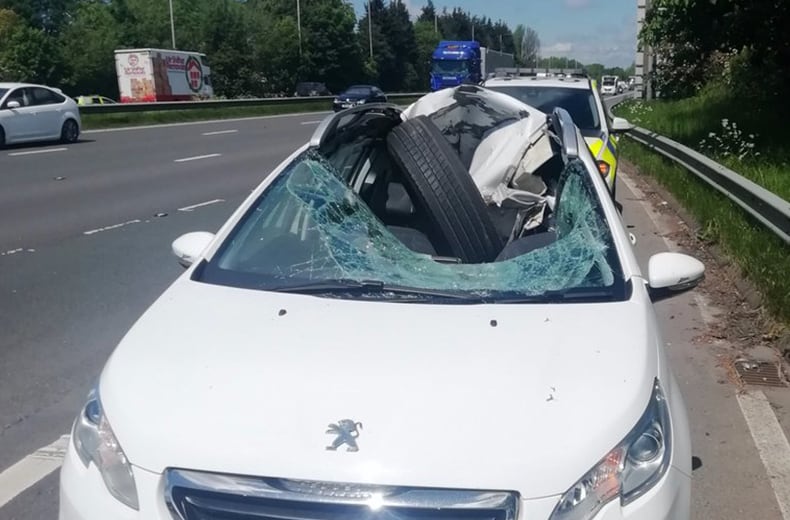 Image: Lancs Road Police
The force called the driver "the luckiest person in the world right now" after the tyre lodged itself in the back seat and he managed to guide the vehicle to the hard shoulder.
They added: "This tyre detached from an HGV on the M6 at jct28, crossed the central barrier & struck an oncoming vehicle. Thankfully (only) minor injuries."
One tweet mentioned the crash could have been a lot worse had the driver's young son been in the car as the tyre crushed the child's car seat in the back of the vehicle.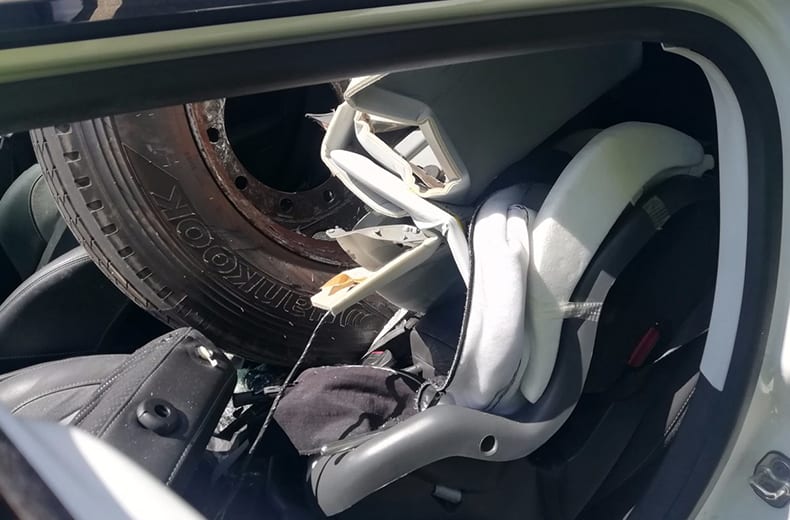 Image: Lancs Road Police
"Thankfully he was unable to take [his son], but it doesn't bear thinking about what would have happened had his son been in this car seat."
Unsafe tyres such as those on the HGV can cause significant danger on the road, leaving drivers unable to accelerate, steer or brake properly.
Department for Transport figures for 2017 show 17 people were killed on the road and a further 147 seriously injured in collisions where tyre defect was a contributing factor.
Drivers should carry out regular checks on their tyres, checking tread and pressure at least once a fortnight and before any longer journeys to avoid the risks of unsafe tyres.
When looking for quality, new or second-hand tyres check out RAC Tyres and find the right tyres for your car today.
Alternatively, head to one of RAC Approved Garages where a trusted mechanic will be able to give your tyres a once over and give you peace of mind when you're out on the roads.
Copyright Press Association 2019. Motoring News articles do not reflect the RAC's views unless clearly stated.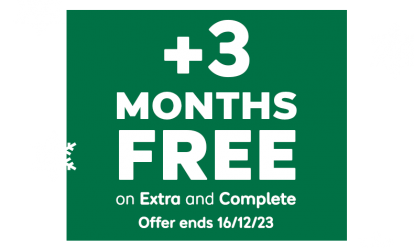 With 12 months of cover, new customers get an extra 3 months for free*.
*Added after 12 months, excludes Basic cover. New customers only. Ends 16/12/23, 7am