Pure electric vehicles will be given distinctive 'green' number plates in a move that may help owners of the cleaner vehicles access a range of perks.
Local authorities could use the easily identifiable plates to help offer discounted parking, entry to low emission zones and other schemes.
A green strip will appear on the left-hand side of number plates from the autumn and according to Transport Secretary Grant Shapps, the designs will help show "that a greener transport future is within our grasp."
Plans for the new-look plates were revealed back in October last year. Yesterday's announcement confirmed their design, start date and a £12 million investment into zero-emission vehicle research.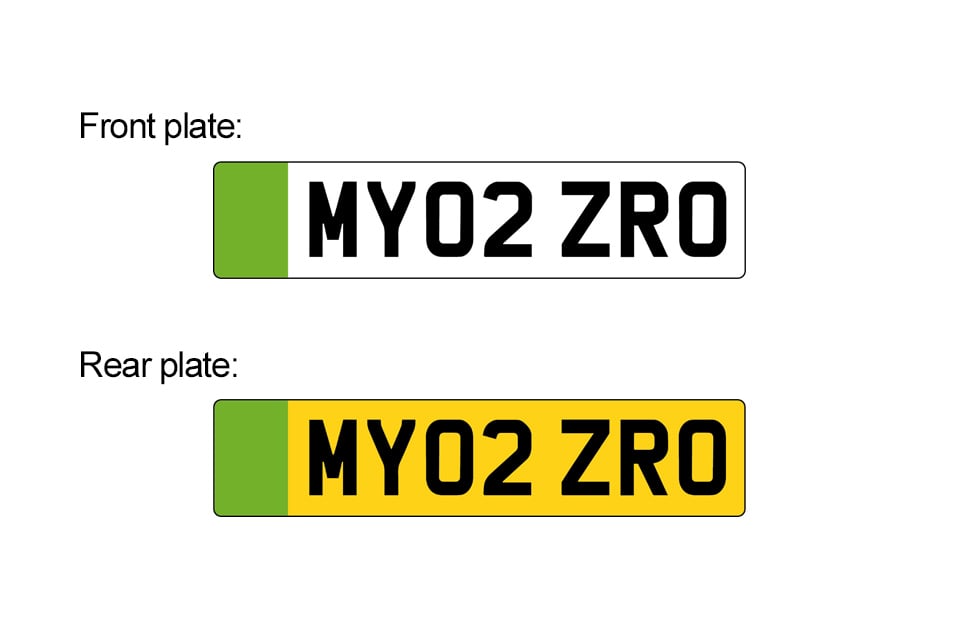 Source: GOV.UK
Mr Shapps said: "Green number plates could unlock a number of incentives for drivers and increase awareness of cleaner vehicles on our roads."
"A green recovery is key to helping us achieve our net zero carbon commitments while also promoting economic growth."1
The initiatives may help the Government reach its aim of net zero greenhouse gas emissions by 2050, but could be met with hostility from drivers of traditional combustion engine vehicles.
RAC spokesperson Rod Dennis said: "While this is well-intentioned, we don't believe green number plates on their own will do much to make people switch to an electric car.
We'd much prefer the Government looked at things like bringing in the right financial incentives."
A similar green licence plate system for cleaner vehicles is already in place in Ontario, Canada. Cars with the plates are permitted to use car pool lanes with one person travelling in the vehicle. They are also given no-cost access to toll roads.2
The Department for Transport's £12 million for research into zero-emissions vehicles has been made through the Office for Low Emission Vehicles (Olev) and delivered through Innovate UK.
A £10 million zero-emission vehicle innovation competition will invite applicants to bid for funding to support advances in electric and hydrogen vehicles, as well as charging infrastructure.
A further £2 million will be available to small and medium businesses to support their research into battery technology.
Mr Shapps said: "We're supporting small businesses to develop the transport tech of the future through a multimillion pound investment, ensuring that UK businesses remain at the forefront of low-carbon innovation and research.''
What's your take on these green plates and the possible benefits they'll provide? Leave us a comment below.
---
1 https://www.gov.uk/government/news/green-number-plates-get-the-green-light-for-a-zero-emission-future
2 http://www.mto.gov.on.ca/english/vehicles/electric/green-licence-plate.shtml
Breakdown cover from just £7.95 a month*. Plus up to £150 of driving savings!