In 2019, as in previous years, the Report on Motoring asked drivers to name the four motoring-related issues that concern them most, from a list of the 20 most commonly raised.
This data has been used to create a percentage that shows the level of overall concern among drivers about each issue - and we've created a chart with them all to show how concern over these issues has changed in recent years.
For example, in 2019, the cost of fuel has an overall concern level of 34%: this means that 34% of the drivers we talked to said petrol or diesel prices were one of their four main concerns.
Here are some of drivers' biggest concerns in 2019:
Phone fears still loom large
2019: 36% of drivers say it's a concern (2018: 38%). Fall of 2 percentage points

Handheld mobile phone use by other motorists is drivers' issue of greatest overall concern in 2019 – it has returned to first place after dropping to second place last year. With the exception of 2018, phone use has been the most common issue of overall concern in each of the past five years. How has compliance with the law changed in the last year, and what needs to be done?
Paying more – and not just at the pumps
2019: 34% of drivers say it's a concern (2018: 29%). Increase of 5 percentage points

Rises in the cost of crude oil in the early part of 2019 has led to higher forecourt prices and an understandable increase in concern among drivers. More people this year say that the cost of insurance is one of their main concerns (overall concern up to 28% from 25%), while there has also been a rise in concern about parking charges (21% overall concern, up from 16%). Are drivers getting a fair deal from fuel retailers when wholesale costs go up or down?
Local roads: a slightly brighter picture?
2019: 33% of drivers say it's a concern (2018: 42%). Fall of 9 percentage points

The condition of the UK's local or minor roads – in particular, potholes and the generally poor state of road surfaces, which increases the likelihood and accidents and vehicle breakdowns – was the issue of greatest overall concern in 2018, but this year it has fallen sharply in importance. Find out the extent to which this change is the result of increased spending on road maintenance by local authorities.
Aggression at the wheel: a cause for concern
2019: 30% of drivers say it's a concern (2018: 28%). Increase of 2 percentage points

One of the most worrying findings revealed in the RAC's 2019 annual survey is the increase in concern about the aggression shown by other drivers – which covers everything from tailgating and engine-revving to verbal and even physical abuse. Read more about drivers' attitudes to a range of dangerous, illegal and anti-social behaviour at the wheel.
Uninsured and untaxed drivers: Less of a problem
21% drivers say it's a concern (2018: 25%). Fall of 4 percentage points

Motorists still see the issue of uninsured and / or untaxed drivers as a problem. But this now seems to be less widespread concern than in previous years.
Coming to terms with congestion?
21% of drivers say it's a concern (2018: 24%). Fall of 3 percentage points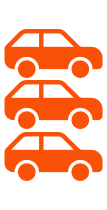 Traffic congestion and a related increase in the time it takes motorists to reach their destinations has declined as a concern this year. It is possible, however, that drivers are simply becoming more accustomed to busy roads.
Diesel emissions and health: Growing awareness
12% of drivers say it's a concern (2018: 9%; 2017: 7%; 2016: 6%). Rise of 3 percentage points this year

While concern about the damaging health impact of emissions from diesel vehicles remains low overall, there are clear signs that drivers are gradually becoming more worried about the issue.
Get covered in our half price Breakdown Cover sale from just £4.75 a month.* We're the UK's best breakdown provider as voted by Auto Express drivers 2021.